Nothing to fear
Jamie Donaldson is confident he has what it takes to be an instant success at the Augusta National on his Masters debut
By Graeme Mair
Last Updated: 05/04/13 10:21pm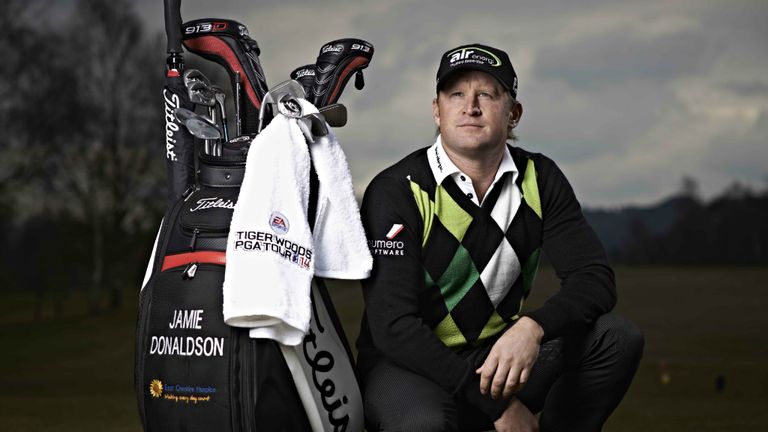 The Welshman's victories at the Irish Open and Abu Dhabi Championship have catapulted him into the top 50 in the world rankings.
With that new-found status has come plenty of rewards, chief among them an invitation to the first major of the season.
"I'm very excited to be making my Masters debut this year," said Donaldson.
"It's a tournament I haven't played before and I'm thoroughly looking forward to it. Everyone says it's just the best tournament of the year. I can't wait.
"I finished seventh in the US PGA Championship last year; that's my best finish in a major and I've won twice in the last eight months.
"I'm playing some of the best golf I've played in my life. The last few weeks haven't been great but Abu Dhabi was a fantastic win on a fantastic golf course - so anything is possible."
Luck of the draw
The Augusta National is a course that has proved tough for debutants; Fuzzy Zoeller in 1979 is the only player to win the Masters at the first attempt in the modern era.
But Donaldson is not unduly concerned by his trip into the unknown and believes the layout plays to his strengths.
"You only need to know where to hit it, as opposed to where not to hit it," he said.
"If you play too many rounds, you only ever find out where you don't want to hit it.
"You've got to be able to draw the golf ball at Augusta and I can do that, so it should suit my game well."
Donaldson overcame a serious back problem earlier in his career and, at 37, puts his recent success down to consistent hard work.
"I had time off through an injury in 2004 and for the next three years after that I was sort of in the wilderness for a little bit, " he explained.
"It took a while but in 2008 I started picking things up and it was just a case of starting again and learning from where I left off. It went from there. Just hard work on all areas of my game."
American dream
In order to continue the upwards trajectory, Donaldson is keen to play as much as possible on the PGA Tour in the United States this year.
"I have got into the top 50 in the world, up to 29 at one point, and it has given me a chance to play more events in America," he said.
"I wanted to bring my game on and get better. The tournament conditions over there are tough so it's a very good test and a great way to improve.
"It's a case of playing in big world ranking point events and trying to get enough points to move on up those world rankings."
Watch Jamie Donaldson prepare for his maiden Masters on EA SPORTS Tiger Woods PGA Tour 14 at Facebook.com/EATripleA. Buy your copy of the latest version of the best golf game on the market at Game.co.uk and #TakeDownLegends NOW!