Colin Montgomerie on Augusta putting, Sergio Garcia and Tiger Woods
Colin Montgomerie says the Masters contenders must play more aggressively on the Augusta greens.
Last Updated: 12/04/13 9:49am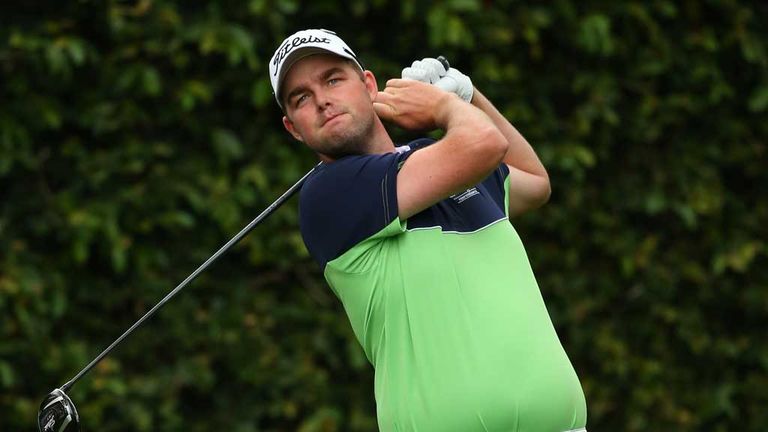 Sergio Garcia and Australian Marc Leishman ended day one of the Masters in a share of the lead after carding six-under-par rounds of 66, while big-driving American Dustin Johnson sits one stroke further back.
But Sky Sports pundit Montgomerie, who finished tied for eighth place at the iconic Georgia venue in 1998, says the men to launch the biggest title tilts into the weekend will be the ones that putt aggressively.
"These are the fastest greens the players have seen this year and 80 per cent of putts, I've been told, are being missed on the low side as players are frightened and are under-hitting or under-reading" said the Scot.
"It is very difficult to put a firm, positive stroke above the hole but that's the way you've got to do it and let the ball fall in on the top side."
Montgomerie's fellow analyst, Butch Harmon, thinks Augusta played placidly on Thursday, but expects the course to crank up a notch on day two - and he believes Rory McIlroy, who posted a round of even par first up, will do the same.
"I thought the course played as easy as it could play - Phil Mickelson thinks it is playing too easy - as the greens were much softer than we've seen in the past and not quite as fast as we will probably see on Friday," said Tiger Woods' former coach.
"Rory, meanwhile, gave away a few shots on the greens but I don't think he played that bad a round; he pulled a few wedge shots but I think he will play a good round on Friday because he is off in the morning. He's going to be okay."
Movement
Justin Rose, Lee Westwood and pre-tournament favourite Woods lie four shots off the pace, but Montgomerie expects the trio to surge into greater contention as the competition continues.
And the 49-year-old reckons co-leader Garcia, who has been a perennial nearly man in Majors and even questioned whether he had the game to win one of golf's biggest events, can maintain his push for the Green Jacket.
"I think it is poised to be a great event because even the guys at two-under par like Rose and Woods are ready to come into this in a great fashion," said Montgomerie.
"Westwood's performance was fabulous to recover from a six at the first hole, too, and I expect the movement on day two to hopefully come from Woods, Rose and Westwood.
"Sergio, meanwhile, hits the ball as well as anybody off the tee and can draw his way around the course, and the way he holed out with his new claw grip - I'm thinking of his slick putt down the hill to make birdie at 10 - makes me think he has a chance, as long as he can get into a positive zone.
"But I do think that if somebody beats Tiger - who messed up 14 and 15 and is in the penultimate group on Friday, which isn't a great time - they will win this."