Paul McGinley says links practice will boost Phil Mickelson's Open hopes
Paul McGinley says Phil Mickelson has shown the world of golf the best way to prepare for The Open.
Last Updated: 15/07/13 10:35am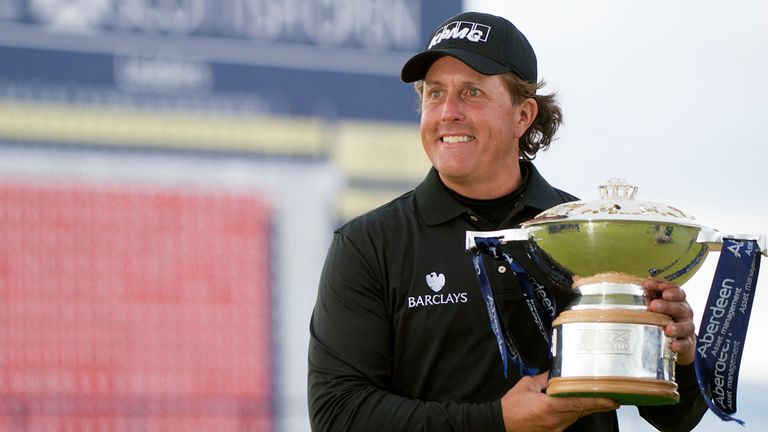 The American has given himself a huge confidence boost ahead of next week's major by winning the Scottish Open at Castle Stuart in conditions that are likely to be similar to those he will experience at Muirfield.
Mickelson said afterwards that the experience of playing links golf the week before The Open was "valuable" to his hopes of winning a fifth major, especially playing in the final-day wind after a fairly benign start to the event.
And Ryder Cup captain McGinley, working as an analyst for Sky Sports, hopes more players will now see the value in playing competitive golf at the Scottish Open.
He said: "That little snippet of his interview is hopefully going to be a selling point for a stronger field to come back and play, not just next year but in future years to come.
"We've said all week about grass players at Wimbledon preparing in a small tournament. It's not that I'm trying to minimise this tournament, but it is a great way of getting used to links golf.
"Hopefully we'll have a much stronger field next year and I look forward to going to Aberdeen.
"Links is a completely different game of golf to an inland course and, for me, the best way to prepare for a tournament is to get the competitive juices flowing.
"As Phil said, he's learned a lot. It's not just the fact that he's won, but he's also learned things he has to work on as well."
Preparing
Mickelson enjoyed the winner's share of the £3million prize pot after beating South Africa's Branden Grace at the first play-off hole.
And McGinley - who himself finished tied for 24th after shooting eight-under par over the four rounds - said he was surprised that so few of the sport's star names had opted to take part.
"I've really enjoyed the week," he added.
"I'm one of the guys who really likes this golf course at Castle Stuart. I love playing in the wind and in the links.
"You mention about having more American players next year and I hope that will be the case, but certainly we want more European players as well. I really do feel it's a good way of preparing for The Open Championship.
"You're playing for a lot of money in a huge tournament in the home of golf in Scotland."