Dave T diary - Friday
Dave Tindall's blog from the second round of the 142nd Open Championship at Muirfield.
By Dave Tindall
Last Updated: 20/07/13 11:46am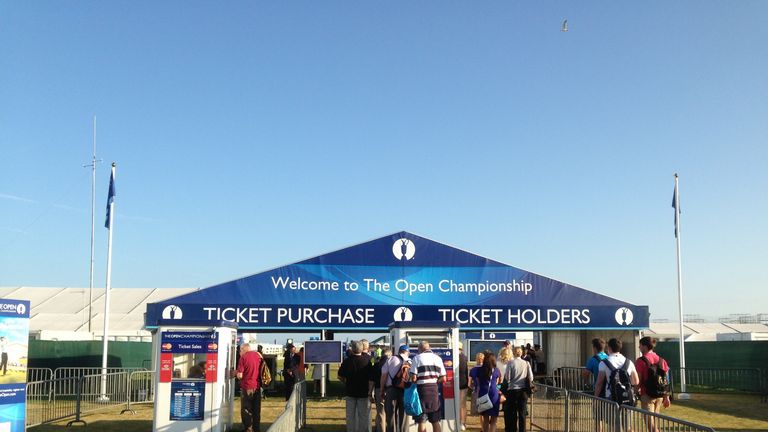 0715: A very literal warm welcome from Muirfield where it's hot and sunny again. Not quite the dramatic rush to see the first tee-shot this morning (lacks the symbolism and I was here for 16 hours yesterday so need to pace myself a little). We won't know the cut until around 9pm this evening so it's going to be another long, but very exciting, day.
0745: Just had a chat with Sky Sports News' golf man James Haddock. He said the course has been watered this morning and, at the ninth, the greenstaff were taking particular care reading the stimpmeter. Apparently, the greens were running at 11 yesterday morning but some of the caddies said, by the afternoon, they had reached over 14 and were nearing 15. That's faster than Augusta! No wonder many players said after their rounds yesterday that it was like putting on glass.
0825: Any good scores out there this morning? Well, YE Yang is three-under for the day after seven following birdies at 2, 4, 5 and 7 (he bogeyed the opening hole). However, he's still trying to undo the work of yesterday's 78.
0835: It's about a 60 second walk to the practice putting green so I've just been there to see Tiger honing his stroke ahead of his 0944 tee-time. He has a great chance to really take a grip on the tournament this morning. A round of, say, 68 and he'd be a great bet to the the halfway leader.
0840: Just did my morning slot on Sky Sports Radio... from a bush. Players were hitting from the nearby 10th tee so I had to crouch in the foliage and whisper a bit. Think it went quite well given the circumstances.
0900: The highest placed players currently out there now are Tom Lehman, Jordan Spieth and Henrik Stenson. All are at -2 after 6, 4 and 2 holes respectively.
0940: Caddie Billy Foster tells me that his man Branden Grace (my 66/1 tip) had four three-putts yesterday and fell victim to the hard, baked greens. When I ask if the greens were really running at nearly 15 on the stimpmeter, he replies: "More like 50 on some of them!" As we chinwag, Tiger walks past. He's on his way to the first tee.
1000: One other snippet from Billy Foster. He reckons the halfway lead will be six-under.
1010: Lee Westwood making a big move this morning. He birdies the first two holes and then adds another two-putt birdie at five after hitting driver-driver! He's now up to two-under and tied seventh.
1050: Westwood still pottering along nicely and he's now 10/1 third favourite with Sky Bet after his move from +2 to -1. Tiger heads the way at 5/2 after a birdie at five wipes out a sloppy three-putt bogey at four. Woods is currently at -3 and in a tie for third.
1105: I don't think I'll get a better e-mail than this today (this week, this month or perhaps ever). I've just been asked if I would like to play The Old Course at St Andrews in early August. That's a tricky decision! #bucketlist
1120: The UK tabloids are really having a go at Rory McIlroy on their back pages today. Two go with "Brainless" while another shows a Rory looking miserable picture next to the headline "I need a shrink". All the subtlety of a sledgehammer.
1135: Oh great. I've lost my sunglasses. Given the current weather, that's not a smart move.
1215: 1996 Open champion Tom Lehman comes into the mixed zone after his disappointing 77 and talks honestly about his round and the course. He says the greens might not be as lethal as they were yesterday afternoon although he says the pin position at 15 is rather dodgy. As I walk in, there's a huge number of photographers at the 10th tee and the reason is obvious. Tiger's approaching. I stay and watch Woods hit a lovely baby fade down the 10th fairway. It seems to hang in the air forever before plopping down in the middle of the fairway. Meanwhile the galloping Lee Westwood finally clips a fence as he three-putts the 13th. That drops him into a tie for the lead with Zach Johnson. Prior to that he'd played his first 12 holes in six-under today!
1345: There may well be life in the Gregory Bourdy story. I've just been out to follow him for a few holes and he's starting to creep up the leaderboard. After a tap-in par at eight, two good biffs at the par five ninth saw him just through the back of the green. Although his eagle try just curved wide, his three footer secured a birdie and an outward half of one-under 35, +4 overall. At the 10th, colleague Matt Cooper and I ran into Gregory's parents so we had a bit of a chat with them. We asked what had happened at the eighth hole yesterday when he'd racked up a triple bogey and Mr Bourdy revealed that he'd found an unplayable lie in the bunker. I think he seemed slightly curious why we were pulling for his son but said as we left, "thankyou for supporting Gregory." Mon plaisir. GB made a good six foot par putt at 11 to stay at +4 and when we made the fairly long walk back to the media tent we found that he'd added another birdie at 12! Magnifique. As I write this he's made par at 13 so, as it stands, he's tied 46th and a couple of shots inside the cut line.
1420: What of the other tips? Branden Grace is hanging in there at +3 after a birdie at 16. He's level par for the day. Defending champ Ernie Els, also +3, is playing the first. Thomas Bjorn is +2 and yet to tee off. In fact, not for the first time this week, I've just seen him sat in the hospitality area having a water. Chris Wood is the only one outside the cut line after a double just now at 8 dropped him to +5. To sum that all up. Not disastrous but not very good either.
1425: Fun fact: Bill Haas had fish and chips last night (I heard him telling this to D.A. Points on the putting green).
1455: Back from the mixed zone (no, Muirfield hasn't emerged from the dark ages and allowed ladies in, it's the name for the area where the players are brought to give quick press conferences). Graeme McDowell (+4) speaks well as usual and seems to enjoy all the questions about how Tiger's playing. That would annoy me to be honest. I'd be thinking why don't you ask how I got on. I'm kind of guessing McDowell likes to use it as a trick to deflect pressure from himself. Or maybe he's just nicer than me.
1510: Tiger looked very content when he came into the mixed zone, saying he was very happy with his position (he's the joint clubhouse leader with Stenson and Westwood at two-under). Asked how many drivers he's hit this week he deadpans "8 to 10". For a split second the press look baffled as McDowell has just said he hasn't hit any. But, after his pause for effect, Tiger adds... "on the driving range". Big laughter, Tiger flashes those white teeth and turns on his heel, even managing a "thanks guys".
1530:
Gregory Bourdy has made the cut! Just watched him finish off at 18 with a par thanks to a good lag putt from just off the front of the green. That's an excellent one-under 70 today which, to give it some context, is one better than Tiger managed! Okay, he's still +4 overall and tied 55th but his position will improve as the day goes on. He's going to need a miracle but I certainly don't feel too bad now about telling people to back him at 10/1 to finish in the top 20. It's still very much a possibility.
1545: Spoke to Thorbjorn Olesen's caddie, Dan, earlier and he said the course was playing much fairer today. Unfortunately. Dan and the Dane are heading home after Olesen shot 78-76 to finish at +12. That seems like he was way off but Dan said he imploded at the end (as has been the case of late). A check of the scorecard shows Olesen played the final five in seven over so had he shot par over that stretch he'd have made the weekend.
1615: Time for some number crunching. Best completed rounds today: 68 Westwood, Schwartzel, 69 Lawrie, Stanley, 70 Bourdy (yes, Bourdy!), Stenson, Moore, Simpson, Leonard, Gallacher, Yang.
Nationalities of those in the current top 10 (inc ties). 7 USA, 2 Spain, 1 Sweden, England, Scotland, Argentina.
1730: Just back from an interesting little hour. It started rather confusingly as I found myself at a function near 17, clapping some competition winners and generally wondering what was happening. However, the highlight was watching a bit of golf from a balcony and coming up 17 was joint tournament leader Miguel Angel Jimenez. It looked as if he was about to take the lead on his own as he floated a lovely wedge towards the pin but he missed the putt. After watching him par 18 and post the clubhouse lead of three-under I spotted Ronnie Corbett wandering across the first fairway. Clearly it screamed photo opportunity and Ron, bless him, did the honours. I don't want to pretend it's the highlight of my week but, boy, it's close.
1755: Angel Cabrera now leads on his own at four-under after a birdie at the ninth. I was impressed by the shots I saw him play in Wednesday's practice round so am not surprised to see him flourishing. After all, he's a two-time major winner who went perilously close to adding a third in this year's Masters.
1815: Gregory Bourdy now up to tied 41st.
1845: To show what you can do on a fast, bouncy course if it's playing downwind (and you're incredibly good at golf), English amateur Ben Stow drove the par four 12th (playing 379 yards today) and the par four 15th (448 yards). He cashed in by making birdie at each but three double bogeys elsewhere on his card led to him shooting a 77.
1900: A word for Rory McIlroy. He's now +14 after 14 and set to miss the cut by a mile.
1915: I thought my Ronnie Corbett impression was decent but Scottish golf writer Nick Rodger's is fantastic. I can picture Ronnie in his chair as Nick says: "I've not been as nervous since I was stood next to Shakin' Stevens at the BBC urinals."
1955: Jimenez now leads on his own at -3 after Zach Johnson three-putts from nowhere at 15 to rack up a double bogey. It's now a six-way tie for second involving Henrik Stenson, Lee Westwood, Tiger Woods, Zach Johnson, Dustin Johnson and Angel Cabrera.
2015: Defending champion Ernie Els sounded hugely frustrated when interviewed after his second round 74 which left him at six-over. To be fair he had just finished 6-5 so steam was coming out of his ears. "I'm getting nothing out of it," said Els. "I've just made two bogeys from the middle of the bloody fairway."
2045: The cut is going to fall at +8 which means all five off my tips have made it through to the weekend. That sounds good in theory but they've all got to play two great rounds on the weekend to challenge. As it stands Branden Grace is +3 (six back) and T24, Gregory Bourdy (sound the trumpets) is T34, Thomas Bjorn T39, Ernie Els T46 and Chris Wood T69.
0930: Time for home.