Open Championship: We look at the keys to Phil Mickelson's Muirfield win
We look at the keys to Phil Mickelson's brilliant Open Championship win at Muirfield.
By Matt Cooper
Last Updated: 22/07/13 11:43am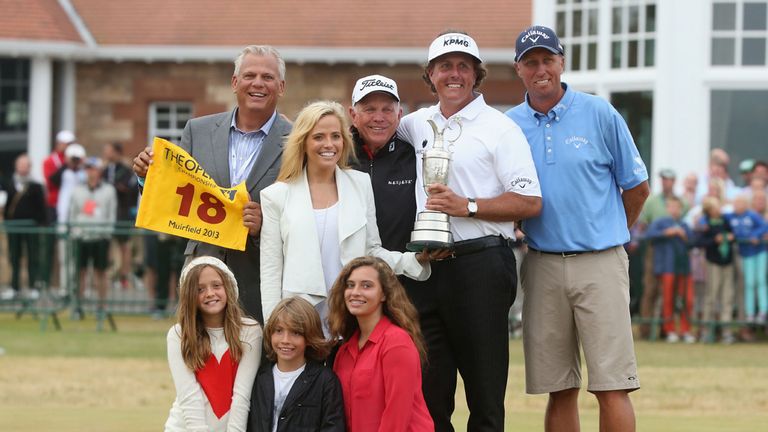 But Phil Mickelson won anyway: he claimed the claret jug and victory in the 142nd Open Championship.
So how did he do it?
The statistics tell part of the story. They show that he had a solid all-round game: tied seventh for putts per round, tied eighth for hitting fairways, tied 20th for greens in regulation.
Nothing remarkable though, except the fact that he made 16 birdies. Only one man (Oli Fisher) made more all week.
So we need to look further and they say that the only stat which matters is the score and Mickelson's was the only under-par total after 72 holes.
But perhaps the final six of those 72 holes were the ones which mattered.
Back nine
The back nine on Sunday is often when a major is won and they held special significance at Muirfield because four of them had played amongst the toughest on the course all week.
When the pressure was at its greatest Mickelson played them in four-under-par, with birdies on 13, 14, 17 and 18.
And the rest of the top ten finishers? Hideki Matsuyama and Francesco Molinari played them in one-under-par, but neither player was ever in contention for the title.
Ian Poulter, Adam Scott, Lee Westwood, Zach Johnson, Tiger Woods and Hunter Mahan all were and not one of them broke par for those six holes.
When he needed to perform, on a course that tested the players to the full, Mickelson pulled out the shots and the others wilted.
Many doubted Mickelson on linksland, but in many ways that theory made no sense - he's one of the most imaginative and adaptable golfers on the planet.
Scottish Open
His victory last week in the Scottish Open mattered in that respect. Mickelson is confident in his abilities, but he also needs encouraging form to fully believe in himself.
"Winning at Castle Stuart, at the time, you know, was a big win for me, but in seven days it has gone down considerably," he joked.
More seriously, he added: "It was a special week for me because I was playing so well. It gave me confidence heading into this week. It was exactly what I needed to propel me into this championship."
Knowing he could contend and win on the links, aided by a secret putting tip, he was self-assured when it mattered - on those closing holes.
"I hit some of the best shots that I've ever hit," he said afterwards. "Certainly I putted better than I've ever putted.
"Probably the best round of my career."