The Iceman cometh
Mark Kendall investigates how Henrik Stenson went from losing his local club championship to the hottest player on the planet in a year
By Mark Kendall - Twitter: @SkySportsMK
Last Updated: 20/11/13 7:48pm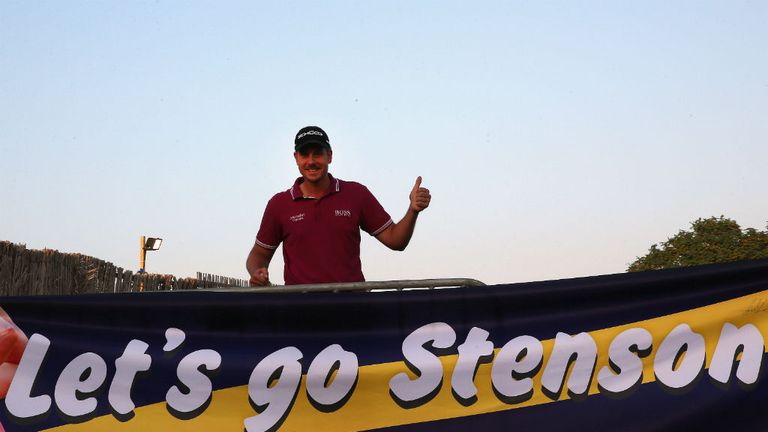 Having racked up around £12 million of prize money since the summer and risen to a career high of third in the world rankings, Henrik Stenson has undoubtedly been doing the right things over the past few months.
The Swede's form figures simply defy belief; since the Scottish Open back in mid-July he has garnered three wins, two second-placed and three-third placed finishes over the course of just 12 tournaments.
And this was not a stretch of run-of-the-mill events, Stenson was competing in elite-level fields on both sides of the Atlantic, culminating in him becoming the first man to win the PGA Tour's FedEx Cup play-off series and the European Tour's Race to Dubai.
It is a run of form that has seen the 37-year-old propelled into the conversation alongside the game's all-time greats. Luke Donald - who had his own golden summer as he rose to World No.1 in 2011 - put the Swede's performance in context when he commented: "Henrik's ball striking is as good as I've seen... and I include Tiger Woods in his prime."
Renowned as one of the more affable and straight-talking characters in golf, Stenson was refreshingly honest in his assessment: "It has been a dream summer for me. I would be lying if I said I saw this coming."
Maybe he didn't see it coming, but his resurgence has been no fluke. The speed and magnitude of the rise may have taken both player and observers by surprise, but this has been no quick fix - something that Stenson has been at pains to point out to those looking for a simple answer to a complicated question.
An established presence in the upper echelons of the world's top 50, a consistent winner on the European Tour and a Ryder Cup regular, there was no sign of the travails that lay ahead for the Swede back at the start of 2009.
But the origins of a slump that saw him slide down outside the world's top 200 can be traced to events far removed from the golf course just a few weeks later.
Financial losses
The Swede's enormous financial losses following the collapse of one-time sponsor Allan Stanford's empire has been well-documented. They run into seven figures and, despite ongoing legal proceedings, it is unlikely he will ever receive recompense.
Interestingly, though, Stenson maintains to this day that economic catastrophe did not really impact on his form and points to his victory in the Players Championship just a few weeks after news of Stanford's downfall as proof.
"It's obviously not great for anyone to be part of the whole Stanford Financial thing. I mean, that's a private issue, and we'll see what the outcome is. I went out and won the biggest win of my career three months afterwards. Of course it's not fun or something you wish on anybody, but I wouldn't have that down as an issue for playing poorly, if I can win Sawgrass three months after that was revealed. I think that one is kind of done and dusted," he said back in September.
But that is not a view shared by those around him. For many who have been stung in financial scams, embarrassment is often one of the overriding emotions, and perhaps it is Stenson's pride kicking in when he dismisses the impact of that event. But coach long-time coach Pete Cowan takes a stridently different standpoint.
"He lost all that money in Stanford which everyone knows about," Cowan told Sky Sports recently. "In the mid-2000s his confidence went up as a result of his financial security so obviously it dips when the other thing goes. People say he won at TPC six months after, but he didn't think he was going to lose all his money, he thought he could get something back."
Whatever the true extent of the Stanford scandal on Stenson, there can be no denying the influence of another factor which, understandably, garnered considerably fewer column inches.
Injury is, of course, part and parcel of a sportsman's lot, but Stenson's problems were not ailments caused by physical wear and tear - such as the wrist complaint he has managed throughout his stellar run this summer.
Instead a bout of viral pneumonia in August 2010 precipitated a degenerative and damaging period of ill-health, the effects of which the powerful Swede believes he only truly shook off earlier this year.
"I finished third at the British Open in '10 and then straight after I picked up like a viral pneumonia or something like that," he explained. "I was very ill... I wasn't fully aware of (it), so I was really struggling. I was in and out of hospital at these tournaments back then, and it was a good six, eight weeks to come back from that because I kept on pushing myself in the heat and playing tournaments when I really should have been in bed.
"But then the other part of it, we went on vacation November '11, and I picked up a parasite, a waterborne parasite, and that kind of took a while before I figured that one out, as well. That was really hanging on all of spring '12, as well. It's been gradually getting better, but there's still been tiny little things even probably a year and a half, two years afterwards. You can still kind of feel sometimes that the system hasn't been 100 percent."
Frustration
His lack of physical fitness inevitably led to a downturn in results and the beginning of a vicious circle for a player who admits he is, at times, hamstrung by his own quest for perfection. 2011 yielded just a solitary top-10 finish and, as his ranking slid, his frustration levels grew.
After a season of underachievement, Stenson admits that the need for a couple of big results led him to adopt a short-term view that did him no favours.
"When I was out of form, I was chasing my tail a little bit, trying to find something that would work for the week all the time instead of looking at the bigger picture and having a bit more patience and calmness about it," he stated.
They are words that will undoubtedly resonate with many pros who are only too aware how quickly a loss of form can translate into a career-threatening spiral in a sport where the examples are numerous and seemingly never forgotten. Just ask Ian Baker-Finch, David Duval and Nick Dougherty amongst others.
But Stenson insists his overriding emotion was not anxiety but frustration. While his slump may have been pronounced, he claims it held no fears having been in the grip of a downturn considerably more severe a decade earlier.
Having ostensibly introduced himself a one of the continent's rising young stars after winning the B&H International at the Belfry as a 25-year-old back in 2001, he would embark on a frankly disastrous run that saw him miss the cut in 35 of his next 64 events.
With the help of Cowan, he would come out the other side and insists the bad times ultimately taught him invaluable lessons in the long run.
"I had a lot of experience from going through a bad period back in '01 to '03, the slump before that I've been through mainly since 2011 season was nowhere near as I had it back then. I think when you've gone through a rough time once before, you kind of have the experience of that and it's not going to get you as bad. I think if I would have completely thought of giving up back in 2001, I wouldn't have been sitting here, because I was playing awful for quite a long time and had to dig deep to get out of that.
"It was more frustrating this time. Back then I was really, you know, lost and confused with my game and with my swing and everything. Now it's been more down to poor playing and the frustration of dealing with that. I've done enough good results to know I can play this game at a very high level and not to be able to be anywhere near that standard is, of course, is frustrating."
But while Stenson may have had faith he would emerge from the doldrums again, he still found himself in an increasingly uncomfortable predicament as poor result followed poor result.
And so in the spring in 2012 he decided it was time for a change of mindset. Gone was the weekly tweaking on the range and, after sitting down with his team, in came what he describes as a more "holistic" approach.
Importantly that team - of which caddie Gareth Lord was an important new feature - also included a familiar face that he had jettisoned a few years previously. Sports psychologist Torsten Hansson, (who numbers fellow Swede Peter Hanson amongst his clients), had worked with Stenson since his days as a teenager on the Swedish national team.
Stenson acknowledges he dispensed with Hansson's services as he looked for newer ideas with people he now describes perhaps not entirely flatteringly as "smarter". But having reached out to rekindle the relationship, he is in no doubt about the significance of the role his old mentor has played.
"One of the important things that I felt with my coach, Torsten, when I won him back was that was that we put more of a long term, process orientated plan in place. If we need to work on the swing with Pete, for instance, let's give it two months or three months' work on it, and sooner or later, you get the rewards," he explained.
"That was a big, big part of things to give myself more time. And mentally on the course it's just down to patience and being decisive. When you're not playing great, you're not deciding how you're going to hit the ball, where it's going to start and all these things. And when you're playing well, you're crystal clear, okay, it's a 7 iron, it's going to start at that bunker and draw three yards, and you hit the shot. There's no magic involved, it's just doing the right things, really. We're not reinventing the wheel.
"He'd (Hansson) been my coach for 12 years or something, I think, and then I had a couple of years where I saw smarter people, and for a while I was on my own. No, it's good to have somebody to kind of bounce ideas with and someone that kind of keeps you on the right track, as well."
That last phrase is telling as for all that he is portrayed as a happy-go-lucky character, Stenson has a fiery temper and makes little secret of it.
Temper
"If I've played badly, of course I'm going to get angry with myself or frustrated. But I still think I'm pretty good at leaving it on the golf course."
Well maybe not that good. In September a fit of pique saw him not only smash the head off his driver at the BMW Championship, but also subsequently put his foot through a locker door on his return to the clubhouse. Coach Cowan believes his aggressive streak is a crucial part of his make-up, but feels it too can be worked on if Stenson is to go on and achieve his newly-redefined goals.
"He is one of my players that I have to have a strong word with now and again, and I give it to him straight," explains Cowan. "If he has one minor weakness it's his temper, his temper is still a fraction up, but I think that's a plus in a lot of cases because that gives him the strength to commit more and move harder at the ball."
So what of Stenson's objectives? Where does the 37-year-old go after a summer of such unprecedented success?
The Swede, like everyone who has witnessed his ball-striking mastery this season, concedes that a major championship would be the logical step, describing it as the "one thing missing".
With seven top-10s since 2008 Stenson is certainly no stranger to contending in the big four, but there now seems certain to be a different kind of pressure on him when he tees up in those tournaments in 2014.
But rather than let expectation weigh him down, Stenson is likely to relish the challenge his status brings following his trials and tribulations. Two summers ago, and with no invitation to the USPGA Championship, Stenson opted instead to enter a competition at his local course in Barseback with dad Ingemar on his bag... and finished second to a member.
Skip forward almost exactly 12 months and he would finish as runner-up again, only this time to slightly more acclaim as it came behind an inspired Phil Mickelson at Muirfield.
"When you're that close to winning a major championship and still feeling like you've got a spare gear when everything is working, then that's exciting," Stenson would comment that weekend in Scotland.
But if you thought the Swede had discovered that extra gear in completing his extraordinary transatlantic double, think again.
The bad news for Stenson's rivals comes from Cowan, who insists his pupil is still operating some way short of his full potential.
"I'd say his game's only at about 70 percent of where he wants it to be. A major's the only thing missing off his CV now he's done what he's done this year. He said to me he's got one in him so why shouldn't he win one?"
Very few, if any, in golf would bet against him... with the exception, maybe, of Ian Poulter.