The Masters: Downtown Augusta's captivating back story is good for the soul
Downtown Augusta lacks the draw of the Masters but a visit is good for the soul, says David Livingstone.
By David Livingstone
Last Updated: 07/04/14 5:00pm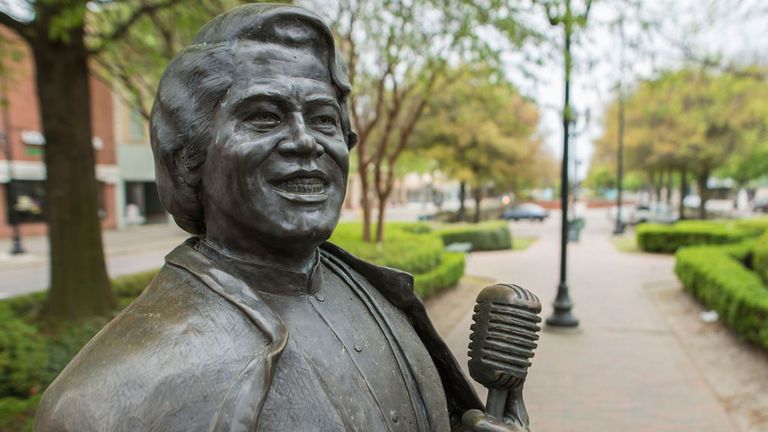 While the home of the Masters is a picture of manicured perfection, Augusta city centre is a snapshot of poor old Downtown America, outshone by its more glitzy suburbs.
There are many examples of these old towns across the USA and we visit many of them for major golf tournaments...Akron, Ohio... Louisville, Kentucky...Tulsa, Oklahoma...Sheboygan, Wisconsin.
However, the contrast here in Georgia couldn't be more stark.
Because of the sheer breath-taking beauty of Augusta National, what's happening in the worn-out streets 15 minutes away seems particularly faded.
It may have been the hometown of legendary musician James Brown but Downtown Augusta is a place many feel lost its soul a long time ago.
Back story
As it happens, I don't share that view.
After a lifetime of watching American movies, I look at these old towns in my own way, conscious of what they once were.
Like many of our old industrial towns at home, the streets and buildings are cracked and broken, but most of them have a back story worth investigating.
For a start, Augusta has history, mostly concerning the Civil War when its position on the Savannah River right on the border with South Carolina made it important strategically, and, in a different era, as a major centre for the Cotton industry.
All of this is documented in a series of plaques along the town's Riverwalk and it's a fine way of combining a history lesson with a walk in the sunshine.
Not far away is the James Brown Museum.
The Rhythm and Blues legend was actually born in South Carolina but moved to Augusta when he was six-years-old and eventually adopted it as his home town. In return the city adopted and adapted one his songs as its motto: "We feel good."
You can also visit the boyhood home of the 28th American President Woodrow Wilson. Born in 1856, the young President-to-be virtually witnessed the American Civil War from his front doorstep and that former home at 419 Seventh Street is preserved in its original condition.
Snazzy
But the real fun for me is just wandering around the town and observing its complete lack of convention and conformity.
In the main street there are no branches of Macy's or Dillards. There are no TGI Fridays or PF Changs. And there are certainly no Porsche or BMW dealerships.
What you do find is a collection of gloriously shambolic shops selling clothes, wigs, snazzy shoes, and all sorts of undergarments.
I went into one of the clothes shops to buy a shirt and the staff were so entertaining I thought I'd walked into one of those movies where Eddie Murphy plays all the parts himself.
The town's bars and restaurants all appear to be independently owned, free from the controls of head offices hundreds of miles away. They rejoice in names like Beamies Oyster Bar, the Frog Hollow Tavern, the Boll Weavil Café, and The Bees Knees Tapas Bar.
How they all survive I sometimes wonder. I once sat on the corner of two of the town's main streets and didn't see a single vehicle drive by for a full 15 minutes. I won't gild the lily by claiming it was a pick-up truck that eventually came along but it certainly wasn't a shiny Lexus.
Welcomed
The one time you can guarantee the streets will be busier is a Sunday morning. This is the South, remember, and there are churches everywhere, and not all of them indoors.
My first experience of Downtown Augusta was a Sunday morning walk along the main street during which I inadvertently attended four different church services, all taking place informally under the trees in the middle of the street.
I was warmly welcomed into each one of them before making my excuses and moving on.
After that I discovered a railroad track running right through the town. One of the locals said two trains a day come through and - given they're about half a mile long - they cause considerable delays for anyone trying to get from one side of the town to another.
I followed the track down to the River to find one such train, stopped and stretching back way over the bridge leading to South Carolina. Its huge engines were groaning and throbbing like a hundred idling Ferraris.
Turns out the train cannot come through the town before 12 noon on Sunday so the drivers were just watching the clock tick up to the top of the hour before heading on through.
I've never been a train spotter but I sat on a wall and watched every freight car go by, announced on its way by the distinctive, evocative wail of the American railroad horn.
Hottest ticket
That was quite enough excitement for one day but a strange thing happened a couple of days later when I was just strolling down the same main street.
There was a guy standing on the pavement outside a shop apparently waiting for a friend who was inside.
Assuming he was local, I just nodded and said hello but back came the reply in an English accent: "Excuse me, are you David Livingstone from Sky Sports?"
Turns out the two guys, Jonathan and Mike from Sevenoaks in Kent, had worked the miracle of getting Masters tickets and had organised their whole trip independently.
They were about to play golf that afternoon and kindly invited me to join them. I couldn't do that so we just had a couple of beers instead and the boys told me exactly how they had organised their trip to the Masters.
So now you know what at least one Sky Sports presenter does in his time off in the week of the greatest golf tournament in the world.
I know a trip to Downtown Augusta is unlikely to be on most bucket lists but a visit to the Masters most surely is.
So if you're ever lucky enough to get the hottest ticket in sport, take a day off from the golf and give good old Downtown a bit of love.
For full details on how to follow all of the Masters build-up and action, simply click here.