US Open: Pinehurst shows golf how to grow as it returns to its roots
USGA executive director Mike Davis discusses Pinehurst's longevity in part two of our interview.
Last Updated: 03/06/14 12:12pm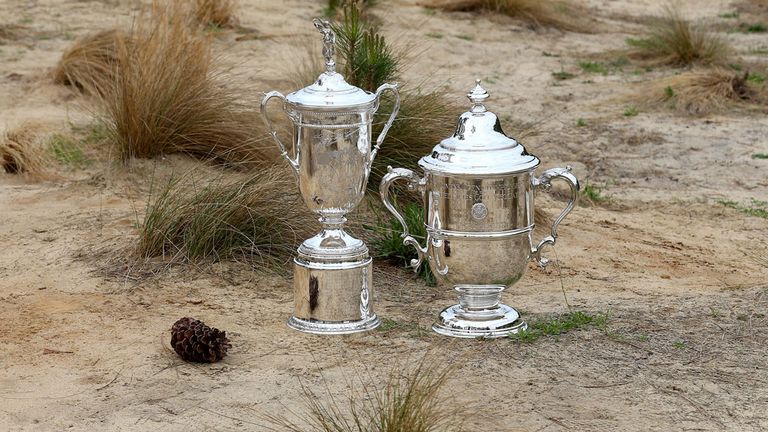 There are many historic sports bodies in the world - the Jockey Club (founded in 1750), the Football Association (inaugurated in 1863, 41 years before FIFA) and, of course, the Royal and Ancient Golf Club of St Andrews, which dates back to 1754.
All of them are fierce guardians of their sport's ethics and traditions, ensuring the heritage and history in each of their events remains as important as anything else on the modern sporting agenda.
Here in the US, there is not quite the same depth of history to match any of the above, although the Cincinnati Reds (founded in 1863 and conceivably the oldest professional sports team in the world today), the Kentucky Derby (first raced in 1875) and the Indianapolis 500 (dating back to 1911, 15 years before the first British Grand Prix) all have impressive pedigrees.
And then there is the US Golf Association, who possibly put all of the above in the shade. Can you imagine the FA insisting the pitch for this year's FA Cup comply with the original rules as set out in 1863? That would have meant no crossbar, a field up to 200 yards long (imagine - two HUNDRED yards!), and no goal nets. The phrase "the old onion bag" would never have been used (hurrah!).
Challenge
But that is effectively what we will see at the US Open, starting on June 12, when the fabled Pinehurst No.2 course is fully unveiled in its newly-restored 1907 profile, thanks to the $2.5million renovation project undertaken three years ago (as discussed in Part 1 of this column).
And the USGA are cock-a-hoop at the thought, as they should be, as it brings a rare element of historic appreciation and nuance to a sport in danger of being dominated by hybrid clubs, golf balls that travel further than trains and anchored putters, not to mention rounds that only seem like they started in 1907.
USGA executive director Mike Davis had all of this - and more - in mind when we talked about the set-up for this year's Open, and how it will present a rare challenge for today's stars. It promises to make Pinehurst something of a sporting anachronism, a throwback tournament of more cerebral dimensions if you like. But it turns out there is more than mere sporting heritage at stake in this idyllic corner of North Carolina.
Davis explained: "We have to get the game back to its roots more, and I don't just mean in a playing sense. Water and conservation of water are going to be increasing concerns going forward and we need golf to be aware of that.
"So, one of the reasons behind the renovation of Course No.2 was in terms of materials used. In restoring the sandy wire-grass areas we are installing areas that need less care and attention, that are more natural. They are now using only 40 per cent of the water they used to use because there is less maintenance and that is the way we're hoping golf is going to go. We already see that in the UK, where you maintain just the fairways, greens and tees and the rest looks after itself. We have to be on board with that."
Back-to-Back
The other unique feature of this year's event is the unprecedented back-to-back Men's and Women's Opens (both of which will be live on Sky Sports 4), whereby ALL the top players in the world will get the chance to test themselves around this unique set-up.
It is something of a gamble in sporting terms, but it presents another historic possibility. Davis told me: "It was the brainchild of my predecessor David Fay, and I remember it like it was yesterday. He had gone to the US Open tennis in 2010 and came back and said, 'You know what - we should do that with our men's and women's events as well.' I looked at him like 'Have you lost your marbles? It would take two weeks just to change the course set-up.' But he was adamant.
"And, while we obviously can't have the events side by side, we could do them back-to-back and use the SAME course set-up. It would be the ultimate challenge. We have done it with the US Junior boys and girls championships and, while there are definitely some risks - if we were to get bad weather, for example - it should be a great celebration to bring to the world of golf."
When it comes to the 'world's best' there is one fairly significant caveat, however. The current world No. 3 remains on the sidelines, and there is much media chatter that the continued injury absence of Tiger Woods devalues each Major that he misses.
That two-dimensional view of the 2014 golfing landscape flies in the face of the realisation that competition among the world's top 50 is deepening instead of weakening. But Davis does admit: "You always want the very best players in your championship and not having Tiger will take a little bit away from it.
"Yes, it's possible there will be less people watching on TV but we believe on-course attendance will be up and, ultimately, these championships are bigger than any one individual. We will still have 156 players and, while they are not all capable of winning, there are probably more potential winners in the field than ever before, and that is just another of the great storylines that I think we'll see this year."
As for this year's winner, Davis is not ready to stick his neck out beyond his previous observations about Course No.2 being best suited to hitters who take a thoughtful approach to course management, but he did offer a few more pearls of wisdom.
He said: "The neat thing about moving the championship around each year is you find courses with different challenges. Pebble Beach is more for the great shot-maker; at Congressional, I knew it would be a long-ball hitter like Rory McIlroy. Certain players fit different courses better, but then you look at someone like Jack Nicklaus who did well no matter where you played. Tiger has been similar.
"Consistently, though, you do see the same type of players coming in early to practice. Phil Mickelson does it, and obviously Justin Rose, who did it last year. Graeme McDowell is another who puts in a lot of preparation, and they are not the only ones. You do notice the ones who really work at an Open course are generally the ones who do best.
"A length hitter who just hits the ball long will not win this Open, though. You need to hit it long AND high. And, at the end of the day, you have just GOT to make the putts."
The future of golf in America has also been on the agenda in recent times, with reports of a 30 per cent drop in those playing the sport in the last 10 years. The (increasingly slow) speed of play, the cost and the availability of golf have all been raised as the usual suspects in this alarming downturn.
But Davis believes there are other factors at play, and it is not something that is restricted just to golf. He says: "In sports in general in this country you find that participation is down, with the only exceptions being soccer and lacrosse. When you look at it, some of it is due to social changes at youth level, with more interest in computer games and so on.
"I do think we need to make it more accessible but I don't believe we need to reinvent the game of golf or be pessimistic about its future. Its history in this country is roughly 120 years old and it is amazing how much golf follows the economy. Golf took a nose-dive after the War, then it picked up again and then the economic crises of the 1970s had another detrimental effect.
"If you look at it long term, it is the economy that affects golf most and we are obviously suffering another down-turn as a result of what happened financially in recent years. So there are things we can look at cost-wise that can help to change things. The cost of maintaining courses is a big issue, which is why Pinehurst is such a good story for us.
"We are developing new courses that use less water and we are trying to change people's mind-set about what is needed. Golf is supposed to be fun but it is obviously no fun if you're spending a lot of time looking for golf balls, so we need to look at that as well. Yes, we're in an economic down cycle but we don't need to turn the game upside down. If there are other forms of the game, we will support that, but we're not going to support changing what we know as golf."
What we know as golf WILL be challenged when the first players tee off at Pinehurst No.2, though - unless there is anyone watching who played it in the 1920s and 30s. And, while there may not be a Tiger lurking in the wire grass, there will certainly be plenty of wily old foxes and young lions ready to step up.
And the door is wide open to all of them to grab a slice of history. I highly recommend tuning in. For ALL eight days.