Sky Sports tries Footgolf which combines football and golf in one new game
Last Updated: 29/06/14 9:54am
Football and golf are two of the most popular sports around, so why not try and cross them to create a whole new experience? Well Footgolf is exactly just that.
With a World Cup and US Open both getting underway on the same day this year, it's the perfect time to try out this new craze as a new six-hole venue was official launched at Leeds Golf Centre.
It really is what it says on the tin and couldn't be easier to imagine or explain – instead of a club and tiny white ball – simply kick a regulation football into an enlarged hole on a genuine golf course, it's a simple as that.
Holes range from 39 to 90 yards on the course, which intertwines with part of the par-three course at the Yorkshire venue.
Bunkers are present and the greens, which are made of astro turf, have several undulations on or around them, making even a short 'putt' difficult at times.
It's harder than it looks, and also a bit more fun than it may sound to some people, and can be a great way of getting people into golf, and also helping you brush up on some of your old footy skills at the same time.
At £5 for six holes or £7.50 for 12, it's not hugely expensive and also doesn't take too long as well and these are both factors in its favour as footgolf chiefs look to continue the trend of expansion over the last 12 months.
Development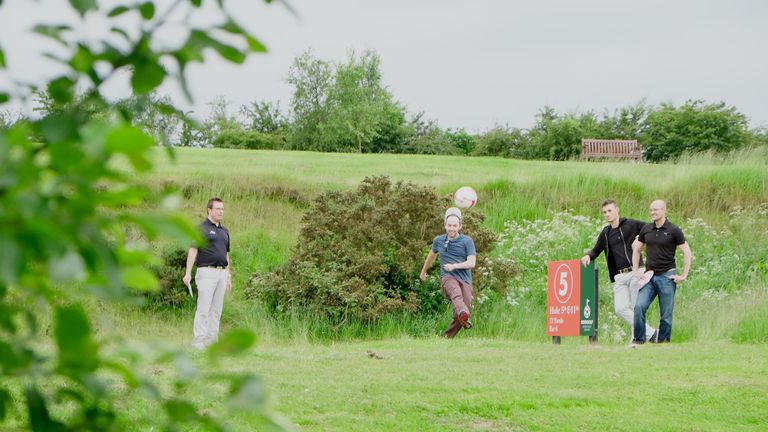 "It was developed in Switzerland ten years ago when they used tees and played in a park using trees as targets," said UK FootGolf MD Mike O'Connor.
"We were formed in 2012 and it took us eight months to get a golf course in the UK to take the plunge and take part in footgolf.
"12 months ago we had only five courses offering footgolf in the UK, all but one were on a part-time basis, and now there's over 30 courses and a lot of those are on a full-time basis so it's really come a long way in the last 12 months.
"We even had a World Cup in 2012 with players from 80 countries and they are footgolfers travelling the world playing in various competitions."
90 yards is quite a whack with a football as we found out, and there's also a hole with a carry over a quarry and a dog-leg right which plays into the hands of the left-footers or those right footers able to pull off the Paul Merson-esque outside of the foot curler.
It's a quick, cheap and enjoyable way to get new people out onto the golf course and with the two sports being front and centre this summer it could be just the start of a sporting match made in heaven.
For more information on the Footgolf course at Leeds Golf Centre go to http://www.leedsgolfcentre.com/footgolf & for more about the sport go to FootGolf UK at http://www.ukfootgolf.com.