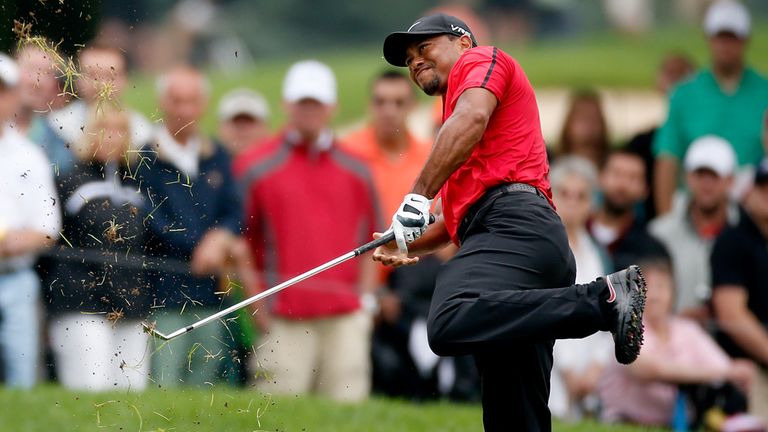 Paul McGinley hopes the injured Tiger Woods will be back playing golf again soon because the game of golf 'needs him'.
Woods was forced to withdraw from the WGC-Bridgestone Invitational at the Firestone Country Club event during Sunday's final round with a back problem. The 38-year-old, who has won this tournament eight times, hit a number of poor shots in the fourth round and, after missing the fairway with his tee shot on the ninth hole he grimaced and reached towards his back before being driven off the course in a cart.
There are now major fears over Woods' future in game, as this setback comes after four months after the 14-time major winner had back surgery.
European Ryder Cup captain Paul McGinley said it was 'sad' to watch the American, who strugggled to get in to his car after retiring, in this state.
He told Sky Sports: "It's sad, and unfortunately we've seen that kind of situation a lot in the last three or four years, of Tiger breaking down with injury; whether it be his knee as it was initially, then his back.
"It's sad because he's an iconic player and dragged the game to a different stratosphere to where it was when he came on the tour and nobody wants to see it.
"I honestly wish him the very best and hope he can be back playing the game again soon."
Too early    
He's been such a tremendous player over the years and I think the game of golf needs Tiger, but it looks like he's maybe come back a little bit too early.
Paul McGinley
As well as missing the final major of the year-  the US PGA at Valhalla - Woods may fail to be fit for September's Ryder Cup.
Having returned to the sport three weeks earlier than expected, McGinley questioned whether the American had tried to rush his comeback in order to play in the big events.
He added: "He's been such a tremendous player over the years and I think the game of golf needs Tiger, but it looks like he's maybe come back a little bit too early.
"We don't know the real story yet, we're still only speculating - but I saw him play shots there in the front nine that I've never seen him in his life come even close to hitting, there's obviously something going on - only his back surgeon can say exactly where he's at with all of this." 
Winner  
Meanwhile, McGinley believes Rory McIlroy is on course to dominate golf following the Open champion's victory in Sunday's event.
A fortnight after holding off Sergio Garcia to lift the Claret Jug at Royal Liverpool, McIlroy overhauled his Ryder Cup team-mate to claim his first World Golf Championship event and regain top spot in the world rankings.
Asked if McIlroy was on the way to dominating the sport as Woods had, McGinley said: "There is no reason why not. That's the best exhibition of driving I have ever seen from anybody in terms of length and accuracy. That golf course is very narrow off the tee and he is finding the fairway time after time at 340 yards.
"What I think is great is that Rory can hold his attitude where it is at now, it's very much in the present, taking one week at a time. He's never said he was chasing Jack Nicklaus' record of 18 majors and that's a great attitude, it takes the pressure off him and keeps him very much in the present where he needs to be."