Trio lead way at Wentworth
Alvaro Quiros and Matteo Manassero joined Luke Donald at the top of the leaderboard at the halfway stage at Wentworth.
By Matt Cooper
Last Updated: 27/05/11 9:13pm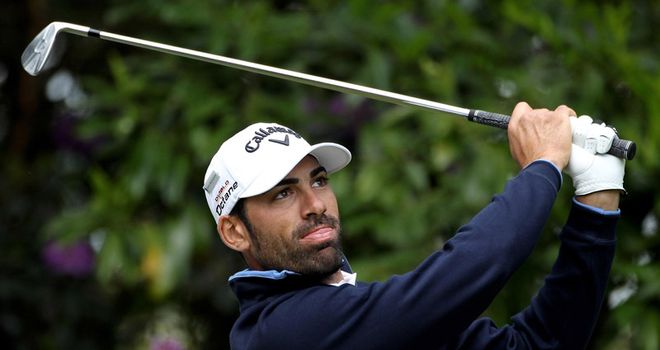 Young talent is currently flourishing on the European Tour and this weekend three of the brightest stars will be locked in battle at the Tour's flagship event, the BMW PGA Championship.
Final hole birdies for the Italian teenager Matteo Manassero and Spain's Alvaro Quiros saw them catch the round one leader, England's Luke Donald, who struggled to maintain his sizzling form on day two. The three players hold a two-shot advantage over the field on a mark of six-under-par (140).
Quiros rose to the top of the leaderboard in typically exuberant style with six birdies in his four-under-par round of 67, whilst Manassero continued to plot his way around the course in his own deliberate manner, adding a one-under-par 70 to his first round 66.
Donald struggled, needing eight shots more than Thursday in completing a one-over-par 72.
South Africa's Thomas Aiken, Spain's Jose Manuel Lara and Englishman David Horsey are tied for fourth on four-under-par.
On 'Wear Navy Blue for Seve Day' it was appropriate that two players (Quiros and Manassero) with close links to the great man thrived and both drew big galleries from a record Wentworth crowd of 25,472.
Ballesteros' countryman Quiros attacks the course just as his hero once did, but he revealed with a smile that he is also playing with his head this week.
"I've been playing very, very safe," he grinned. "I think it is a good thing, considering the weather and how hard and tough the greens are."
If that strategy is atypical for Quiros it is essential and necessary for the much shorter-hitting Manassero and yet he sought his inner-Quiros on occasion.
Conservative Quiros
"You have to be conservative," he said, "but sometimes you should take risks, like on the 18th hole. I have done it all week and I will continue to do so."
The youngster once took a lesson from Ballesteros and spoke about his hero: "We were remembering him today but I think we can remember him every day."
The Italian also acknowledged that the weekend will represent a tough challenge, but he is determined to attack the situation rather than be cowed by it.
"I think this will be the biggest test for me so far in my career. It will be a large crowd and two good players are leading with me," he added.
"I will be nervous but I will enjoy it and I will fight to keep the lead."
For Donald it was a very different experience to the first round. He began with a bogey-five and was fighting for a score for the rest of the round.
"It was definitely tougher out there for me. I didn't have the same control," he admitted.
If those three players coped with the tough challenge that Wentworth has provided, Ian Poulter did not and was not slow to voice his feelings afterwards.
"I don't like this golf course. Period. End of story," he said. "It's not fun golf. You're watching, you tell me. Is it fun?
"I've loved this golf course from a kid. You could be five shots back and had a chance, but you can't finish eagle-eagle. That's the re-design. They got what they want."
He might not like the course, but Poulter is still only six shots behind the leaders having made the cut with ease. A number of high profile names will be missing at the weekend, however.
Among them were Graeme McDowell, Justin Rose (who had a nine on the par-five 17th), Open champion Louis Oosthuizen (eight-over-par), Masters champion Charl Schwartzel (12-over-par) and Nick Dougherty whose scores of 82 and 77 saw him miss a twelfth cut in a row.