Donald tied at the top
Despite some wayward tee-shots, a hot putter kept Luke Donald tied for the lead after day three at Wentworth.
By Matt Cooper at Wentworth
Last Updated: 29/05/11 12:02pm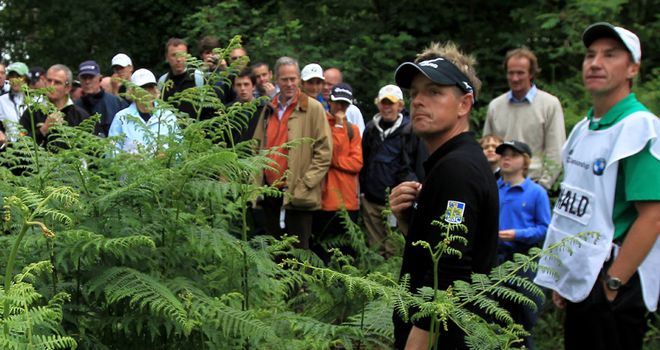 On a rollercoaster day of drama, Luke Donald and Matteo Manassero finished the way they started it - tied for the lead of the BMW PGA Championship at Wentworth.
Both players hit one-over 72s in round three to lead the field by two shots on five-under par, but the manner of those two rounds could hardly have been more different.
Englishman Donald wobbled to a terrible front nine of 40 before a red-hot putter saw him come back in just 32 strokes.
Meanwhile, 18-year-old Manassero was far more reliable, showing fantastic poise by making par on every hole on the back nine.
England's Lee Westwood - eight behind after day one - is now just two shots back and shares third place with unheralded Paraguayan Fabrizio Zanotti.
Frenchman Raphael Jacquelin and Wales' Bradley Dredge both shot 69s to move to two-under-par and are three back in tied fifth alongside England's Simon Dyson (72).
Tree to tree
After his sparkling seven-under 64 in round one Donald had looked strained throughout the second day and there appeared to be little different on the front nine; famed for being straight from tee to green he instead lurched from tree to tree, making one bogey and two double bogeys.
His pride dented, he responded in style with four back nine birdies.
An absolute monster putt for a birdie four on 17 saw him reclaim a share of the lead only for his tee shot on the final hole to find the undergrowth yet again.
He hacked out, made the green in four shots and his putter saved him again as he holed from 25 feet for par to huge roars from the home crowd.
"I felt like Seve today," said Donald. "I was in the trees, leaves over my back, dropping balls in high grass and escaping from everywhere.
"It will be disappointing if I don't win but I'm going to have to play a lot better than I did today."
If the English crowd had cheered Donald's recovery, it was no less appreciative of the precocious Italian who, as he vowed to do on Friday evening, fought tenaciously to hold on to the lead.
"It was a real battle out there," said Manassero. "The toughest of the three days. The adrenalin, being on top of the leaderboard and having difficult flags - it made it hard."
Asked how he will cope with the task of taking on the world number one (Westwood) and number two (Donald) in the final round he was typically honest.
"I don't know," he admitted. "I personally don't think it is going to be a mental battle out on that course. I think the winner will be the guy who plays and putts best.
"I'm certainly not as strong mentally as them, I'll give you that, because they have more experience.
"But I'll try to fight; I will definitely try."
Lurking
Westwood crept into contention with a two-under-par round of 69 and admitted afterwards: "I've done a fair bit of lurking around this tournament. I'm edging my way in there."
He was the only player in the pre-round top twenty to break par on the front nine, added a level-par back nine and is now right in the hunt.
His playing partner in the final round, Zanotti, is 281 place behind him in the world rankings and, although he too shot 69, it was a much more eventful round. It included three early bogeys and seven straight threes - five of them birdies - which represents a tournament record.
If Donald and Zanotti enjoyed rollercoaster golf that ended on highs, the joy ride of Spain's Alvaro Quiros ended horribly.
Three birdies couldn't make up for two triple-bogeys and two bogeys that added up to a round of 76 and left him four shots back.
Earlier in the day, playing in the second group out, Northern Ireland's Rory McIlroy's 68 was marred by a final hole bogey that left him one-over-par.
Asked where he thought the score would leave him by the close of play he suggested "top thirty" but he will watch the Champions League final at Wembley knowing that he has actually jumped into a tie for 18th, just six shots behind the leader.