Poults leaves Els seething
Ernie Els has reacted angrily to Ian Poulter's criticism of the revamped Wentworth, labelling the Englishman's words as "craziness".
Last Updated: 31/05/11 3:17pm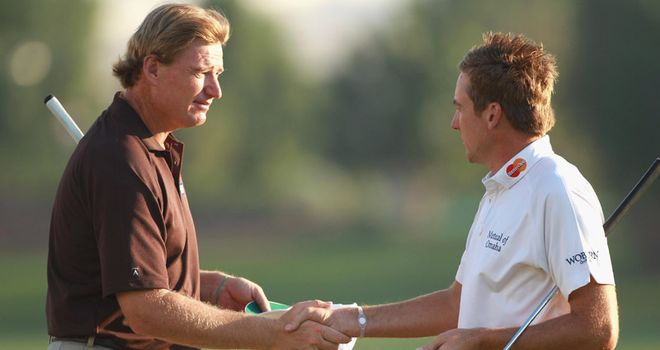 Ernie Els has reacted angrily to Ian Poulter's criticism of Wentworth's revamped West Course, labelling the Englishman's words as "craziness".
Poulter - who eventually finished tied for 18th - launched a scathing attack on the Surrey lay-out after finishing Friday's second round at the BMW PGA Championship with a double-bogey at the much-changed 18th.
"I don't like this golf course. Period. End of story," blasted the Englishman. "It's a very difficult golf course, especially now it's been redesigned.
"It's not fun. I was here as a kid watching those great shots but you can't remember them now.
"They've got what they wanted. I'll speak freely. Many others will not."
Els, who masterminded the £7million modifications to the course and who still owns a house on the property, admits he was left deeply disappointed by the remarks and claims Poulter has damaged the European Tour's flagship event with his outburst.
Indeed, the South African revealed he would be seeking "a word" with Poulter to discuss his comments.
"It's difficult not to take it personally, especially when it's coming out of left field," stated Els.
"A guy double bogeys the last because he doesn't hit the right shot and then he blames the golf course for his bad shots.
"I don't take that lightly. We'll have a word when it's suitable, when he's calmed down a little bit and maybe reflects on the week.
"But he (Poulter) has done a lot of damage to the flagship event. He's a Ryder Cup player and to come out with things like that is uncalled for - he should think twice when he does that.
Craziness
"You should maybe take 10 minutes after you've done a double; I've done the same and it is difficult to keep your composure... he obviously lost his. I'm not going to take that craziness."
Els conceded that he wasn't entirely happy with some of the pin positions selected by organisers throughout the week, but insisted the difficulty of the course was more than suitable given the tournament's status.
Indeed, he felt Sunday's thrilling climax had provided a real validation of the track, Luke Donald edging out Lee Westwood in a play-off to clinch both the title and the World No.1 spot in a finale that will live long in the memory.
"This was as good as you'll see the golf course," Els continued. "We were unhappy with the flag positions at the last five holes on Saturday, but not (Sunday). If you were on your game you shot a good score.
"Major championships aren't won at 17-under. The philosophy here was to test the players and if you're not quite sharp enough you'll have a tough time.
"You have to play with your head - if you go at every flag you're going to get burnt, like any major.
Mud-throwing
"Lee and Luke understand major championship golf and applied that all week. You're going to get your bad breaks, but you've got to move on and be mentally tough. That's the test here.
"They haven't got into the mud-throwing match. They've just applied themselves to playing golf on a very tough course.
"Guys who are on their games are enjoying this challenge and to see the two best players in the world slug it out at the flagship event, our home on tour, is something very special."
The South African also revealed that there would be further tweaks to the West Course but urged players to be rather more discreet than Poulter.
"We'll consider more changes," he added. "The 15th hole is a big par-four and I'm still not happy with the right side of the green.
"We'll look at number 12 as well, we'll take stock. But instead of getting on a stage and talking to the world, come up with constructive criticism and we will listen."