Monty expects Euro stars
Colin Montgomerie would not be in the least bit surprised to see a European 1-2-3 in The Open at Sandwich this week.
Last Updated: 11/07/11 4:27pm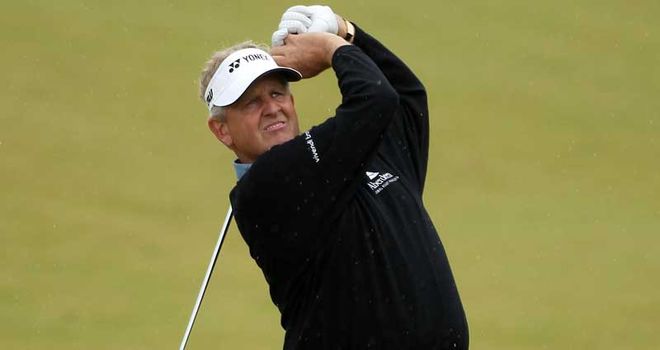 Colin Montgomerie would not be in the least bit surprised to see a European 1-2-3 in The Open at Sandwich.
And Rory McIlroy, Luke Donald and Lee Westwood are the players he can most easily picture leading the race for the Claret Jug.
But Montgomerie, who will be watching rather than playing at The Open for the first time since 1989, would not be drawn on an exact order.
"They are all good enough to win," he said.
Three years ago at Royal Birkdale Padraig Harrington was first, Ian Poulter second and Henrik Stenson third, but the Swede shared that position with Australian Greg Norman.
Back in 1938 it was an outright 1-2-3 - Reg Whitcombe, one of three brothers in the field and runner-up the previous year, beat Jimmy Adams by two and defending champion Henry Cotton by three. The leading non-European was Bobby Locke in joint 10th.
Wind
If the weather is the same as it was that week then Montgomerie believes it could suit Westwood and enable him to end his long search for a major title.
In winds so strong that the large exhibition tent was ripped apart and debris was scattered as far as the old Prince's clubhouse almost a mile away, Whitcombe's closing 78 was one of only seven sub-80 rounds.
Montgomerie played with both Westwood and Donald in last week's Scottish Open, where his bid to extend his own Open run ended as he finished 31st.
He was with world number one Donald as he opened with back-to-back 67s at Castle Stuart and then, while he was going away to a four-shot victory with a 63 that was his lowest-ever round on the European Tour, he saw Westwood close with a 68 for joint 14th spot.
"Lee didn't hole the putts that Luke did," Montgomerie said.
"Luke is extremely good - there are no weaknesses in his game at all. Lee does not putt as well, but he hits the ball further and he is stronger.
"I feel is the weather is inclement then he would be favoured, but if the weather's nice I think Luke could well be favoured."
The forecast is for possible gusts of 30mph during Friday's play, but easing over the weekend.
"At the end of the day it comes down to putting," added Montgomerie. "When Woods and Mickelson won their majors it's not because of power or whatever - it was because of short game and putting.
"I'm not saying Lee is weak at it, I'm just saying that Luke is extremely good at it.
"It's going to be interesting, but when you look at Luke's game, Lee's game and of course Rory's game I can easily see them finishing first, second and third.
"But that could be in any order - we'll just have to wait and see."
Talent
Montgomerie was in Washington last month commentating on television as 22-year-old McIlroy destroyed the best of the rest by eight, his 16-under-par total a US Open record by four.
Last year's Ryder Cup captain said of the youngster: "He is the most talented golfer we have right now - the most talented since Seve and that's saying something.
"Seve seemed empty without a club in his hand, Ernie (Els) looks better with one and now we've got Rory. He's naturally gifted, A God-given talent."
Montgomerie, though, has questioned McIlroy's decision not to play a tournament the last three weeks since his first major title.
He said: "Can he get the mental side out of the way? That's to be seen.
"And I think the course at Congressional suited him - out of 14 drives 11 went right to left - and the way it was soft suited him."