Book says Tiger nearly quit
Tiger Woods considered giving up golf and joining the US military, claims former swing coach Hank Haney.
Last Updated: 29/02/12 6:27pm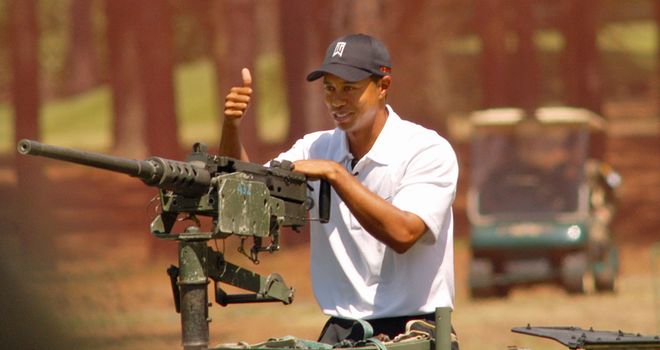 Tiger Woods considered giving up golf and joining the US military, claims former swing coach Hank Haney.
Excerpts of Haney's new book - "The Big Miss: My Years Coaching Tiger Woods" - which is written with writer Jaime Diaz, were released on Tuesday by Golf Digest magazine.
And one of the most eye-catching passages is Haney's assertion that Woods wanted to follow in the the footsteps of his father Earl, who was in the army and fought in the Vietnam War.
"I didn't know how he'd go about it, but when he talked about it, it was clear he had a plan," says Haney, who reveals that Woods was especially attracted to the Navy SEALs.
"I thought, 'wow, here is Tiger Woods, greatest athlete on the planet, maybe the greatest athlete ever, right in the middle of his prime, basically ready to leave it all behind for a military life.'"
Haney also reveals that Tiger's fitness team were concerned that his obsession with the military could damage him vulnerable left knee.
Tiger did four days of special-ops training in Fort Bragg, N.C. and Haney writes: "Tiger did two tandem parachute jumps, engaged in hand-to-hand combat exercises, went on four-mile runs wearing combat boots, and did drills in a wind tunnel. Tiger loved it, but his physical therapist, Keith Kleven, went a little crazy worrying about the further damage Tiger might be doing to his left knee.
"One morning I was in the kitchen when he came back from a long run around Isleworth, and I noticed he was wearing Army boots. Tiger admitted that he'd worn the heavy shoes before on the same route. 'I beat my best time,' he said."
Haney also says in the book that trying to chase down Jack Nicklaus' record of 18 majors had taken its toll on Woods.
"There was more urgency and less fun. He never mentioned Nicklaus' record, but it started to weigh more heavily at every major," Haney writes. "And Tiger's actions indicated he believed he had less time to do it than everyone thought."
Haney also writes that Woods had some surprisingy self-doubt and believed that he wasn't a good driver of the ball.
"One of the adjectives most often used to describe Tiger Woods was fearless. But the more I observed him close up, the more it became clear he wasn't," says Haney.
"Sometimes, to make it less of a big deal, he'd remind me that he had never considered himself a particularly good driver, at least in comparison with the rest of his game. 'That's why my name is Woods,' he'd joke. 'Maybe it would have been different if I'd been named Fairway.'"
Agent blast
The agent for Woods has lashed out at the book which is set to go on sale a week before The Masters which tees off at Augusta on April 5th.
Mark Steinberg of Excel Sports Management says Haney's claim that the book is about golf is "clearly false" and adds that Haney's armchair psychology is "ridiculous."
Five short excerpts of the book are available on Golf Digest's tablet applications.
Woods, meanwhile, is in action in this week's Honda Classic in Florida.