Westy laughs off six
Lee Westwood refused to be too downhearted after surrendering the Masters lead with a double bogey six at 18.
Last Updated: 07/04/12 10:40pm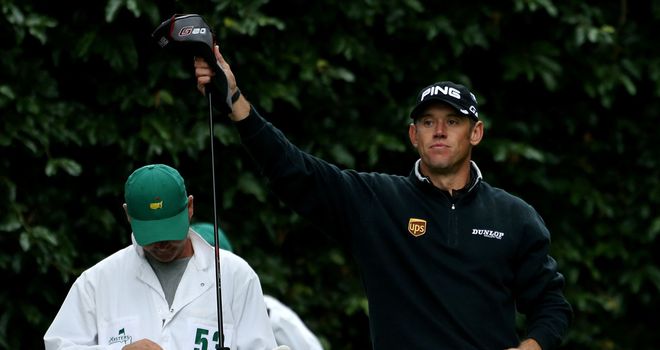 Lee Westwood refused to be too downhearted after surrendering the lead at the Masters with a double bogey six at his 36th hole.
The world number three led by a shot on the 18th tee but missed the green and then three-putted from 15 feet to card a second round 73 and a four-under-par finish.
Westwood had led after an opening 67 but failed to build on that during a frustrating day on the greens.
He made 10 straight pars and then bogeyed 11 after driving into the trees and being forced to hack out.
The Englishman immediately got the shot back with a birdie from eight feet at the short 12th, then escaped with a par on the long 13th after his second shot headed towards Rae's Creek, but did not go into the water.
He got to six under for the first time with a two-putt birdie at the 530-yard 15th, but the 18th undid all his good work.
Nevertheless, he was in upbeat mood as he told Sky Sports: "It is a frustrating way to finish but I am still right there in the golf tournament, so it should be a good weekend."
To Westwood's credit, he even managed to make a joke about his poor finish, adding: "I played well but struggled to hole anything on the greens.
"I hit a lot of good putts but nothing would go in for me. So I had to be patient and I was rewarded with a double bogey at the last!"
Poulter
Meanwhile, Ian Poulter admitted that he had let a chance slip through his hands.
The world No 24 threatened to get right into the mix when he reached two under, but he went in the water for a double bogey at the short 16th and sits level par after a second successive 72.
Poulter, whose best finish at Augusta was tied 10th in 2010, said: "I'm a little bit disappointed. The front left pin location on 16 is accessible, but the wind changed a little and I pulled it - a poor shot, simple as that.
"It obviously leaves a little sour taste, but level par is okay. That was just one example of many shots that can hurt you out there and over the weekend.
"You make a mental error or a bad swing and you are going to get punished on this golf course."
He was happy to reflect on his birdie on the 13th, when he conjured a superb chip to four feet from deep in the shrubbery.
"I had to take a little bow after that one. It was very cheeky, I must say," he added. "It just came out so perfectly and ran down like a little helter-skelter."