Clarke hands back Claret Jug
Open champion Darren Clarke says that his golf game is not the only thing in need of some repair - so does the Claret Jug.
Last Updated: 16/07/12 4:46pm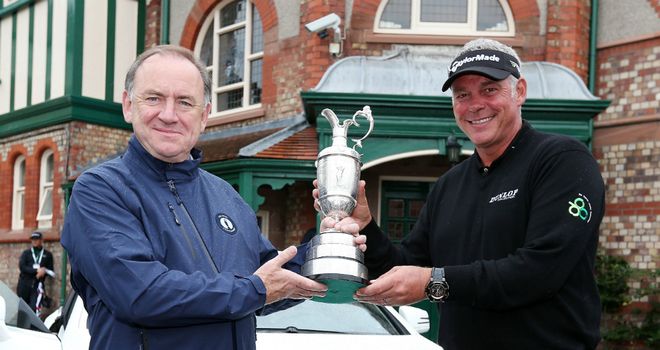 Darren Clarke admitted on Monday as the rain hammered down at Royal Lytham that his golf game was not the only thing in need of some repair - so was the Claret Jug.
"It's not quite in as good a condition as I received it in," said the defending champion with a smile after handing over the trophy to Royal and Ancient Club chief executive Peter Dawson at the start of what is threatening to be a soggy Open Championship week.
"It's been here, there and everywhere, but Mr Dawson looked at it and said 'Oh, we can fix that, we can fix this'."
The 43-year-old Northern Irishman, oldest winner of the title since Roberto de Vicenzo in 1967, was at pains to add, however, that he was not responsible for any of the dents.
"I didn't drop it. I shall say no more - it was nothing to do with me. But it's not that bad. It's fine. And I didn't really want to give it back obviously."
Special
Right up to the minute of the handover Clarke, despite being known to like a drink or two, remained true to his word - unlike many of his predecessors nothing was poured into the trophy during the entire year of his reign.
"Not at any stage did I put any fluid in it at all. Nothing. It just is too special a trophy.
"I have so much respect for the Open Championship. I thought about it a few times, but I couldn't get myself to do it.
"I was tempted on the Sunday evening and the Monday evening and the Tuesday evening and the Wednesday evening - and for about two weeks afterwards.
"But I just thought 'No, I can't do it'. I don't need to have a jug to drink out of!"
Reminded that following his win in 2009 American Stewart Cink had even poured barbecue sauce in, Clarke answered: "I think everybody that's been fortunate to have their hands on the trophy have done different things with it.
"All I can really comment on is my point of view of it. I just decided that the trophy was too special for me to put anything into it."
He did add, though, that it has been a different story with the replica he was given to keep.
Trophy returned then, but Clarke still has a daily reminder of what he did at Sandwich - and did in some of the roughest weather to hit The Open in recent years.
"I'm in the champions' area of the locker room, which is very nice," said the Dungannon golfer.
Yet he then told the story of how he happened to be there as well all week last year.
"I got my locker and I was beside Mr (Tom) Watson and a few of the other guys. I couldn't quite figure out why and it was due to the late withdrawal of Greg Norman.
"Mr Dawson wondered who to put in there that won't offend anybody, so they stuck me in.
"Having won it, I've earned my place in that part of the locker room this time!"
Brutal
Having been one of the first players to test out the wet conditions and ferocious rough - Tiger Woods described it as "almost unplayable" in places - Clarke had his own warning for the rest of the field.
"There are a few patches out there where it's just absolutely brutal. If you start spraying the ball around this week you might as well go home.
"It's a big challenge. There's a really huge premium on accuracy this week.
"There are a few places you could lose your ball, even with spotters and everything.
"And even if they do find the balls in some of those areas I don't know if you'll be able to take a full swing and move it."