Monty: who pairs wins
In part two of our Q&A, Monty talks tactics and explains why he doesn't want a McIlroy-Woods showdown.
Last Updated: 25/09/12 10:39am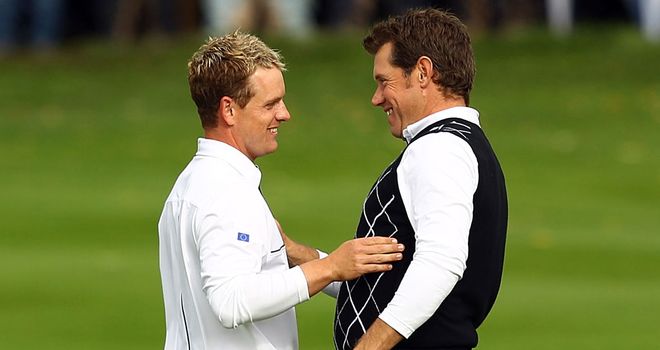 The Ryder Cup - it's golf, but not as you know it. Just ask former captain Colin Montgomerie.
Monty led Europe to victory over the United States at Celtic Manor in 2010 and this month he'll once again be in the thick of the action as a pundit on Sky Sports' comprehensive coverage from Medinah. FULL DETAILS HERE.
As part of the build-up to this week's showdown, skysports.com and @SkySportsGolf offered you the chance to take part in answer a Q&A with Monty on all things Ryder Cup.
Read Part One here. In Part Two, Monty discusses how to pick Ryder Cup pairings, why he doesn't want to see Rory and Tiger go head-to-head in the Sunday singles and what advice he'd give to European captain Jose Maria Olazabal...
þ@Kercharoo99 on Twitter: with several diff balls being used by players..is this a deciding factor in foursomes pairings?
MONTY: That's a great question, Jim, and the answer is yes - very much so. Ideally you don't want to put a player who uses a Titleist ball with another who plays with a Callaway ball, because one of them will have to change. I remember Langer used a Hogan ball which was very different from my Callaway, so what we did was we both changed back to Titleist - it was weird!
In short, each player will be used to striking a particular type of ball - some go further, some balls stop quicker on the green, some balls react differently chipping, some balls come off the putter differently. There may be minor differences but in a match that could be the difference between winning and losing.
eoin via email: What attributes does a captain consider when choosing his pairings? How do these differ when deciding pairings for fourballs as opposed to foursomes?
MONTY: First of all, Eoin, we need to find people who get on - people who motivate each other and bring out the best in each other. Often that means pairing an experienced player with one less so; it's very rare to see two inexperienced Ryder Cup players together, simply because of the nature of the occasion, which can be quite daunting. You also have to factor in the way that different people play; how many holes go right to left and how many go left to right? One guy might be more comfortable drawing the ball, while another will prefer the fade, like I did - in that case I'll take the holes that fade. So tactics are crucial. Trust me, there's a lot more in it, than saying 'er ok, today you're playing with him'.
dilly via email: Monty...my question relates to the pairings...particularly the foursomes. When you were captain did you choose pairings based on personalities or style of golf? Do you think its best to pair players that have similar games...i.e hit it similar distances etc etc...or is it more important to gel as a pair and let your golf speak for itself?
MONTY: Hi Dilly - your last point is an important one because while it's important for people to gel, we mustn't force it in case people end up playing a different game to the one that got them on the team. In my view, it's all about trying to get people to play their own game with someone else. I hope that makes sense! That's an art for some players because not everyone gets it - that's why three days of practice is vital to giving your side every possible chance.
I can't stress how important it is to get that build-up right. It's vital to get the guys out on the course to give them a taste of the atmosphere, the tension. Season passes are given out for all six days so that means people who will be there on Friday are already at the course from Tuesday, so it's a busy time. It's so important for the rookies to get as much out of those days as they can; the quicker they can acclimatise, the better. I've played two USPGA's on this course but I know a number of the guys haven't actually played it yet, which isn't a problem in itself, but perhaps isn't ideal.
@MarcusE_PFC on Twitter: how do you decide in what order the players go out in the singles?
MONTY: Hi Marcus. You decide the order on Saturday night when you know how far ahead or behind the team is. Each is a very different scenario, plus there's always the chance the teams are tied too, which can affect your thinking. That means that until that point you have at least three different orders in your mind and inevitably not everyone will agree with the final outcome but as captain your job is to make the right decision for the team.
Tony by email: I'd love to see Rory take on and beat Tiger in America. Do you think it will happen?
MONTY: Tony, I'll be honest. I do hope we don't see those two play each other on the final day. I don't want the Ryder Cup to become 'the Rory and Tiger show'. I'd stay well away from that scenario - particularly as Tiger will have the vast American galleries behind him - and leave him to someone else rather than Rory. We all remember how Tiger beat Stephen Ames 9&8 at the 2006 WGC-Accenture Match Play and how he came back to beat Francesco Molinari 4&3 at Celtic Manor after being two down after two. Results like that make me think it's best to leave Tiger well alone. If Rory and Tiger do end up playing together, then for the sake of the Ryder Cup I'd hope that it would end up as a halved match.
I'm not saying this because I'm worried that Tiger will sweep Rory away. Far from it. It's just that I've always tried to stay away from these contrived match-ups - particularly when I was captain - because it is dangerous, very dangerous and you generally end up losing a match that you think you are going to win.
Fenton151 by email: Hi Monty I expect I already know the answer but I'd like to hear it from you. Who is going to win?
MONTY: There's no getting away from the fact that it is going to be very, very tough for Europe to win at Medinah. It's one of the toughest gigs yet. Obviously I'd love Europe to win but right now I'd have to put the two teams absolutely level-pegging and therefore you favour America because they are playing at home. That's the only difference I can see between the two teams. If we can overcome the disadvantage of playing over there, then we have every chance of winning; if we don't, then I'm afraid the result will go against us.
Mike by email: as you've been there and done it what advice would you give Olazabal?
MONTY: I'm in no position to give Jose any advice, Mike! But if you're going to push me I'd have to say that 'you've got to be flexible'. Jose will go to Medinah with ideas about pairings but he must be willing to change those ideas depending on the situation. That's important in any business and the same applies here. Just because two players have played well together in the past, it doesn't mean that they will do the same again - so always keep your mind open to new ideas.
Check out everything you need to know about how to follow the Ryder Cup on Sky Sports here - and don't miss our live build-up show - which includes coverage of the opening ceremony from 9pm on Thursday on Sky Sports 1 HD.