Ryder Cup legend Bernard Gallacher talks to Sky Sports about the Medinah Miracle
Sky Sports caught up with Bernard Gallacher on the golf course to relive his favourite Medinah moments.
Last Updated: 18/10/12 5:54pm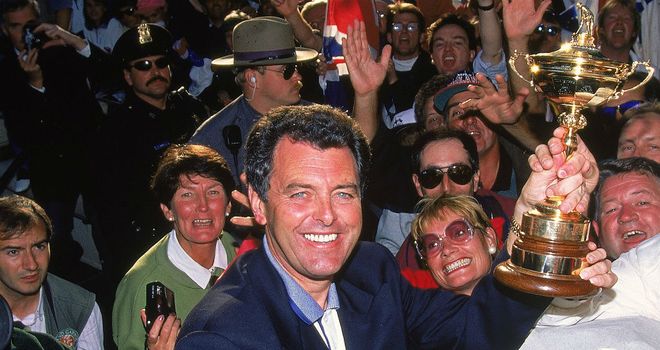 A three-time captain and eight-time player, Gallacher is synonymous with the event, and having been given the pleasure of playing a few holes with the golfing legend it only seemed right to gather his thoughts on the happenings at Medinah.
Bernard partnered our (winning) team at JRW Group golf day at De Vere's Wychwood Park in Cheshire, all a far cry from witnessing the 'Medinah Miracle' at first hand, which he says was the finest effort he's seen from a European team.
"When you consider there were 46,000 Americans crammed into Medinah all condensed into four matches it was absolutely massive, I've never seen so many people around a golf course and to win in that way in the atmosphere was simply stunning," Gallacher told Sky Sports.
"For the Europeans to fight back and beat the Americans on their home soil is something special, you really have got to play in the Ryder Cup to realise how tough it is to beat America in America.
"Make no mistake America is the major golfing nation in the world so I think we should enjoy it while it lasts because take it from me they're going to come back with a vengeance and they'll find a way to beat us again sometime in the future that's for sure."
Jose Maria Olazabal has gained huge credit for his team's final day comeback, but Gallacher says it was his decision to break up two well-known partnerships in the final Saturday session which was the real turning point.
"He asked Sergio to play with Luke Donald instead of Lee Westwood but the big team was Poulter and McIlroy, that turned the match that Saturday afternoon so you have to say it was a stroke of genius from Olazabal to split up those normal pairings and they got two big points against the run of play.
"At Medinah, watching from the sidelines, I could see what was going on in Olazabal's mind. Things weren't working for him with the established partnerships and it was really the last throw of the dive to break up McIlroy and McDowell, Rory was playing fantastic and just maybe needed someone with him to hole those putts and Poulter did that superbly well."
Fightback
"I had some modest success whilst captain with pairings but most of the players I captained had solid partnerships and I didn't like to experiment with them too much, so it was a brave move."
Gallacher himself led a victorious European fightback at Oak Hill in 1995, and he said Olazabal had no choice but to load the top of his singles order, but having the strongest European team in history certainly helped his cause.
"I didn't do quite the same thing, we were two points behind but I was confident we could win our singles, Olazabal was four points behind so it actually made his job very easy," Gallacher added.
"It made Davis Love's job easy as well as he knew Olazabal would have to put his very best players right at the top to try and claw it back so on this occasion tactics didn't really come into the singles, as we had no alternative but to lead off with our best players.
"When it got down to ten Lee Westwood suddenly came good as he looked at the board and thought we could win it. Kaymer is a major winner and has been world number one, so that's why I say it was the best side Europe had ever had, if you can put the world's number three player and a former world number one down at ten and 11 then you've got some side.
"Davis Love must have had a hunch that it would go down to the wire as he put Tiger last as a back stop. I'm not sure every captain would have done that as Tiger had played great during the week so you'd have to ask questions as to why he wasn't playing Tiger higher up to absolutely go for the victory."
Bernard Gallacher is an ambassador for Golf Care, the UK's #1 golf insurer - www.golfcare.co.uk