Tommy's gain
Mark Roe hailed Tommy Gainey's 'rags to riches' story after he captured his first PGA Tour title.
Last Updated: 23/10/12 5:23pm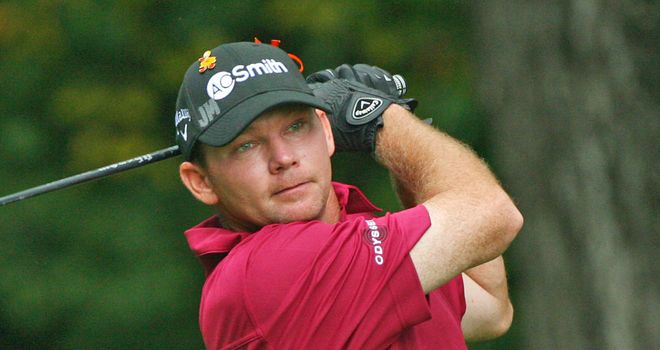 Mark Roe hailed Tommy Gainey's 'rags to riches' story after the American produced a stunning final round 60 to capture his first PGA Tour title.
Gainey began the fourth day at the McGladrey Classic seven shots back in tied 29th, but the former assembly line worker went 10-under for the final 18 to pip David Toms to the win by one stroke. Read our report.
With the final group only on the eighth when 'Two Gloves' Gainey finished his round, the 37-year-old South Carolinian with the unorthodox swing had a long wait before eventually celebrating his maiden PGA crown.
"This is one of those great stories that get thrown up in this Fall Series at the end of the season," Roe told Sky Sports.
"Of course the fields are not at their strongest, with some of the superstars away, but you still have to win the golf tournament.
"This is the most special moment for somebody who does everything his own way - it's a rags to riches story.
"Maybe a lot of people could not have seen this happening with the way he plays golf and with the technique he has but he blasted them away on Sunday with that round of 60."
Surprise
Denis Pugh was equally impressed with Gainey, although he concedes he didn't believe the 37-year-old had what it takes to win on the PGA Tour - until this weekend.
"I was surprised to see him win," admitted Pugh. "I've seen him over the years at different tournaments and he's certainly got a different way of doing it.
"I thought he might just play the game to a high level and make a good living from the game but he's proved me wrong; he's a winner."
With his first win under his belt, Roe believes the future is bright for Gainey: "The dream will continue for him," he said.
"When you do things like that, in your own style, there's nothing missing, nothing to find; it works and he's proved that.
"It's a great way of playing the game. It's a little Palmer-esque, with a less classic swing, because it's a slash and run; give it a welly, go after it and play the game in the spirit it should be played.
"Contrast that with Jim Furyk's game and his analytical process, breaking every shot down and there's something very special about watching Tommy Gainey play."