Riviera betting guide
Dave Tindall's in-depth preview and best bets for this week's PGA Tour event - the Northern Trust Open.
By Dave Tindall
Last Updated: 13/02/13 10:18am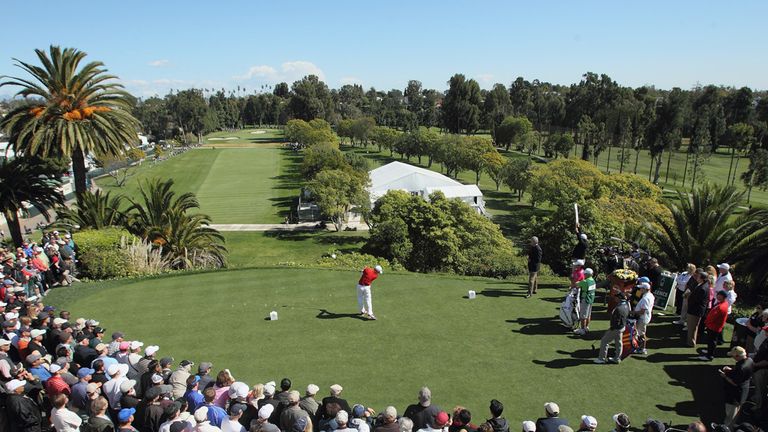 The next leg of the PGA Tour's West Coast Swing sees a high-class field assemble at the storied Riviera Country Club in Los Angeles.
Open for play since 1927, the George C. Thomas masterpiece is one of the most revered courses on tour and has held three major championships.
Eight of the last 20 winners of this event have been non-American players and, perhaps sensing their chance, England's Luke Donald, Northern Ireland's Graeme McDowell, South Africa's Ernie Els, Australia's Adam Scott and Spain's Sergio Garcia are all making their first starts on the PGA Tour this season.
Riviera has also long been known as "Hogan's Alley", a nickname bestowed upon it by three-time Masters champion Jimmy Demaret after the legendary Ben Hogan won the 1947 and 1948 Los Angeles Opens and the 1948 US Open at Riviera within a span of 18 months.
As usual, Sky Sports will have live coverage of all four days.
The course
The Riviera is a 7,298 yard par 71 where course management and excellent ball-striking are rewarded. The old-school layout features tree-lined fairways and greens that are much smaller than the tour average. The reason for the success of the internationals may well be down to the Kikuya grass which makes Riviera play like no other on tour. The ball sits up in the fairways, grips the club head in the rough, and around the protected greens there are no chip and run possibilities. Short side yourself and only the lob wedge can save you. The winning score can vary depending on the wind and last year's seven-under was the highest since Craig Stadler triumphed with six-under in 1996. Mike Weir, meanwhile, won back-to-back titles in 2003 and 2004 with -9 and -17.
The weather
The 10-day forecast for Pacific Palisades shows lots of sunshine and temperatures for tournament week in the 70s for the first three days before dropping a little on Sunday. The chance of rain is expected to be minimal while the winds, often a factor, are predicted to be sub-10mph.
Last year - Bill Haas
In tough scoring conditions, Bill Haas set the clubhouse lead of seven-under after a closing 69. Phil Mickelson and Keegan Bradley arrived at the 18th one shot back but really up against it due to the closing hole yielding only six previous birdies all day. However, Mickelson holed from 25 feet for his birdie three and Bradley followed him in from 12 feet to make it a three-way play-off. Returning to the 10th, Haas was 45 feet away in two and hoping to stay alive with a two-putt but, instead, he drained the putt for what proved to be a sensational winning birdie.
The leading contenders (and Sky Bet odds)
Phil Mickelson (12/1): Red-hot in Phoenix, Mickelson literally (he slipped whilst walking down a cliff) ended up on his backside when defending at Pebble Beach last week, finishing in a tie for 60th after concluding his two rounds at Pebble with an eight and a seven. But, as this is his beloved West Coast, Phil will fancy his chances of lighting it up again on this course. After his initial early struggles with Riviera he's flourished here in the last six years with two victories (2008 and 2009) and a pair of second places (2007 and 2012).
2013 form: 60-1-51-37
Course form: 2-34-45-1
California form: 60-51-37-65
World ranking: 10
Sergio Garcia (18/1): Sergio was pipped in Qatar by Chris Wood's final hole eagle at the end of January and was then 17th when a warm favourite in Dubai although he was hampered by a shoulder injury. If 100% fit he's an obvious contender here. The Spaniard thrives on these classic layouts and his seven starts in this event show five top 25s and a fourth (2012) and a sixth (2007) in two of his last three visits. Twelve months ago he concluded with a seven-under 64 - an incredible score given that the tournament itself was won in seven-under. Before last year, he said of Riviera: "I love this course. It's one of my favourites on tour."
2013 form: 17-2
Course form: 4-46-6-20
California form: 38-4-22-52
World ranking: 14
Luke Donald (20/1): Luke's last five starts of 2012 resulted in a win (in Japan) and three top further top threes. Oh, there was also the little matter of a crucial singles win over Bubba Watson in the Ryder Cup singles. However, history suggests he'll be slow out of the blocks at Riviera. His last four seasonal debuts have resulted in two missed cuts (one of them here), a 48th and a 23rd so it seems Luke needs a run-out before he finds his best. If he can shake the rust off quicker than usual, this is a course that suits him as he boasts a second, a third and a sixth in recent years (although, on each occasion, he'd had at least two previous starts ahead of those good finishes).
2013 form: n/a
Course form: 56-MC-2-6
California form: MC-56-MC-47
World ranking: 3
Dustin Johnson (20/1): DJ started the season in grand style, winning the season opener in Hawaii, but since that victory he's gone surprisingly flat. He withdrew from the Sony with a minor ailment, was 51st at Torrey Pines and, last week, surprisingly missed the cut at Pebble Beach - a tournament he had won twice in recent years. He doesn't seem the most obvious fit for Riviera but clearly he really gets on with his place as shown by results of fourth last year, third in 2010 (included an opening 64) and 10th in 2009. A bit like Phil Mickelson though, Johnson can catch fire in a flash so don't rule him out at a venue he really likes.
2013 form: MC-51-Wd-1
Course form: 4-MC-3-10
California form: MC-51-MC-4
World ranking: 17
Charl Schwartzel (20/1): Schwartzel is a fascinating prospect this week. In theory, he's right up against it given that this is his tournament debut and experience often counts at Riviera. However, his form figures are ludicrously good. His last five starts show wins by 11 and 12 shots respectively, a second in Joburg with 20-under last week, a third and a fifth. His last 17 rounds have been in the 60s, with a scoring average of 66.59! However, as a South African he grew up playing Kikuya grass so, in theory, he should feel at home straight away on this course. Add in his wonderful short game and the has the tools to make a winning debut.
2013 form: 2
Course form: n/a
California form: 38-16
World ranking: 16
Bubba Watson (22/1): Illness has rather cut into Bubba's West Coast swing but he did battle through the 'flu-like symptoms to finish fourth in the season-opening Hyundai and also closed with a 64 to finish 15th in Phoenix last time out. After that he tweeted: "Shoot 64 today. Nice to finish strong! Getting my strength & energy back. #GolfIsFun". Watson is a regular starter in this event and six visits have produced finishes of 13th (2012), 14th (2008) and 17th (2009) so given his consistency these days (something he doesn't seem to get credit for) all the signs are that he'll be on the leaderboard or floating somewhere near yet again.
2013 form: 15-4
Course form: 13-Wd-MC-17
California form: MC-13-13-Wd
World ranking: 9
Adam Scott (25/1): The Aussie is possibly in the same camp as Donald in that he may need a run. He hasn't managed a top 15 in any of his last five seasonal debuts and although a 17th here last year looks good on paper he made too many mistakes to contend. He does have some fine form here but that was a while ago when he won in 2006 in an event reduced to 36 holes and finished runner-up the following year. However, the feeling remains that it's all about the majors for Scott these days and there will be better opportunities to back him than in his warm-up here.
2013 form: n/a
Course form: 17-MC-14-69
California form: 15-17-MC-52
World ranking: 7
Keegan Bradley (28/1): Bradley showed his fighting spirit when making a 12 foot birdie putt at the tough 18th to reach a play-off last year. That came on just his second appearance at Riviera which slightly refutes the idea that you need lots of course experience to succeed here (good news for Schwartzel perhaps). The 2011 USPGA champ started the season with an impressive fourth place in Hawaii but he hasn't hit the heights in his other three starts although a top 25 in Phoenix was a reasonable effort. His putter has gone rather cold of late, especially at Torrey Pines, but he was ranked first in Putting Average here last year so perhaps he can thrive on these greens again.
2013 form: 24-MC-49-4
Course form: 2-MC
California form: MC-68-2-22
World ranking: 15
Lee Westwood (28/1): It's a little hard to assess Westwood at the moment. A fifth place in Dubai suggested the move to America which had allowed him to practice more over the winter was reaping instant reward. But a 46th at Pebble Beach last week slightly re-opened the argument that he's dropped a notch since occupying the world number one slot. Lee has played here quite a lot down the years and was fifth in 2006 and 15th in 2002. At his best and hitting green after green he'd be a live challenger but if he's a little askew on this course he'd put unwanted pressure on his scrambling which isn't the strength of his game. Last played here in 2008 when he missed the cut.
2013 form: 46-5
Course form: MC-5-47-44
California form: 46-10-16-3
World ranking: 8
Best of the rest
Jimmy Walker (30/1): The Texan is in great form with finishes of third and fourth in the last two California events while he also boasts back-to-back fourth places here. It's all good news for each-way punters but the way he took an iron off the 18th tee at Pebble to protect his third place rather than attempt a dramatic eagle to try and pinch second or even put pressure on leader Brandt Snedeker did rather suggest top fives are his comfort zone and winning is not. He's 6/1 in the top five market by the way.
Bill Haas (30/1): A hot short game was the key to Haas' victory here 12 months ago and this year his iron play is strong so a marriage of those two elements would make him a strong contender to defend. In his last two starts the 2011 FedEx Cup winner has finished ninth at Torrey Pines and sixth in Phoenix so, fully into his stride already, he makes more appeal than several of those shorter in the betting.
Kevin Stadler (66/1): Dad Craig was a winner here in 1996 and chip-off-the-old-block Kevin would dearly love to follow in his footsteps. On his current form, he has a chance. Eleven of his last 12 rounds have been in the 60s and that's seen him improve from 27th at the Humana Challenge to 11th in Phoenix to third at Pebble Beach where he closed with a 65. His summation at Pebble: "Gotten to the point where I'm pretty consistently a good ball‑striker, and when I play well is when the putts are going in." At this venue he's finished 24th, 12th, 10th and 29th in the last four years so it's a good place for Stadler to continue his hot form.
Conclusion
Only one man has better form figures on his last three starts than Brandt Snedeker - South Africa's Charl Schwartzel.
Snedeker's 2-2-1 is trumped by Schwartzel's 1-1-2 and I'm going to take the 2011 Masters champion to add another '1' here.
The obvious concern is that it's his tournament debut but as well as the feeling that Schwartzel could win anywhere at the moment is the notion that Riviera could be right up his street.
The key is the Kikuya grass.
"This is exactly the same stuff I grew up in. In South Africa, you know, where I lived in Johannesburg, this is the only kind of grass we have. Kikuyu is a tough grass, and lucky for me, I learned how to get out of the stuff.
"A lot of players in America don't ever play on Kikuyu except when they come to Riviera, maybe once a year. So maybe that's a bonus for me."
Those were actually the words of Ernie Els when he should really have won the 1995 USPGA here (he blew a three-shot final round lead).
However, they could easily apply to Johannesburg boy Schwartzel.
Add in the fact that a hot short game is rewarded in full at Riviera and he really does look to have the ideal credentials.
Schwartzel was fourth in Scrambling on his seasonal debut last week and 20th in putting and he's often a little slow on the greens after some time off so we can expect him to sharpen up with the putter here.
Take him at 20/1.
Bubba Watson rarely has a bad tournament these days and has enough good Riviera form in the bank to suggest he's due a big one this year.
Left-handers (Mickelson twice, Mike Weir twice) have won here four times in the last 10 years which is a pretty impressive ratio so maybe Bubba can prove that this sets up well for southpaws.
Finally, at bigger odds, Kevin Stadler looks fairly priced when looking at his combination of course and current form.
He's still looking for a first PGA Tour win but so is Jimmy Walker and Stadler is over twice the odds.
Oh, and if you like fate... when Kevin's dad Craig won this event in 1996 the winner of that year's Phoenix Open was a certain Phil Mickelson.
Who won in Phoenix this year? Phil Mickelson. Time for another Stadler win therefore!
Best bets
2pts e.w. Charl Schwartzel at 20/1 (1/4 1,2,3,4,5)
2pts e.w. Bubba Watson at 22/1 (1/4 1,2,3,4,5)
1pt e.w. Kevin Stadler at 66/1 (1/4 1,2,3,4,5)