US Open 2013: Justin Rose focus credited by Colin Montgomerie
Colin Montgomerie praised Justin Rose's composure after the Englishman seized US Open glory.
Last Updated: 17/06/13 1:44pm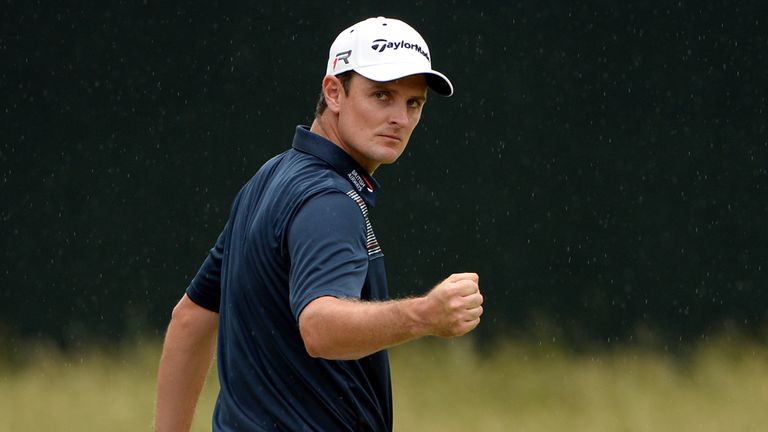 The 32-year-old held his nerve through the notoriously tough finale at Merion to post a level-par final round of 70 and finish two shots clear of his nearest challengers, Jason Day and Phil Mickelson.
Despite Rose carding five birdies, Montgomerie picked out his par-par finish for special praise and applauded the victor's mental strength after he became the first Englishman since Tony Jacklin in 1970 to win the US Open and ended England's 17 year wait for a major.
"The drive and the iron shot to the last hole were magnificent shots and the iron shot at 17 was superb," he told Sky Sports.
"All credit to him for, three-putting 16 as he did, to come back, refocus and finish par-par. None of the leaders did that.
"The door was open to him and he walked through it gladly and this is fantastic for Britain and all of us here to witness a Brit, an Englishman, win the US Open.
"He had won big US Tour events and the world championship event - but did he have the heart to go on and win a major? Now he's proved us all wrong and he has with great effect.
"To see him be so composed at the end and think this is something that's not happened for 43 years - it's a long time since a Brit has won the US Open.
"Playing away from home in the US is not easy and to take the national championship away from them is a fantastic achievement and all credit to him."
Pressure
Butch Harmon was equally impressed with Rose, who has now finally broken his major duck at the 37th attempt, and credited the Englishman's response to the biggest win of his career.
"This is a fantastic win; he hit fantastic shots under the biggest pressure he's ever been under in his life and he met that pressure right in the face and said 'I'm going to handle it'," said Harmon.
"The drive down 18 was phenomenal, the second shot was unbelievable and he finished it off; he did what he had to do then he had to wait.
"But the way he has handled himself since he became champion is even more important - he's shown a tremendous amount of maturity and class.
"The UK nation needs to be really proud of this young man."
Gutted
However, Harmon also had condolences for his compatriot Mickelson, 43, who is now a record six-time runner-up at the event.
The Californian crowd-favourite led the field going into the final round but the birthday boy saw his challenge take severe blows with double-bogeys at the third and fifth and, despite a thrilling eagle at the tenth, bogeys at 13, 15 and 18 ended his challenge.
"He's gutted and he knows he's had a great chance," said Harmon, who reckons, despite the clock ticking on Mickelson's career, the four-time major winner can bounce back with another big win in the future.
"He's the most resilient golfer I've ever seen; it doesn't matter what has happened to him he comes back better, he learns from it.
"He's 43 years old today [Sunday] - will he get another chance? Possibly. But you never know.
"He's a six times runner-up and this was a course where he said 'I had my best chance on, where I was playing my best golf' and not to get it done - and this isn't taking anything away from Justin Rose because Justin Rose went out and won this Championship - but I can understand where Phil Mickelson is coming from.
"It's going to be a very long, quiet plane ride back to southern California this evening."
Montgomerie, who himself is a three-time runner-up at the US Open, pointed to a couple of uncharacteristic wedge shots as key to Mickelson's downfall in Pennsylvania.
"He's been runner up six times and that's incredible," said the former Ryder Cup captain.
"The two wedge shots [at 13 and 15] were the killer for him, though. They were un-Mickelson-esque. Normally he'd be looking at two birdies there, certainly not two bogeys."