The Open: Adam Scott gunning to lift Australian sport at Muirfield
Adam Scott is determined to improve the mood of Australian sport at the Open Championship over the weekend.
Last Updated: 17/07/13 1:17pm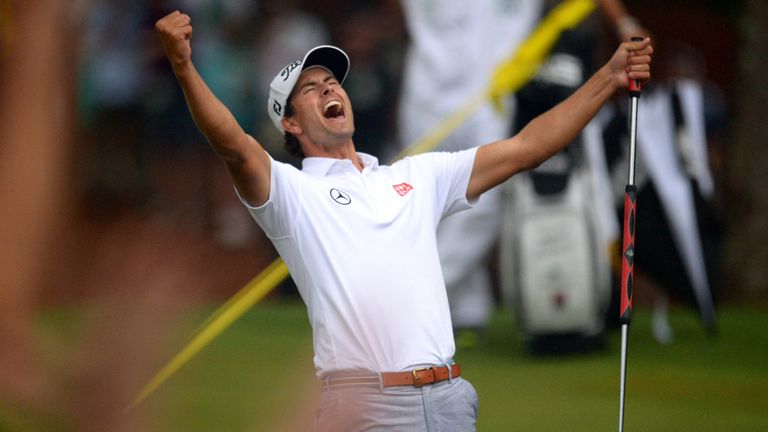 It has been a miserable summer for fans Down Under so far, with the Wallabies rugby union team demolished by the British and Irish Lions, while on Sunday their cricketers lost a thrilling opening Test in the Ashes series to England.
Scott tees off at Muirfield on Thursday afternoon just a few hours after the second Test at Lord's gets under way and the Masters champion wants revenge on the Scottish fairways.
"Are you giving our cricket no hope for the rest of the summer?" the 33-year-old said. "Hopefully. Absolutely I'd love to get in here this week and maybe spur our cricket team along to levelling the Test series.
"It's a tough time being an Aussie over here at the moment to be honest with you. I move around very quietly around town."
Scott has had numerous people comment on his physical likeness to first Test sensation Ashton Agar, who scored 98 on his debut in the first innings at Trent Bridge and has been nicknamed 'Scotty'.
"Everyone has been telling me about him," added the Adelaide-born golfer who broke his major duck at Augusta in April. "I think it's great. Honestly I hope he's the spark our Australian team needs going forward. He's a young kid who came out and made 98 on debut to help us in the first Test.
Spark
"Obviously he's got what it takes. Hopefully he's the spark on our team going forward, for this summer and beyond."
Scott has a few demons to deal with at this week's Open having thrown away a four-shot lead with four holes to go in last year's event at Royal Lytham.
He revealed that a practice round with veteran Tom Watson at the Australian Open in December helped him recover from such a psychological hammer blow.
Scott said the eight-time major winner told him "he let one slip early in his career, and he said he would never let that happen again".
With success quickly following at the Masters, the fired-up Australian is expected to be battling near the summit of the leaderboard towards the end of Sunday.