Macau Open: Four-time major champion Ernie Els eyes victory on tournament debut
South African Ernie Els is planning to make it a memorable 44th birthday by winning the Venetian Macau Open.
Last Updated: 16/10/13 10:39am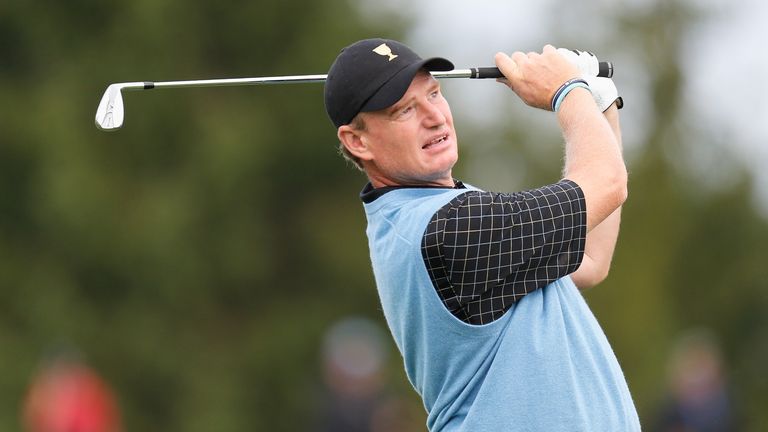 The four-time major champion arrived at the Macau Golf and Country Club on Wednesday afternoon after his flight from the United States to Japan was detoured and the subsequent leg to Macau was delayed due to Typhoon Whipa.
Despite the jet-lag, the South African, who celebrates his birthday on Thursday, is feeling upbeat about making it a winning week in Macau, which is situated on the southern coast of China.
"I was going to come in early. I flew privately but there was a typhoon in Japan and we couldn't land in Tokyo and we had to land in Sapporo and we got delayed as no flights could leave the area," said Els, who left the U.S. late on Monday night and took 17 hours to arrive in Macau.
"It's nice to be here. I've never been to Macau. I've heard some great things. I spoke to Nicky Price and he's been here and he told me I'll be playing on top of a mountain!
"I've got an old friend of mine, Gary Todd, caddying so we're going to have some fun. I've got to get my bearing straight first."
Els, who accepted an invitation to become an Asian Tour honorary member and international ambassador in July, will spend the next three weeks in Asia where he hopes to end his 2013 campaign on a high note.
"I played quite well after the U.S. Open (where he finished fourth). From the British Open right through the PGA Championship and FedEx Cup, I didn't really catch fire. I was on track until June so, unfortunately, I didn't play too well," said Els, who was in Las Vegas earlier in the week to raise funds and awareness on autism through his own event, Els for Autism.
"I've got my three events in Asia and then I'm going home for a long break and have two months off. Going to get my body strong again and get going next year. Who knows, I can maybe play good this week."
Title rivals
His rivals at the US$800,000 Asian Tour event includes title holder Gaganjeet Bhullar of India, China's Liang Wen-chong, two-time Macau Open champion Zhang Lian-wei and Thai ace Thongchai Jaidee.
Thongchai, the only man to win three Order of Merit titles in Asia, has recorded eight top-10s this season and would dearly love to win a 14th Asian Tour title at the Venetian Macau Open.
"I've been playing okay but in the last two weeks my putting has been killing me. But with the greens being so fast here, I hope to get back to form. I love fast greens and I feel confident," said Thongchai, who finished tied eighth here last season.