Sky Sports gets Rory McIlroy view on his new Nike clubs for 2014
Rory McIlroy takes us through the new golf clubs he used to claim his first victory of the year.
Last Updated: 03/12/13 4:53pm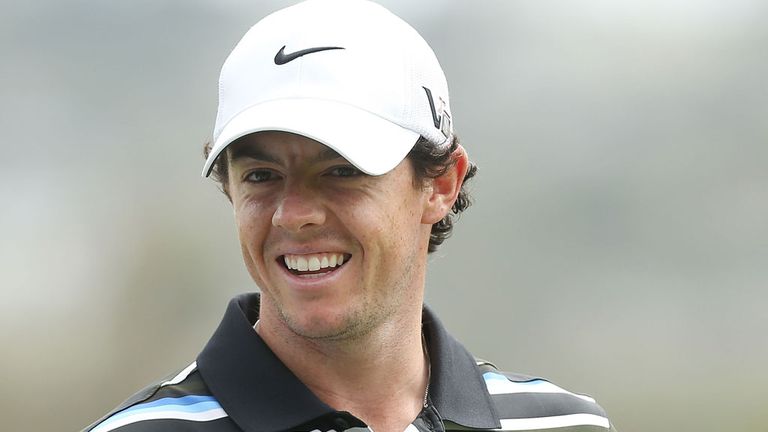 Mentally, McIlroy's victory in Sydney will do wonders, especially as he got the better of Adam Scott, one of the players of the year, on the Aussie's home turf and after he had already won back-to-back tournaments Down Under.
Coming out on top in a duel with Scott made the victory even more special, and after a season of struggles it also gave the thumbs up to McIlroy's new equipment, especially his new driver and golf ball combination which he has had plenty of say in their development.
Speaking to McIlroy at the official media launch of the Nike 2014 range on a rare cold and wet afternoon at TPC Summerlin in Las Vegas - his enthusiasm for his new gear was obvious - and that showed in his victory in Australia.
Here's what McIlroy told us about his new arsenal of equipment...
Technology
"The technology behind the ball and clubs is great, I've been much more involved this year and I'm much more knowledgeable now than I was last year.
"As a golfer you want to have something that performs the way you want to but I guess knowing the characteristics different club shapes and heads might have on your ball flight and things is good to know, but at the end of the day I just want something that feels the way I want it to. It's a great thing to have in your arsenal to have such a big team behind you and having so many people working on things for you can help."
Driver - Nike VRS Covert 2.0 Tour
"The guys came to me just before the Open with a prototype which I really liked the look of - slightly different head shape in it's a bit more pear-shaped and feels a little bit longer in the face and a bit easier to turn over.
"The larger face has given me more forgiveness on misses, which is great for me, if you look at my tee marks they're not all in the middle - there's a few on the toe and a few on the heel. When you're swinging a driver at 120 mph, you're not going to hit it out of the centre every time - or at least I'm not.
"There's a little bit more ball speed as well. With this new face, I know that if I hit one off centre it's not going to get away from me. My ball flight has also tightened up a bit, which makes you more confident so you can go after it a little more.
"That's been big for me, just having that confidence to go after it a little more and know that even if I don't put a good swing on it, it's still going to go in that general direction."
Woods - Nike VRS Covert Tour 3-wood/VR Pro 5-wood
"Out of all the clubs in the bag the fairway woods are probably the hardest to get right - the fairway woods are very individual to players. They're probably the club that you'd see less change from for the pros. If you like one, players usually stick with them so some players have ones that are six or seven years old still in their bags.
"I feel like this Covert 3-wood does both of those things for me. It took some time, but I'm very confident with the fairway woods I have in the bag at the moment.
"It's because they have to be so versatile and play different shots with them - you need to maximize your distance off the tee but you also want that high shot off the ground that can land soft going into par 5's. I feel like this Covert 3-wood does both of those things for me. It took some time, but I'm very confident with the fairway woods I have in the bag at the moment.
"I've always loved the idea of the technology - and with this ball you can definitely see it's more stable in the wind, in both directions and also in a cross wind, it's always good to have a ball that maintains its flight path even in windy conditions, it gives you a lot more confidence."
Ball - Nike RZN Black
"I loved the previous ball that I was playing and the only thing I wanted a little differently was the sound, it sounded a little harder than it felt if that makes sense.
"So I just wanted something that felt similar but sounded a little duller so with this RZN Black they've done a great job with it - it's a more efficient golf ball with the speedlock technology and I'm getting more out of it.
"I'm about half a club longer with the irons and ball speed's up a little bit with the driver too so it's been a great addition."
Putter - Nike Method 006
"I struggled a little bit to start with because the Method technology was just a little different than what I was used to because the ball just rolled so much quicker off the face. The ball was rolling more than skidding along much quicker, so sometimes I'd struggle with the speed a little bit, so I had to tinker with head weights to get the feeling I wanted to.
"Once you get it dialled in though, it's great. It was probably once I found the head weight that I really started to see the benefits of having the ball rolling quicker off the club face. Once you sort that out, you know it rolls truer so you can be a little more feel-oriented, which is what I like."
Irons/Wedges Nike VR Pro Blade
"I really like the sole on the wedges, I probably attack the ball a little bit more steeply than a lot of the guys on tour and I just feel like the clubs exits the turf a lot better than the old ones and cuts through more. I've got a 46, 54 and 60 degree wedge in the bag now which I think gives me all the variations I need.
"As I say with the irons, I'm actually a bit longer with them and the ball. I used to hit six iron about 190 yards and now it's just over 200. That's the thing, I feel like the ball's longer but it's still on the same flight trajectory and I feel like it spins a bit more too, which is a great combination."