Volvo Golf Champions: Louis Oosthuizen delighted after another home-soil victory.
Louis Oosthuizen continued the dominance of South African players on home soil by defending the Volvo Golf Champions.
Last Updated: 12/01/14 3:49pm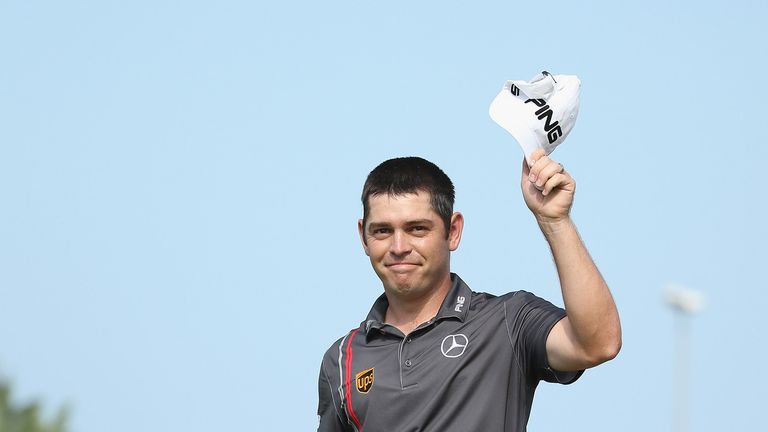 Oosthuizen edged out compatriot Branden Grace by a shot to make it seven wins out of seven for South African players in European Tour events staged at Durban Country Club.
Eight of the last last 11 tournaments in South Africa have been won by home players while Oosthuizen's win means 2014 is the fourth calendar year in a row he's started with a victory on his own turf.
The last two have come at Durban Country Club and he said of the highly renowned par 72: "I love it. There wasn't a lot of drivers for me this week, I think I've hit five in total, a lot of three-woods, a lot of two irons and that's what I love about it.
"Anyone can come and play here, it forces you to tee it into certain spots in the fairways and from there you need to really trust your wind chart because you can't feel anything in the fairway but you know the wind is up.
"That's what makes this golf course really special."
Asked about the secret of starting the year with a win yet again, a laughing Oosthuizen wasn't really sure.
"I think I just take a proper holiday. I dunno," he laughed. "I didn't play any golf before this so, you know, maybe that's the key!"
As for the rest of the year, the 2010 Open champion hopes he can shake off the injury problems that riddled his 2013 campaign.
Talking about his targets for 2014, he said: "Just to get physically really strong with my lower back.
"I've still got now and then little niggles but my physio's done a great job this week and hopefully when I get to Augusta (where he lost a play-off in 2012) and that stage of the year I'll feel really strong then."