Masters: Phil Mickelson admits to Augusta National nerves
Phil Mickelson admits he is nervous as he prepares to launch his bid for a fourth success at Augusta National this week.
Last Updated: 08/04/14 11:20pm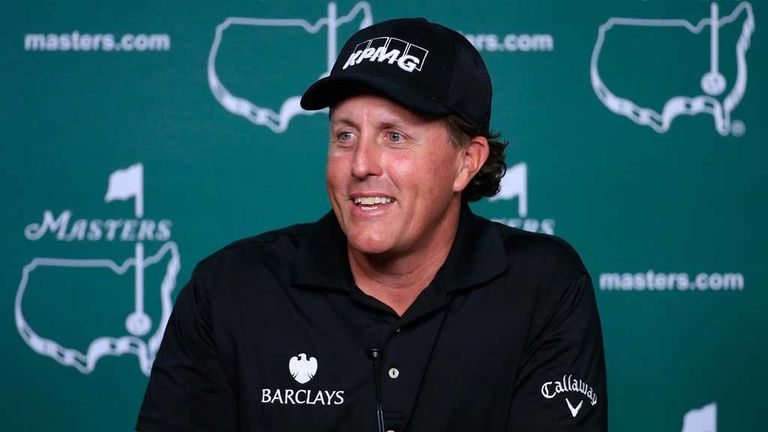 The American left-hander says he is back to full fitness after withdrawing from last month's Texas Open with a pulled abdominal muscle, but he is concerned that he has not been in tournament contention in recent months.
"I'm nervous about this week because I always like coming into this week with a win earlier in the season," he said.
"I like coming into this week being in contention a few times and having that confidence and experience to build on. But I have to give myself a little bit of slack, because I have not been 100 percent."
Mickelson, who tied for 12th place at the Houston Open last week for his best finish in nine starts this year, has been undergoing extensive physiotherapy work to strengthen his back.
"Physically, I feel great," said the 43-year-old. "The parts of my game, if I break them down, they feel terrific.
"But I haven't put them together this year. I haven't had the results to fall back on. I haven't experienced that pressure to feel comfortable in that environment, and so I'm certainly nervous, because this is a week that I care about the most."
Green jackets
Open champion Mickelson claimed his first green jacket back in 2004 before adding two more in 2006 and 2010.
"This is my favourite week, and the course is in spectacular condition, as always," said the world No 5.
"It's a magical place to begin with but for me personally the feeling that comes over me as I drive down Magnolia Lane is I don't have to play perfect to play well here, because I can recover from mistakes here.
"You always have a shot. You have a chance to salvage your par. You have a chance to let your short game save it for you. And if I do hit a number of good shots, I'm able to make birdies.
"This course has always been a course that I felt comfortable on and I've played some of my best golf here.
"I just love everything about this tournament. That win 10 years ago, it just propelled me. And I knew once I won one, I really felt confident I would win a few more."
Mickelson will tee off in the company of South African Ernie Els and US Open champion Justin Rose in Thursday's opening round.
Keep up to date with all the action from all four days of the Masters starting at 7.00pm this Thursday on Sky Sports 4