US Open 2014: Phil Mickelson off to good start at Pinehurst as he seeks grand slam
Last Updated: 12/06/14 9:01pm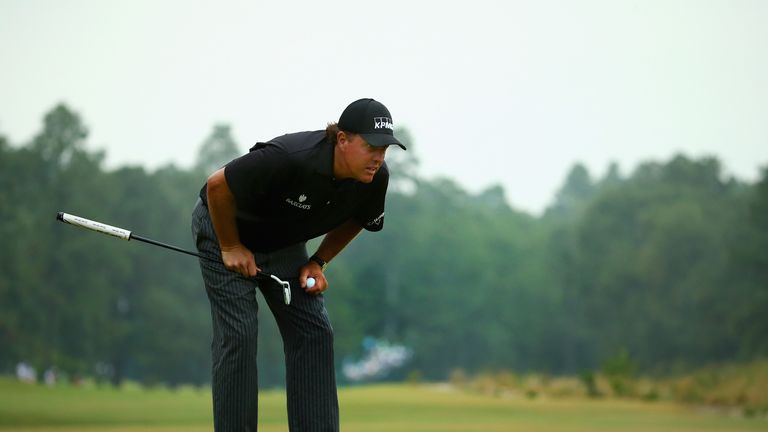 Phil Mickelson's bid to complete his haul of all four major titles is on track after a first-round level par 70 at Pinehurst.
Mickelson needs to add this week's US Open trophy to become just the sixth player in history to win all four but it's an event that's taunted him having finished runner-up six times, the most recent to Justin Rose last year.
The left-hander is in position to challenge again, however, after a 70 on Thursday which included three birdies and three bogeys.
Mickelson said: "It was a good start, a good start to the tournament. I had opportunities to shoot in the red and get under par early and I would have loved to have taken advantage of that."
The five-time major winner's problems came on Pinehurst's tricky turtle-back greens on which he needed 31 putts.
He added: "I putted okay but didn't make any of the ones you need to make, the 15-20 footers you need to have a good round.
"I had a chance to get three, four, five-under today had I made some makeable opportunities. But I didn't throw anything away on the short ones."
Claw grip
Mickelson again used his new "claw" grip that he tried during the final round of last week's St Jude Classic after a suggestion from caddie Jim "Bones" McKay.
"Bones noticed something, and I kind of saw it now on a replay the other day that my eye alignment has not been over the ball," Mickelson said.
"It's been over the top of it, and that's been throwing my lines off. When I hit good putts, they're not going in because it's a distorted view. If I could fix that, you know, I don't feel like I'm hitting bad putts, I'm just missing them a little bit on the sides. I don't feel like it's far off."
The big boost for Mickelson was his driving and he hit every single of the admittedly generous fairways at the revamped Pinehurst No 2.
"The driver feels really good. I think that's the club that is going to help me play well this week," said Mickelson. "The one club that's hurting me is the putter so I've got to get that turned around the next couple of days."