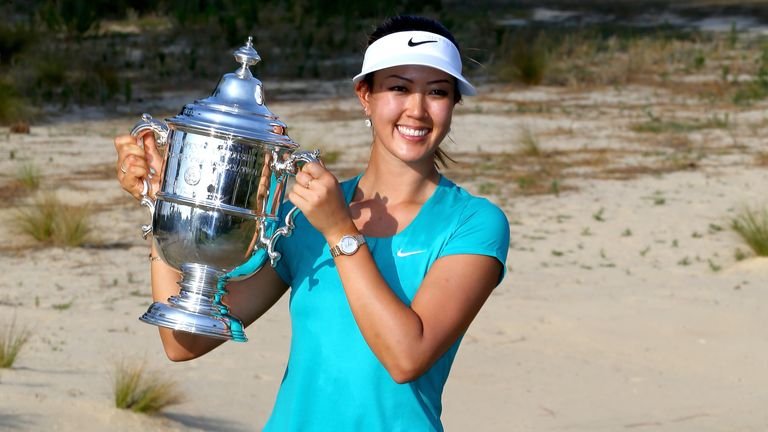 Michelle Wie secured her first major title with a superb two-shot victory in the US Women's Open.
The 24-year-old rolled in a 25-foot birdie putt on the 17th hole and then closed with an even-par 70 for a two-shot victory over Stacy Lewis.
This maiden triumph should ease some of the pressure on Wie, who has been in the spotlight since she caught the media's attention at the age of 13.
But the American almost let it slip, dropping two strokes at the 16th as she three-putted for the first time this week after briefly losing her ball in a wiregrass bush.
Wie responded like a champion, hitting an eight-iron safely onto the 17th green before sinking the tough birdie putt.
Congratulate
"Obviously, there are moments of doubt in there," she said. "But obviously, I had so many people surrounding me. They never lost faith in me. That's pushed me forward."
Lewis, the No 1 player in women's golf, made her compatriot work for the win, making eight birdies to match the best score of the tournament with a 66.
She was on the practice range preparing for a play-off when her caddie informed her of Wie's triumph and returned to the 18th to congratulate the victor.
"I knew I needed to get out early and post some numbers and make Michelle Wie earn it," said Lewis.
Northern Ireland's Stephanie Meadow marked her pro debut by closing with a 69 to finish alone in third.
Amy Yang, who started the final round tied with Wie, struggled to a four-over 74 that left her in fourth.
The 53-year-old Juli Inkster, playing in her 35th and final US Women's Open, could only sign off with a 75 and tied for 15th.