Fit-again Tiger Woods will return to tournament golf at Congressional this week
Last Updated: 24/06/14 6:19am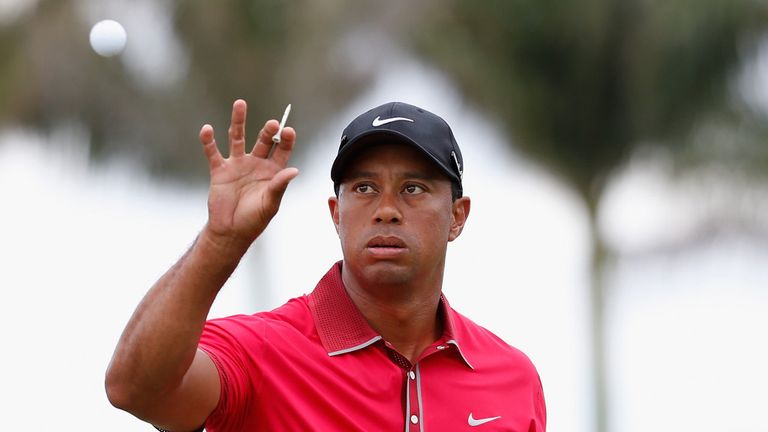 Tiger Woods will tee it up for the first time since March when he returns to action in this week's PGA Tour event at Congressional.
The 38-year-old American, a 14-time Major winner, will play at the Quicken Loans National in Bethesda, Maryland, a tournament which raises money for his charity foundation.
He has not been in competitive action since 9 March, when he closed with a 78 to tie for 25th in the WGC-Cadillac Championship at Doral, having to play with pain in his lower back.
He had back surgery on 31 March, causing him to miss the Masters for the first time ever, and he also missed the recent US Open.
It was feared Woods might miss much of the summer but he wrote on his Facebook page last Friday afternoon that he will be back in action at Congressional.
"After a lot of therapy I have recovered well and will be supporting my foundation next week at the Quicken Loans National," he said.
Next step
"I've just started to hit full shots but it's time to take the next step.
"I will be a bit rusty but I want to play myself back into competitive shape. Excited for the challenge ahead."
Woods had said on 19 May that his recovery was "slow and tedious" and added: "As of right now, I can chip and putt but that's it."
Watch via NOW TV
You can watch Tiger's return with a Sky Sports Day pass from NOW TV. All 6 Sky Sports channels for 24 hours for just £9.99. For more information, visit: here
However, his agent Mark Steinberg told the PGA Tour website last Tuesday: "Tiger is making continual progress. He feels better each day and can extend his swing as he moves forward."
Woods now appears to be on course to play in the Open Championship from 17-20 July at Hoylake, where he won the last of his three Open titles in 2006.
Mike Antolini is director of the Congressional event and said: "We're thrilled, obviously.
"Any time you get that call and Tiger is in your field, it's really the best news you can get. We're very excited for the fans, Tiger is a two-time champion and the tournament host.
"To be honest, we were prepared regardless for a good event.
"But our ticket sales, we think they're going to be increased with this news now."
Tiger's rivals are also happy to have him back.
"No matter if he misses the cut, no matter if he just finishes middle of the pack, it's a great thing for golf that he's back," said two-time Masters champion Bubba Watson. "It means he's been rehabbing the right way and the doctors feel he's good."
Fellow major winner Keegan Bradley added: "Every time he's in the field, the event is different. That might not be the right thing to say, but it's really exciting when he's out there. We need Tiger. The whole tour needs Tiger and golf needs Tiger."
Watch the Congressional live on Sky Sports 4 from 8pm on Thursday.