Amateur Golf: Recent run of near misses spurred Bradley Neil on at Royal Portrush
Last Updated: 24/06/14 10:33am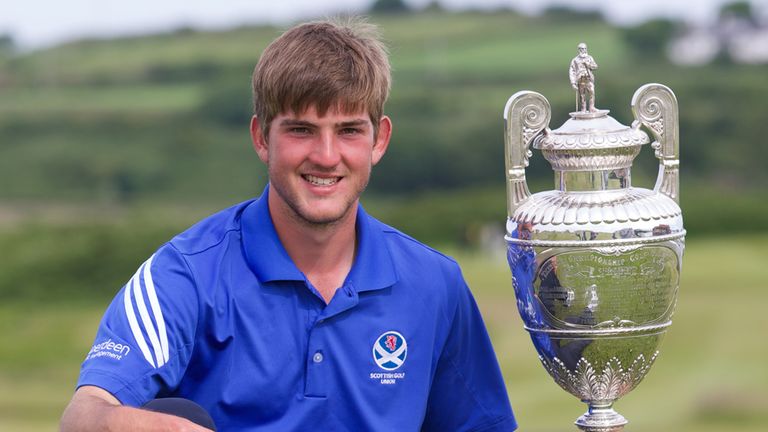 Scottish teenager Bradley Neil believes a recent run of near misses helped him cope with the pressure of winning the Amateur Championship over the weekend.
The 18-year-old from Blairgowrie earned entry into the next three majors after his 2 & 1 victory over South Africa's Zander Lombard at Royal Portrush on Sunday.
Neil, who has been earmarked for success since his primary school days, will now play in next month's Open Championship at Hoylake, the Masters next April and the US Open in June.
His success in Northern Ireland could accelerate his progress into the paid ranks but Neil is looking no further than the next 12 months.
Having secured a top-three finish in the four events leading to Portrush - including a sudden-death play-off defeat in the St Andrews Links Trophy - Neil told Sky Sports News: "I've had a lot of close competitions this year where I have just missed out on winning.
Incredible
"But dealing with the pressure when it comes down to the last nine holes in these big tournaments is what helped me get through Sunday.
"It is starting to sink in that I won the Championship but what is not starting to sink in is what's to come for me in the next year.
Watch via NOW TV
Watch the biggest matches and events live with a Sky Sports Day Pass from NOW TV. Get 24 hour access to every Sky Sports channels for just £9.99. For more information, visit: here
"It was incredible when I was watching Matt Fitzpatrick and Gary Porteous compete at the Masters as they are two guys I know fairly well.
"I was really jealous of them but now it is going to be quite a few people saying they are jealous of me."
Neil's victory came as no surpirse to his caddie Pete McKenna who believes the attitude he adopts during his matches played a huge part in the victory over Lombard.
"He is only 18 and his golfing ability and ball-striking is unquestionable," he said. "But it is his mental strength which sets him aside from a lot of people I have seen."
Tiger Woods returns to action in the Quicken Loans National at Congressional Country Club this weekend. Watch all four days live from 7.30pm this Thursday on Sky Sports 4