Tiger Woods may have to qualify for the FedEx Cup if he wants to be at Gleneagles
Last Updated: 14/07/14 9:46pm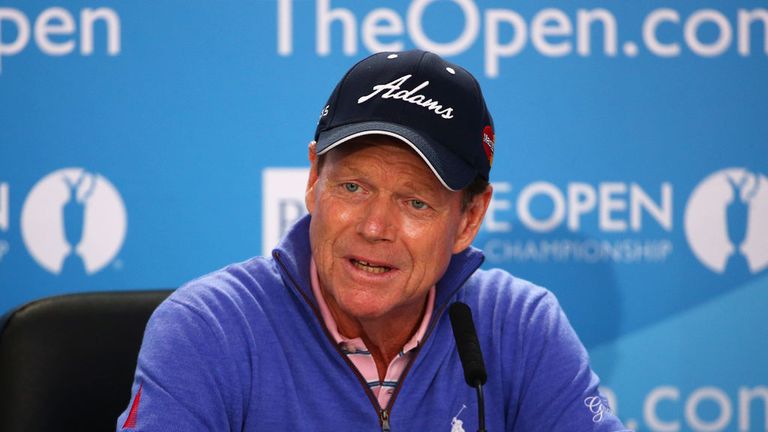 USA Ryder Cup captain Tom Watson says a healthy and in-form Tiger Woods would definitely be one of his three wild card selections for the match.
But Watson also warned that he may be left facing a tricky dilemma if Woods fails to qualify for the lucrative four-tournament FedEx Cup playoff series, which starts in New Jersey on 21 August.
All-time great Woods is in grave danger of failing to qualify for the Ryder Cup team automatically, having missed most of the season so far after undergoing back surgery in March.
But he will play in this week's Open Championship at Hoylake and Watson says Woods is likely to be very much in his thoughts when he makes his three wild card picks for the match with Europe at Gleneagles in September.
"If he's playing well and he's healthy I'll pick him," Watson told the media at Hoylake on Monday.
"But then the caveat is, if he doesn't get into the FedEx Cup, what to do then? That's the question I can't answer right now.
"I hope he's playing well enough that he gets in the FedEx Cup and plays a few tournaments in that.
"That's my sincere hope, that he plays well. I suspect he'll be there."
Watson is not planning to speak to Woods much this week, adding: "I could ask Tiger, 'how are you feeling, are you hitting it well?' But that doesn't mean anything really.
"The performance means something. I'll be watching Tiger and I want him on the team.
"He's a tough competitor and he's great in the team room. Wouldn't you want him on your team?"
Woods has won 14 major tournaments in his career but the most recent of those successes came in the 2008 US Open, and the last of his Open wins came at this week's venue, Hoylake, back in 2006.
Unlikely contender?
And the former World No 1 is seen by many as an unlikely contender this time, having missed the cut in his only tournament since returning to competitive action.
But Watson, a five-time Open winner himself, says he does not understand why Woods has been criticised in some quarters for saying he has come to Hoylake to win.
"It is silly to think that way about what he says," said Watson.
"Why can't you understand that Tiger Woods may well win this tournament?
"I hope that is the attitude most players have coming in.
"Ask Justin Rose (who has won his last two tournaments) if he intends to win here this week.
"I wouldn't write off Tiger Woods for a long time, the way he plays the game.
"He is a tough competitor and he knows how to swing the club. Yes, he's had some injuries and other issues, but you fully expect him to have a much longer career.
"You have to respect what his capabilities have been and probably will be again.
"I guarantee you that players looking at these new electronic scoreboards are going to be looking for Tiger Woods' name, guaranteed."