Open Championship 2014: Dave Tindall's diary from the second day at Hoylake
By Dave Tindall
Last Updated: 18/07/14 9:07pm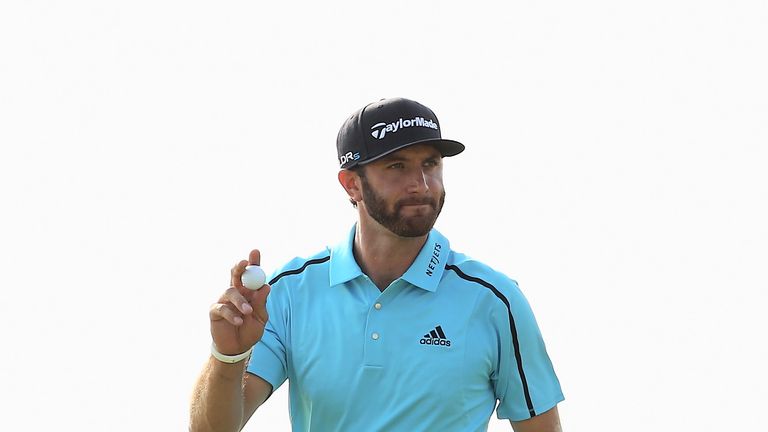 With the tips not going so well after Adam Scott carded a rather disappointing 73 this morning to finish at three-under, I decided that all my betting eggs were now in the basket of Dustin Johnson.
The American had shot a one-under 71 on the first day so needed to get going and I decided I'd try and bring my 40/1 punt some luck by cheering/knowledgeably clapping him for the front nine.
I like DJ for lots of reasons. He's won me plenty of money, walks with the cool swagger of a wild west gunslinger and has a swing so athletic it could win an Olympic Decathlon.
With Rory McIlroy in the group in front and the sun beating down, the crowd near the first tee was enormous so I didn't actually see Johnson's opening blow. And after finding an alternative route which involved going round the back of the grandstand at the second green I didn't see his next shot either.
Finally, when the green came into view I could see a ball about five feet from the flag and, thankfully, it was his. He stroked in the putt and it was the perfect birdie start. Two-under. Four off the lead.
A par followed at the second after he'd split the fairway and hit his approach to 20 feet for a two-putt and he then clipped an iron straight down the middle at the third. That fairway runs directly past the media tent so I nipped in to grab a couple of much-needed bottles of water before watching him hitting a short iron to five feet and sinking another birdie.
This was perfect. DJ was making birdies and I'd staved off dehydration in the red-hot Hoylake sun.
A scrambled par at four kept the momentum going and, after somehow failing to birdie any par five in round one, he made his four at the long fifth to climb to four-under.
Johnson was runner-up in the windy 2011 Open at Royal St George's and boasts two wins by the coast at Pebble Beach so, although some dismiss him as a one-dimensional blaster, he's got the smarts to win in these conditions.
And he proved that in grand style on the back nine. After birdies at 10 and 11 took him five-under for the day and into tied second the South Carolina native continued to excel and narrowly missed further chances at the next five holes.
Having watched the big screen in the media centre show Rory drive to within 35 yards of the long par four 17th, I dashed outside to see if DJ could actually knock one on the green.
It's a short walk so I was there in time to first see Rory chip and putt for birdie before a ball suddenly bounded into vision 10 yards past where McIlroy's had finished. Yes, it was DJ's.
Johnson chipped to three feet to roll in his sixth birdie of the day and then I made my way to the huge wraparound stands at 18 to see him finish.
They were absolutely packed due to Rory finishing off (with another birdie of course) and before I could take my seat I had to stand patiently while thousands of fans streamed out having watched Rory make a mockery of his reputation for a Friday wobble by shooting a second straight 66 to, at that stage, lead by five shots.
It was worth the wait though as Johnson struck two blows onto the edge of the green, lagged to five feet and knocked that in for a 65.
By sheer fortune I'd watched a big chunk of the lowest round so far this week.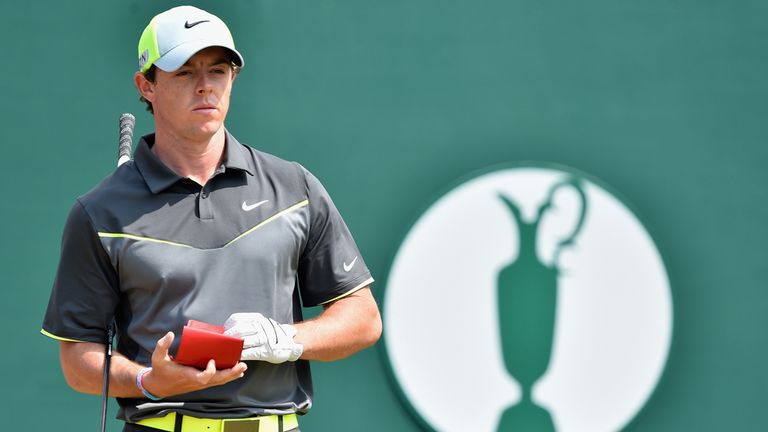 Johnson's fast finish cut Rory's lead to four and secured my 40/1 shot a place in the final group on Saturday. All in all a very good day.
Rory odds-on
Anyone with a four-shot lead will be given plenty of respect by the bookies but when it's Rory they know they can't dangle odds that are too tempting otherwise they'll get knocked over in the stampede.
It means with 36 holes to go, Sky Bet are offering Rory McIlroy (-12) at just 4/7 to win his first Open.
Second-placed Dustin Johnson (-8), my big hope at 40/1, has been slashed to 7/1 second favourite while Sergio Garcia (-6) is 16/1.
Sky Bet also go: 18/1 Rickie Fowler (-6), 28/1 Charl Schwartzel (-6), 28/1 Adam Scott (-3), 28/1 Louis Oosthuizen (-6), 33/1 Francesco Molinari (-6), 33/1 Ryan Moore (-6).
Not big in Japan
There were three Japanese players inside the top 10 at close of play yesterday – their best collective effort in any major in memory.
It was no surprise to see young superstar Hideki Matsuyama up there as he was sixth in this event last year, won the PGA Tour's prestigious Memorial Tournament at Muirfield Village recently and played in last year's Presidents Cup.
But we certainly didn't expect to see little-known Japan Tour players Koumei Oda and Yoshinobu Tsukada shooting three-under to sit alongside the one and only Tiger Woods.
Actually, at one point today there four Japanese in the top 10 as Thursday's trio were joined by Hiroshi Iwata after he birdied 3, 4 and 5.
Back in the 2006 Open, another Japanese player, Hideto Tanihara, pulled off a big surprise when finishing tied fifth here so is there something about Royal Liverpool that inspires them?
I spoke to some Japanese journalists this morning for clues and they said the success was two-fold.
Firstly, Matsuyama, Oda and Tsukada all got the best of the weather on Thursday but also they believe that Open Championship courses suit Japanese players who, on the whole, hit it short and straight rather than wild and long.
Big, wide tracks like Augusta and many other US Open and US PGA courses don't play to their strengths but Hoylake clearly does.
It all seemed logical but I tried to pursue another line of attack.
I went to Tokyo in 2005 and noticed plenty of Beatles memorabilia. In fact, whilst in a music shop in Harajuku a lady thrust a box at me and went wild with excitement when I pulled out what turned out to be a winning raffle ticket. Moments later I was handed a Yellow Submarine cookie jar.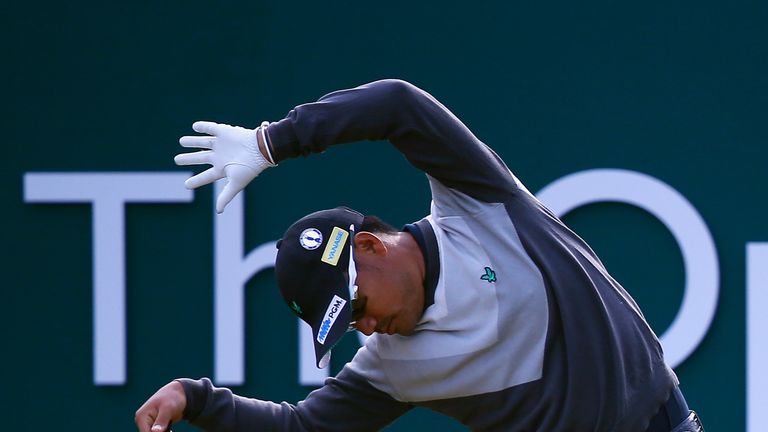 So maybe in the same way that many of the globe's best footballers seemed to be inspired by playing a World Cup in Brazil, perhaps Japan's golfers all love the Beatles and were getting an extra kick by being in Liverpool.
ESPN had run a video yesterday asking some of the top golfers to name the four Beatles. Surely this was an absolute doddle.
But, no. Bubba Watson didn't know any of their names, Rory thought there was one called George Lucas until someone pointed out that he was the 'Star Wars guy, while Justin Rose, Ian Poulter, Hunter Mahan and Henrik Stenson all struggled. Only Lee Westwood fulfilled what should have been the most basic of tasks.
Surely Japan's frantic thirst for western culture would mean their golfers would pass the Beatles test but, to my complete despair, I was told that Matsuyama had never even heard of them.
Perhaps it was Instant Karma that Friday ended with no Japanese golfers in the top 10.