Open Championship: Sergio Garcia resigned to not catching Rory McIlroy
Last Updated: 19/07/14 7:01pm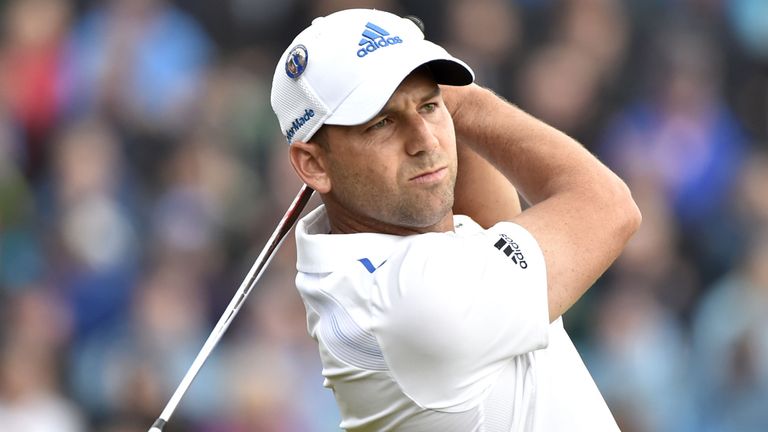 Spain's Sergio Garcia has all-but conceded the Open Championship to Rory McIlroy after admitting the leader is almost impossible to catch in this form.
McIlroy added a 68 to his two previous rounds of 66 to lead at Royal Liverpool by six shots from American Rickie Fowler, with Garcia and Dustin Johnson a further stroke back.
"If Rory plays the way he has been playing it is difficult to see any way to catch him," said Garcia.
"If he shoots three under I have to shoot 10 (under). It is an Open Championship and no-one's done it before so it's not that easy.
"If he plays the par fives well like he did today it is going to be tough as even though he started slowly he really got going on the back nine.
"It was looking like he would have a one or two-shot lead and now it is a six-shot lead. We are all doing our best and if someone does better than you can't do anything else.
"You can't control Rory making birdies and eagles. If you are disappointed because someone is making birdies and eagles then you are not a good sportsman.
"Like what happened to me at Hartford (the Travelers Championship last month) when Kevin Streelman made seven birdies in a row what you do is say 'Well done' because he deserved to win.
"The only thing I can do is play as well as possible, try to put him under pressure and see how he reacts and see where it gets me. It is as simple as that.
Deserved champion
"But if he plays that well tomorrow he will be a well deserved champion."
The last time the Open was at Hoylake 2006 Garcia was in the final group alongside Tiger Woods but four bogeys in his first nine holes ended his challenge as the American went on to win his third Claret Jug comfortably.
Fast forward eight years and McIlroy has the demeanour of Woods in his pomp.
"He is definitely right up there. Rory hasn't been as consistent as Tiger was for so many years but when he is at his best...
"There are so many good players that when they are at their best they are out there and they don't have to envy Tiger.
"I include myself in that as when I feel good and comfortable I feel I can hit any shot I want to. It's not that big a difference.
"I feel good with the way I've been playing and the way I've been handling myself during the week.
"It's been a really solid season so far and I'm in contention for a major and if Rory wasn't 16 under it would be really tight.
"The only thing I can do is keep at it and keep putting myself in these situations and hope one day it will be my turn."