Ryder Cup: European captain Paul McGinley is under no illusions about the task ahead but insists the European team can handle the expectations of the home crowd
Last Updated: 31/07/14 7:22pm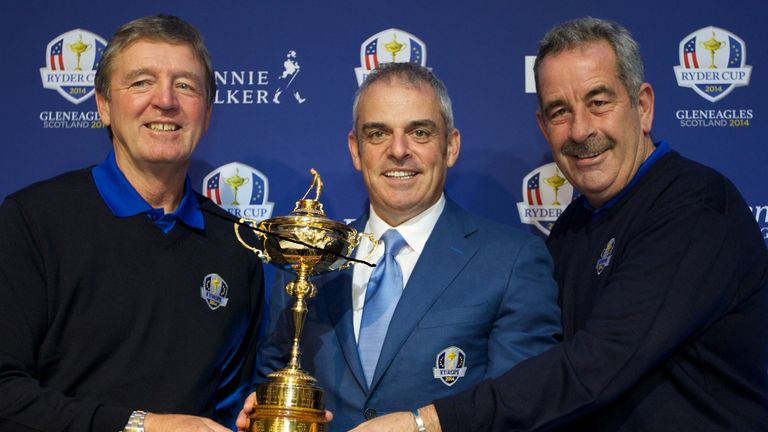 European Ryder Cup captain Paul McGinley is under no illusions about the task ahead but insists the European team can handle the expectations of the home crowd.
The 47 year-old who made three consecutive, and victorious, Ryder Cup appearances in 2002, 2004 and 2006 told Sky Sports News:
"There's always expectation, when you are particularly playing at home and it's no different.
"But I'm certainly not going to underestimate how strong America are going to be.
"If you look, yes we won, in terms of the Europeans; we won the US Open and also won an Open Championship,
"So we've won the last two major championships.
"If you look down the top twenty and look how many Americans have featured in that top twenty they've had some very strong performances as well.
"So I think the 12 players that Tom (Watson) is going to have are strong and I'm under no illusions just how big our task is going to be."
There has been speculation surrounding the relationship between Graham McDowell and Rory McIlroy. The pair formed a successful partnership previously in the Ryder Cup and McGinley has been assured that things will be no different this time round.
"Honestly it's no concern for me.
"I've spoken to both players and both have assured me there is no issues and I'll take their word for that and I'll be very surprised if they are not paying together at some stage during the Ryder Cup.
"Graham's not in the team at the moment but obviously the indications are that he's got a great chance of being one of the picks.
"His form is very strong, he's had a great run of form the last few weeks and should he make the team I will be very surprised if like I said they don't play together at some point during the Ryder Cup."
Another key figure of recent European Ryder cup teams has been Lee Westwood. But the Englishman has been struggling of form in recent times and McGinley has told Westwood his place is not guaranteed.
"It is a concern; I've been communicating with him the last week.
"He's real excited; he knows he's got to go a little bit over the next few weeks.
"I've spoken to him about that, he's aware of that and he's in agreement with that and he's excited and looking forward to the next few weeks.
"I'm looking down the (WGC Bridgestone Invitational) leader board and hoping to see his name very shortly."