US PGA Championship: Defending champion Jason Dufner calls early halt at Valhalla
Last Updated: 07/08/14 11:11pm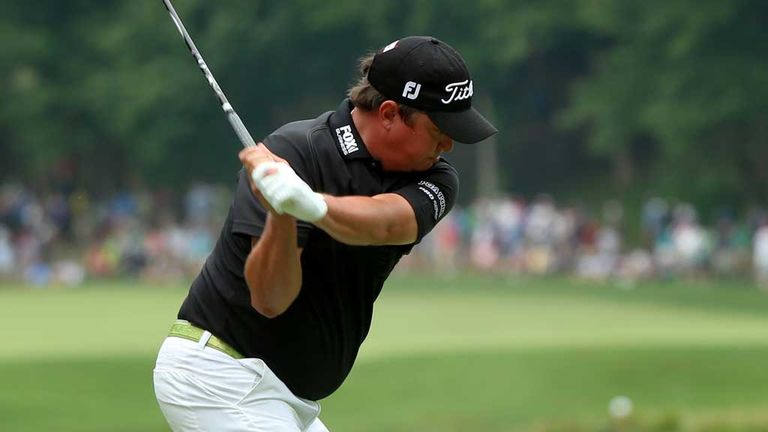 Defending champion Jason Dufner withdrew from the US PGA Championship after playing only 10 holes in the first round at Valhalla.
The 37-year-old American has been struggling with an injury in recent weeks and had an epidural last week to ease the pain caused by two bulging discs in his neck.
However, he said on Wednesday that he was ready to defy the pain in order to defend his title and attempt to secure his place in the US Ryder Cup team despite admitting he needs to take two months off.
Dufner duly teed off on Thursday afternoon in Louisville but he struggled from the start with a double-bogey six on the first hole which was followed by back-to-back bogeys.
A further bogey followed on the sixth and he decided to call it a day after carding a triple-bogey eight on the 10th which left him at eight over.
He shook hands with his playing partners, fellow American Keegan Bradley and South Korean Yang Yong-eun, who are both former PGA Championship winners, before leaving the course.
"I've been feeling pretty bad all week," Dufner said. "I felt bad last week.
Just pointless
"I haven't made a birdie in 45 holes and I'm just not able to play golf right now. I don't need to be out here. I tried to do what I could to be able to compete some and give it a go, but it is just pointless. I can't play golf, there is no reason to be out here."
Asked when he might be able to compete again, Dufner added: "It could be two weeks, it could be next year."
Dufner currently lies eighth in the standings with the top nine on Sunday evening qualifying automatically for Tom Watson's US team for Gleneagles.
His injury problems are another headache for Watson after Matt Kuchar withdrew before the start of the tournament with back spasms.
Tiger Woods has also had his well-publicised injury worries this week and Dustin Johnson has declared himself unavailable as he is taking a leave of absence.