US PGA Championship: Aggression needed says Phil Mickelson
By Mickelson on last round
Last Updated: 10/08/14 2:38pm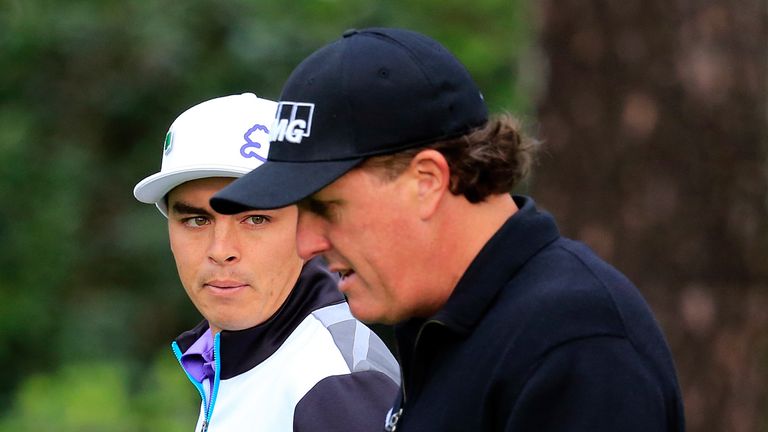 Phil Mickelson is set to burst out of the blocks in the final round as he looks to overturn Rory McIlroy at the US PGA Championship on Sunday.
The World No 1 McIlroy has a one-stroke lead over Austrian Bernd Wiesberger, a two-stroke edge on Rickie Fowler with Mickelson sitting nicely three shots behind the leader.
But with the wet course receptive for aggressive shotmaking and a host of rivals hungry for their first major title within reach of the northern Irishman, the stage is set for a thrilling climax, live on Sky Sports 4 from 4pm.
Mickelson, gunning for a sixth major, said: "I need to play aggressive and make some confident swings early on and make some birdies. 
"I'm going to be trying to make up ground on some guys that are playing really good golf and will be making birdies, so I'll have to make a lot of them. You've got to go out and make birdies. You just have to get a hot hand."
The 44-year-old US left-hander, ranked 13th, has struggled most of the year, his lone top-10 showing a runner-up finish at Abu Dhabi.
But last Sunday he carded a stunning 10-under par 62 at the World Golf Championships event in Akron, Ohio, and found the magic in his swing he had been seeking all season.
The American added: "It doesn't take much when you feel like your game is close. I didn't feel like I was searching as much. I didn't feel like I would show up on the range trying to find it. I knew what I was trying to do. The golf swing felt good. I felt confident teeing off. I was in control and had good control of the golf club."
Turn back the clock
Now Mickelson has one round to turn back the clock and try to bring the form that won him last year's Open, the 2005 PGA Championship and three Masters green jackets.
"It's fun for me to be back in the thick of it," Mickelson said. "I haven't been in the heat. I haven't been in that position this year and I'm certainly going to feel some pressure tomorrow because I want to have an opportunity to make up for the entire year in one round.
"Those five majors that I've won in the past really aren't much help going into the final round."
One player who has the ability and form to ascend tothe top of the leaderboard is Fowler, this year's Open and US Open runner-up.
On playing alongside Mickelson, Fowler said: "If we get off to a good start, we're going to be able to feed off each other quite a bit.
"It's going to be a fun walk and there's a possibility if we get things going, it could come down to the two of us at the end. Obviously there's a lot of guys playing well right now and we have our work cut out for us.
"It's going to be a fun day and I'm looking forward to it. I feel like I can put up a good round and see what happens. Who knows, we might be playing the last hole and throwing punches at each other."