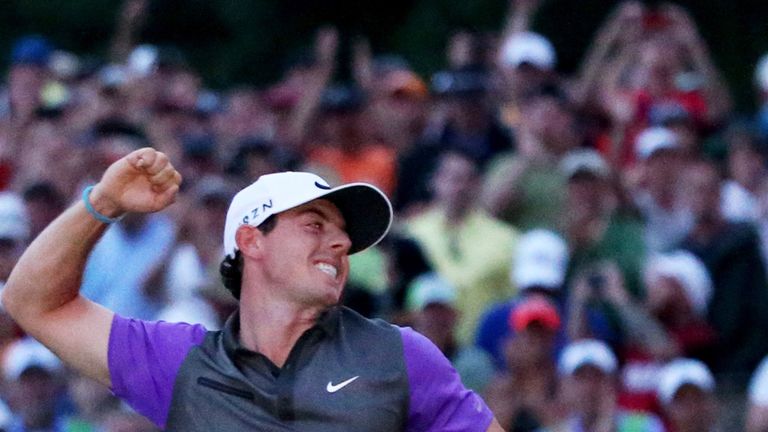 Jack Nicklaus has praised Rory McIlroy for his major-winning performance in the USPGA Championship on Sunday.
The 74-year-old, who won a record 18 majors during his professional career, witnessed McIlroy follow up his success in The Open four weeks ago with another victory at Valhalla.
The Northern Irishman, ranked number one in the world, shot a final-round 68 to win the tournament by a shot, ahead of Phil Mickelson.
Rickie Fowler and Henrik Stenson had been part of a three-way tie for the lead with Mickelson on the back nine but dropped shots on the closing stretch to finish two behind McIlroy on 14 under.
Nicklaus wrote on Twitter: "It was really a great tournament. It was great theatre. Great golf, actually.
"It was one of the best tournaments to watch - because of such good play - that I have seen in a long, long time.
"Henrik Stenson played fantastic... Phil Mickelson was unbelievable. Just pure guts and really great golf. And Rickie Fowler was simply terrific.
"He played well all the way down the stretch, until he couldn't see at 18. No one could.
"So let's just discount what happened at 18, because I just thought Rickie was terrific.
"Then Rory, who got three shots down, showed so much poise, confidence and determination coming down the stretch.
"The tee shots he hit (on Sunday), wow. Early on, Rory was just playing along and couldn't get anything going (two over after six holes).
"All of a sudden, everybody else was getting something going.
"Then Rory got the right break at the 10th hole with a great shot-he made the right break at 10 with that second shot (to set up eagle). He was off and running from there."
McIlroy, 25, now has four majors to his name and is the first UK player to win back-to-back Major titles.