Ryder Cup: Paul McGinley was always going to pick Ian Poulter as a wildcard
Last Updated: 02/09/14 6:33pm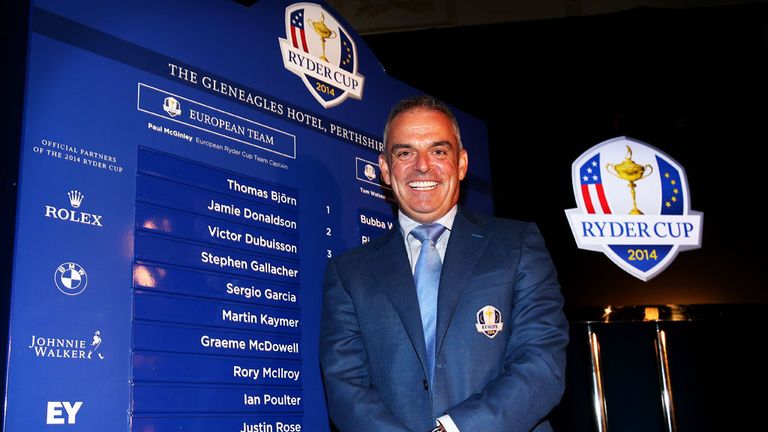 Europe Ryder Cup captain Paul McGinley insists there was never any decision to be made about Ian Poulter's participation in this year's event.
Poulter, fellow Englishman Lee Westwood and Scottish debutant Stephen Gallacher were McGinley's three wildcard picks for this year's Ryder Cup at Gleneagles, which starts on September 26, live on Sky Sports.
Poulter has proved himself as one of the most effective Ryder Cup players in history with 12 wins from 15 matches, including eight from nine on the three occasions he has been named as a wildcard.
And McGinley says Poulter's 'Miracle at Medinah' was one of the most epic sporting feats he has witnessed.
"When it comes to Ian Poulter, who wouldn't want him in the Ryder Cup team with his performances?" McGinley said to Sky Sports.
"Particularly in Medinah in the last Ryder Cup, he almost single handedly got us over the line and got us within touching distance of the Americans going into the singles.
"He's had an incredible Ryder Cup record and it was hard to leave Ian Poulter out of a Ryder Cup team.
"The world of sport is about passion and no-one had more passion than Ian Poulter at Medinah. For me, it was one of the greatest achievements by anyone in any sport.
"He knows as well as I do that the Americans are gunning for him. There are a lot of people in their team who are looking forward to playing him – and gunning for him.
"But there is no better person than him to rise to the challenge."
Gallagher's performance in finishing third in last weekend's Italian Open allayed McGinley's fears over selecting the rookie, who lives just 34 miles away from the Gleneagles course.
"He obviously really wants to play a Ryder Cup in his home country and he was under a huge amount of pressure last week," said McGinley.
"Particularly on the second day, he was 14 shots behind the leader, knowing he needed a first or second place finish in order to qualify for the team.
"To push it as close as he did, he just missed out by a fraction to finish third, with David Howell shooting a 63 in the final round.
"He was the No 10 player in the qualifying tables and he had a huge number of top 10s throughout the year, so I felt his form deserved it.
"I know he's a rookie, and it's always difficult to pick a rookie, but I feel his form has pushed him over the line in that regard."
McGinley also admitted he faced a difficult decision choosing between Westwood and former World No1 Luke Donald for the final spot in the team.
He added: "Between him and Luke it was a very difficult call but I just felt that Lee stepped up to the plate a little bit there around the USPGA, with some low scores around the mid-60s in some big, big tournaments on big golf courses.
"I just feel his form is starting to come ripe really, in terms of his form at the right time.
"I know he's working hard on his game and I know he's starting to show a lot of solidity in his game and, for me, he just got it in terms of his form over Luke."