Ryder Cup: Tom Watson names Keegan Bradley, Hunter Mahan and Webb Simpson as wild cards
Last Updated: 03/09/14 11:34am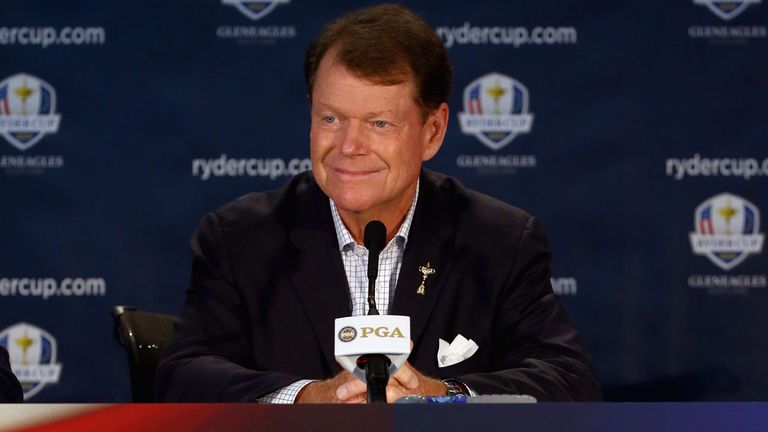 USA captain Tom Watson has named Keegan Bradley, Hunter Mahan and Webb Simpson as his wild card picks for the Ryder Cup.
Watson has opted for experience by offering his wild cards to three players who have all tasted Ryder Cup action before.
Bradley, Mahan and Simpson will join the nine players already qualified for the match, which tees-off at Gleneagles in Scotland on September 26..
Mahan has played twice before, while Bradley and Simpson made their debuts two years ago in the dramatic defeat at Medinah.
Mahan has an excellent matchplay pedigree, having won the WGC Accenture Matchplay Championship in Arizona two years ago, before reaching the final when defending his title 12 months later.
Passion
He was also part of the winning American Ryder Cup team in Kentucky in 2008, before losing at Celtic Manor two years later.
Although the 32-year-old endured five months without a top-20 finish earlier this year, he has recently found some decent form with a tie-for-7th in the final major of the season at Valhalla, followed by victory in the opening event of the FedEx Cup Play-Offs two weeks ago.
Team USA
Bubba Watson
Rickie Fowler
Jim Furyk
Jimmy Walker
Phil Mickelson
Matt Kuchar
Jordan Speith
Patrick Reed
Zach Johnson
Keegan Bradley
Hunter Mahan
Webb Simpson
Bradley, meanwhile, is without a win in over two years but enjoyed a 75% success rate at the 2012 match in Illinois.
As for Simpson, his form has improved in recent weeks with four top-10 finishes from his last 10 starts.
Watson said: "Keegan is the epitome of someone who wanted to be on the team.
"He can go low and he teamed up great with Phil Mickelson (in the last Ryder Cup). But the most important thing he brings is his unbridled passion to play in the Ryder Cup team.
"Hunter has had a wonderful stretch of golf recently and he led the greens in regulation stats in three of the last four tournaments he played in.
"He is a really great ball striker and he is really starting to come into his own right now. Hunter, don't worry, you are probably going to go five (play in all five matches)."
Watson intimated that the third pick gave him the most trouble but said: "I looked at the results from 2012 (the Medinah Ryder Cup) and I see Webb Simpson 5&4, Webb Simpson 5&4 (Simpson and Bubba Watson won two fourballs matches by that margin).
"I said 'that's got to be the guy'.
"He has the performance this year to be a pick and, looking at last year's stats for Webb, he ran the table in the fall (autumn). The fall begins on 22 September and I think Webb's the guy."
Simpson said: "Captain Watson gave me a call early this morning. Fortunately I was up, we had a good conversation and he told me I was a pick. I was elated.
Thrilled
"It was one of the greatest calls I have ever received."
Bradley was equally thrilled and said: "The captain called me and I was pretty emotional.
"I have made no secret of how important this team is to me and how badly I want to go back and win the Ryder Cup. This is a redemption year for a lot of the guys who were on the team last time."
Mahan added: "I had a tough time in 2010 (when he lost a crucial singles match), so we have a lot to play for on this team.
"Tom said 'welcome to the Ryder Cup team' and it felt like a huge weight had been lifted from my shoulders. This feels amazing."
By naming a trio of pros with Cup experience, it means the American team will field just three Ryder Cup rookies in Patrick Reed, Jordan Spieth and Jimmy Walker.
Those missing out include Brandt Snedeker, Ryan Moore, Bill Haas and Chris Kirk.
The 64-year-old Watson made his announcement in New York just 12 hours after his European counterpart Paul McGinley had named his trio of wild card selections.
In five matches as a player and skipper, Watson has never finished on the losing team and he returns to the Ryder Cup arena for the first time since 1993 when he led the Americans to a 15-13 victory at The Belfry.
USA team: Bubba Watson, Rickie Fowler, Jim Furyk, Jimmy Walker, Phil Mickelson Matt Kuchar, Jordan Spieth, Patrick Reed, Zach Johnson, Keegan Bradley, Hunter Mahan, Webb Simpson
Watson's Wild Card Selections:
Keegan Bradley:
Age: 28
Major Victories: PGA Ch'ship (2011)
PGA Tour wins: 3
Ryder Cup appearances: 1 (2012)
Ryder Cup record (W-L-H): 3-1-0 (75%)
Hunter Mahan:
Age: 32
Major Victories: None
PGA Tour wins: 6
Ryder Cup appearances: 2 (2008/10)
Ryder Cup record (W-L-H): 3-2-3 (56%)
Webb Simpson:
Age: 29
Major Victories: US Open (2012)
PGA Tour wins: 4
Ryder Cup appearances: 1 (2012)
Ryder Cup record (W-L-H): 2-2-0 (50%)
Watch all the action live on Sky Sports' dedicated Ryder Cup channel - the build up starts on September 18 ahead of the first day's play on September 26.