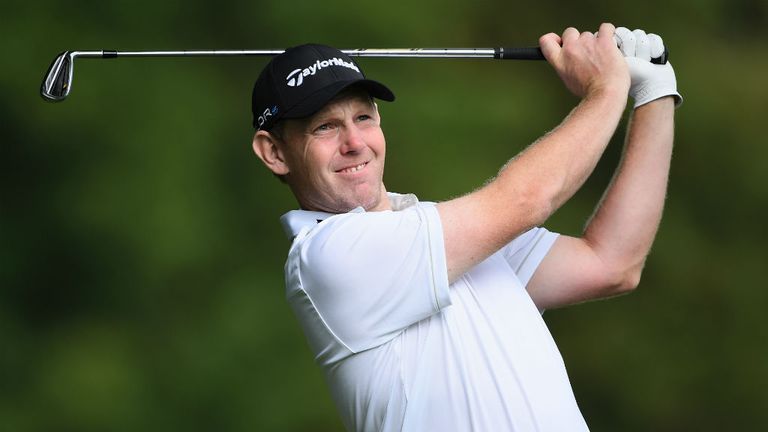 Steven Gallacher is relishing the prospect of a home Ryder Cup victory and believes the European team are capable of retaining their crown at Gleneagles.
Speaking the day after European team captain Paul McGinley confirmed the Scot as one of his wildcard picks for the tournament, Gallacher was confident his team will link up well and be prepared for any eventuality come September 26, insisting he could be partnered with a number of players in the squad.
Gallacher told Sky Sports News HQ: "To be honest we are quite lucky that everybody really gets on well and knows everyone pretty well so it wouldn't really matter I don't think.
"I think we'll give it 100 per cent anyway. I'm pretty friendly with Jamie Donaldson, Thomas Bjorn and a few of the other guys who play regularly in Europe.
"A lot of the other boys play in America and we see them fleetingly over the year but we are all good friends and we are all good professionals and we can play with anybody."
USA captain Tom Watson named Keegan Bradley, Hunter Mahan and Webb Simpson as his wild card picks for the Ryder Cup in the early hours of Wednesday morning.
Gallacher, who was asked for his thoughts on Watson's choices, believes Europe will have a tough task on their hands in overcoming the USA despite Tiger Woods, Dustin Johnson and Jason Duffner missing the spectacle.
"I thought that was the three he was going to pick, with Hunter winning the other week and the other two are really strong players," he added.
"I know Tom Watson said they've had points in Ryder Cup's before and that he's gone for experience. But we know the magnitude that we are under, we know they're a good team and we are going to have to perform if we're going to retain it."
With this year's tournament being held in Scotland, Gallacher dismissed suggestions there would be additional pressure on his shoulders and said he would be visiting the course where he has had seven top-ten finishes to practise in the weeks leading to the contest.
Commenting on whether the pressure could have an effect on his game, he said: "I think it does if I let it get to me. There's going to be great support regardless, maybe a bit more so for me and that's something I'm going to be more excited with.
"I know the country as whole is up for it, it's been on the agenda for a long time and now there's a Scot in it. It may give it a little bit more excitement. It will be just like any other Ryder Cup; the passion, the drama everything. I think it will be tremendous.
"I'm very familiar with Gleneages. I've played it for years and you sort of know how it's going to play, you know where you want to hit it.
"I live just up the road and have the chance to get here often and I think the course just suits my eye it's a nice course and one I really like. I'll be going up there this week and playing it a few times."
Watch all the action live on Sky Sports' dedicated Ryder Cup channel - the build up starts on September 18 ahead of the first day's play on September 26.