Rob Lee assesses the spectacle of the Seniors Open
Rob Lee thinks Colin Montgomerie could edge out two fellow legends
Last Updated: 24/07/14 11:00am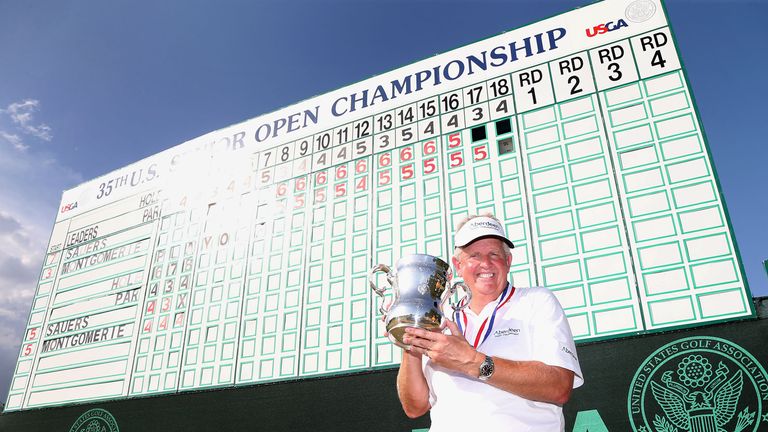 A week on from the Open and the Seniors take over and Monty is the guy to beat, I've got to say.
Having won his second Seniors Major in such style in boiling Oklahoma, he comes back to what he's used to.
I know Bernhard Langer is here but Monty took care of him in the two that he won. I think he's going to relish this.
I think Monty's the guy coming here with the most momentum. I know it's not a proper Major but it's a Senior Major and it carries a lot of weight on the Seniors Tour.
Monty couldn't compete into his late 40s with the youngsters because he felt inferior. But now he's got back to how he used to feel which is superior. That's when Monty plays well – he operates at his best when he feels like he's the top dog.
That mentality helps him full-stop. When he got into his late 40s he was too fed up with people hitting the ball 40, 50 yards past him. He just felt like he wasn't playing in the same tournament as these boys. Now he gets to the Seniors and he's as good as anyone, I bet he can't wait.
He said 'I'll never play Seniors' when he was younger, 'what's the point in me playing Seniors?'  Ha! How the worm turns!
He's teeing off with a great group. If you're running the Senior Open you put together some hand-picked marquee groups – Fred Couples, Tom Watson and Monty. Unbelievable. Don't think Watson is coming here at the age of 64 without thinking he can win.
"Monty couldn't compete into his late 40s with the youngsters because he felt inferior. But now he's got back to how he used to feel which is superior."
Rob Lee
Picking and choosing
Miguel Angel Jimenez must be getting a little bit tired, he's playing an awful lot of golf. He's trying to do everything – a bit in America, a bit here, a bit of Seniors. That's a lot of golf. I suppose that because, like Monty, he's in his 50s.
I think Miguel will continue to play mainly on the main Tour because there's more money in it. He'll get to a point where, I think, he'll say 'I played pretty well this week, But I only finished 48th'. That will be the time to go and play the Seniors properly.
I think he's doing the right thing, as long as he can compete with the youngsters, stay out there. He's playing a few pick-and-choose Seniors events and won his first one in America then he came back and didn't play when Monty won.
Jimenez played the Scottish Open , The Open last week and this week the British Senior Open. That's an easy run, you don't have to travel far or go on any long trips. I'm sure in his diary that fits quite well. I think Miguel will compete very well but he's playing a lot – he might need to take the odd week off!
It's good for us that he likes to play though, it's good to have him around.
He's playing some really big Seniors events but eventually I'm sure he will gravitate towards the Champions tour, that's what will happen. He can play the Champions Tour anyway, he's already won this year.
While he's able to cut it with the young ones – he won the bloody Spanish Open! – and he was the oldest guy to win on the Tour for the third time, I think he's got eyes on doing that for a fourth time.
Slowing down
Bernhard Langer's still doing the business in America, he's leading everything. He's still the man, he's unbelievable. He's a guy who's dealing with the yips with his putting, the yips with his chipping. But his strength of mind is incredible.
He's had yips since he was a young man and has found a way to cope with it using the long putter. Even that is not yip free. So I don't know what he'll do – maybe he'll play until the end of 2016 and then say 'you know what, that's it' when the putting change comes.
I don't know if he's got another plan with his chipping. And he doesn't enjoy chipping that much, he putts from way off the green. Obvious chip shots, he putts.
He's still a remarkable man, he was always the pro's pro on Tour. He was a great example on the young people on how to live their lives, how to be disciplined, and how to get the most out of their talents which he has done.
Langer, like Jimenez, is still competitive and very hard to beat on the Champions Tour. If he can't find a way to putt in 2016 then he'll call it a day because he won't be able to play.
Spectacle
Initially the Seniors Open was a novelty for fans to see their heroes playing again. It really got going when Jack Nicklaus, Lee Trevino, Arnold Palmer and all these legends turned 50, then the Seniors circuit became sexy.
Now it's established, players who are 48, 49 and want to keep playing can't wait to get to 50 to have another crack. It's like a rebirth.
For the public watching golf, you can't do much better than last week to be honest. I think this is a bit of nostalgia, people get misty-eyed watching their heroes playing.
I think as a pure competition it's definitely viewed secondary to what we saw last week, it's not at golf's coal face.
All the rich guys who you want to go and see can all retire. A load of other hungry 50-year-olds who maybe didn't have stellar careers can't retire,they need to play because not everybody is minted and can swan off to Hawaii for the rest of their days! So there is a chance this week as the prize money is good for somebody to earn a little nest egg.
Rob's Sky Bet Tips
Monty is a very short at 6/1, disappointingly short odds. But if you're a man who wants six times your money, he gives you a great chance.
At the Canadian Open you've got to like Dustin Johnson at 12/1, he was there or there abouts last week. This course suits him.