Tiger Woods' return just one highlight in week of amazing stories, says Ewen Murray
Streelman's surge, Wie's win and Open boost prove golf is in good shape...
Last Updated: 24/06/14 4:24pm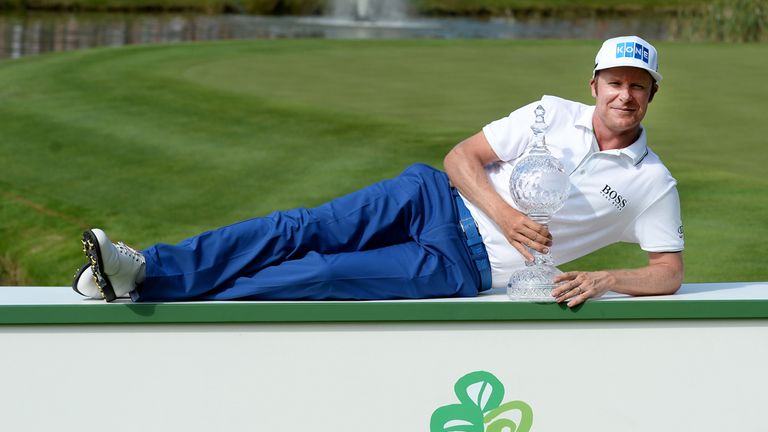 Last week started with the announcement that Royal Portrush was to be added to the Open rota and down in the South of the Emerald Isle the fans responded by turning up at Fota Island in their thousands.
Just under 100,000 spectators enjoyed the Irish Open and they played their part at one of the players' favourite events.
The news from the R&A is a tremendous boost to a country that lives and breathes golf. During the economic difficulties of the last few years, Ireland, like many countries, have struggled to get a title sponsor.
Their Open has been supported by the tourist board, the European Tour and multi-sponsorships, but with the Open perhaps on its way there for the first time in over half a century and the success of this year's Irish Open, many companies will look at the product and some will decide it is for them.
Worthy
With such huge support from the fans, it's a more than viable proposition.
They, of course, would have wanted a home victory, but Graeme McDowell and Padraig Harrington fell a little short. Their new Champion, Mikko Illonen displayed a cool nerve, followed his game plan from start to finish and he earned the title. In the end he was a worthy winner.
McDowell's long game was as good as I have seen it and should he continue that form, he will contend in the seasons two remaining majors.
I stayed at a small hotel in a village called Youghal to the East of the City of Cork. Ahernes is a seafood restaurant with rooms, rather like an Irish Auberge.
There is nothing like Irish hospitality and it was one of the most enjoyable stays I've had for many a year. So often, large hotels know you as a room number, but Ahernes was like a trip back down memory lane. If you get the chance to visit that area, take time out to go there. Its special.
Golden
Elsewhere, the golfing world produced some amazing stories.
The Woman's US Open at Pinehurst - where Martin Kaymer had won the men's title the week before - was wonderful. Michelle Wie at the age of 24 won her first major.
Michelle's first few years as a professional golfer had not been without problems. With so much expected of a girl wonder, she has played with a heavy load of expectation on her young shoulders.
On Sunday she came of age and with that major barrier now broken, she is set for a golden career.
Her win over world number one Stacy Lewis, who had posted a final round of 66, was hard-earned and Michelle showed her maturity in overcoming difficult moments during the back nine. The manner in which she won will please her as much as the victory itself.
Michelle wasn't the only one celebrating in North Carolina.
Royal Portrush starlet, Stephanie Meadow. at the tender age of 22 finished third after holing a 15-footer on the 72nd hole. The $250,000 cheque was a handsome one, but the real prize was automatic exemption onto the lucrative LPGA Tour. Not at all bad when you think this was Stephanie's first venture as a professional.
We shall follow her progress with interest over the coming months.
All of this is of course a huge shot in the arm for Women's golf and adds much to next year's Solheim Cup at St. Leon Rot in Germany.
In the more immediate future, Royal Birkdale will welcome these story lines with open arms as it gets set to host the Ricoh British Open next month.
Special
The men, however, were not to be out done. The Travellers Championship in Connecticut was won in sensational fashion by Kevin Streelman who reeled off seven straight birdies to come home in just 28 shots.
Before this amazing run of figures, it looked like either K.J.Choi or Sergio Garcia would prevail.
Rounds like Kevin's happen once in a blue moon, but when it arrives, the player looks back on the work done over the years and revels in the reward. It was a special moment for him and for those who were fortunate to witness such a feat.
The other big news of the week was the impending return to competitive golf of Tiger Woods. Tiger will once again put the spikes on at this week's National Tournament.
From what some experts in back problems have said, it seems a very quick recovery but it would be every golf fan's wish that Tiger is close to 100 per cent. Although some superb golf has been played all over the world in recent months, the game is better when Tiger is around.
If all goes well this week, it would be a boost for our Open to be played in the middle of next month.
In 2006, Tiger wrestled with emotion having lost his father and mentor Earl, as well as a bone hard Hoylake to take the Claret Jug. It was one of his many magnificent performances since he joined the paid ranks in 1996. Royal Liverpool may come too soon for him to add to his 14 majors titles, but some would not bet against him.
The enforced rest will have refreshed his mind and many good memories will come flooding back. Baby steps first, let's hope he gets through this week unscathed.
The European Tour is off to Cologne this week and Germany's golfers will be at Gut Larchenhof in numbers to pay homage to their new US Open Champion.
In Martin Kaymer, they have a wonderful golfer, but more than that, a superb ambassador for their country and the game itself.
The golfing world is in great shape right now. Long may it continue!