Scottish Open success proves it's time to restore the English Open, says Ewen Murray
Last Updated: 15/07/14 8:02am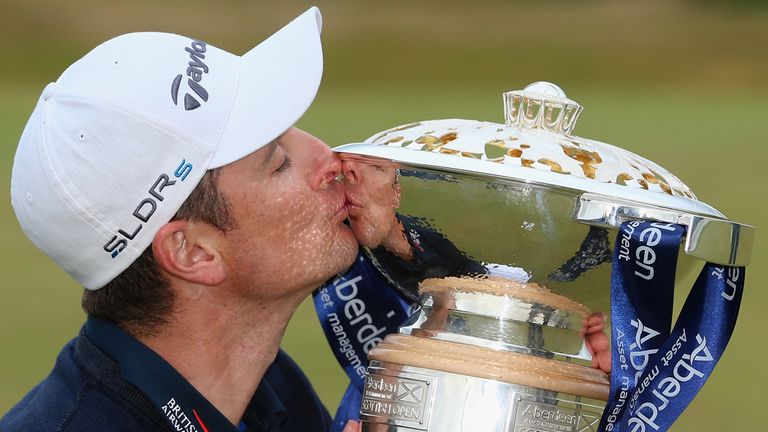 Having arrived back in a very warm South of England I have, like many, had time to reflect on what was a hugely successful Aberdeen Asset Management Scottish Open.
Royal Aberdeen was truly magnificent and its beauty was shown to the rest of the world over four glorious days of golf.
In Justin Rose, Scotland has a fine champion and Great Britain has a world-class golfer. Justin was at the very height of his game, striking the ball superbly and managing his game as professionally as it can be managed. His play was a joy to watch and his chances of collecting a second major this week must be excellent; more on that later.
Choice
With successful championships in Wales, Ireland and Scotland, it is time to have the same in England. The English Open has been defunct for too long and we all know the country has much to offer in terms of quality venues.
Should it be a seaside links or an inland gem? There is so much choice.
Leaving out the Open rota courses as the Scottish has done, there is that fabulous stretch of Lancashire coastline with the majestic Hillside and West Lancs highly-desirable layouts. On the East coast, Seaton Carew is perhaps not so well known but it's grossly underrated. Saunton Sands is a special place to play golf and inland, there are several courses of exceptional quality - Woodhall Spa, Moortown and Ganton among them. There are of course many more.
Maybe a golfing enthusiast or a blue chip company will look at the success of the other three countries' championships and restore the English Open. I hope so.
Talent
At the start of the year, I was walking down the range in Abu Dhabi looking at some of the new arrivals on tour and a player caught my eye. He was working away with a smile on his face and right away I could see young Tyrrell Hatton had a healthy amount of talent. In February I wrote about his qualities in a column I used to write for a South East of England magazine. In my humble opinion, he was one to watch.
Since that day, I have followed his career with interest and have enjoyed seeing him have successful weeks; for example, he finished ninth in a strong field in Abu Dhabi and second in the J'burg Open.
Going into the Scottish Open he had amassed over £200,000, was 65th in the Race To Dubai and only halfway through the season had all but secured his playing rights on the Tour for next year. I was thrilled to see him in the penultimate group last Sunday in Aberdeen.
During the season, more than a few players had agreed with my assessment of Tyrrell, yet some had said his temperament had to improve. I had only seen him play as I had seen him practise in the Middle East, a young golfer living the dream of playing on Tour.
Antics
Yet on Sunday, a different character took to the course. At the sixth, his second shot finished 20 feet from the hole setting up the chance of an eagle. His reaction suggested he had missed the green by a long way. He bent clubs, threw his arms in the air as if the world was against him. This behaviour continued well into the round, virtually after every other shot.
After nine holes of watching his antics and hearing his complaints, I said his attitude was "becoming a little tiresome".
Ewen Murray
Now here was a young man with so much to play for. He had a chance of winning quarter of a million Euros, a place in the Open Championship and a position well into the top 60 which would offer him an opportunity of playing in the lucrative season ending events in China, Turkey and Dubai: not at all bad for a 22-year-old in his rookie year.
After nine holes of watching his antics and hearing his complaints, I said his attitude was "becoming a little tiresome".
Now I can take the abuse that followed from his 'friends'. As a commentator, not everyone will agree with assessments I make: it's very much part of the job.
I was 22 once and had too many days of frustration on a golf course and my behaviour was less than professional. Maybe In Tyrrell, I saw some of my past and realised the damage he could have done in that final round.
Thankfully, his golf over the final five holes was as good as the previous 13 and his reward was indeed a healthy cheque, a big climb up the money list and a passage to the greatest championship of them all.
So no damage was done there, but maybe it was an early lesson in what I believe will be an excellent career.
This was no personal attack, in fact quite the opposite. It was an observation that from experience, that kind of attitude simply doesn't work. I wish Tyrrell a successful week at Hoylake and a prosperous conclusion to his year.
Form
And so to the Open. Tiger is back in business and feeling healthy for the first time in long enough.
I'm sure a vast majority of golf fans will be happy for the 14-time major winner. Maybe this will be the start of a second coming.
In Martin Kaymer and Justin Rose, Europe has two players in the form of their lives and high in confidence. By the famous City of Liverpool, I would expect them to contend.
One player who impressed last week was the ever-improving Rickie Fowler and he is my outsider for the Claret Jug. The winner? Well, it gets harder and harder to pick the champion as there are so many contenders, so I'll just stick with Rickie. Oh go on then, I'll take Justin Rose to make it three wins in a row!
I'll be back with you next week as the British Senior Open gets underway in Wales and talking of three in a row, I expect my colleague Colin Montgomerie to achieve his third Senior major at the delightful Royal Porthcawl links.
I arrived home on Sunday just in time to see Monty roll in that 15-footer to add the US Seniors title to his PGA Championship. Often, I have spoken of his burning desire to keep competing and he is doing that superbly right now.
The wins get him into the PGA Championship at Valhalla in August and next year's US Open at Chambers Bay - two more opportunities to get the real thing. That perhaps has passed him by, but he will be the man to beat next week.
Three Senior majors would be some consolation for the big ones that somehow eluded him in a superb career. Enjoy the Open.