The Open 2014: Rory McIlroy win signals new era in golf, says Ewen Murray
But only judge inconsistent Tiger Woods when he is 100% fit
Last Updated: 21/07/14 11:56am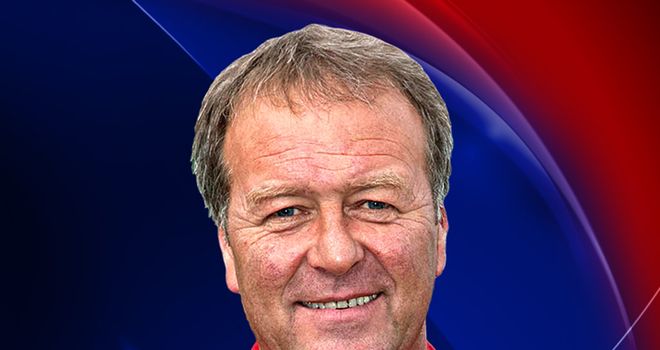 That was some week at Royal Liverpool!
In Rory McIlroy, the Royal and Ancient Club have a magnificent champion and the world of golf is at the beginning of a new era.
Rory's win was achieved in true superstar style and Spain's Sergio Garcia and American Rickie Fowler showed they will be major contenders in the future.
Add to that, Hideki Matsuyama, Jordan Spieth, Victor Dubuisson, Dustin Johnson, Adam Scott, Martin Kaymer and Matteo Manessero and you have the future of the game. They will inspire others as this new dawn try to dominate the next decade.
Like many, I was thrilled for Rory McIlroy. Having endured some turbulent moments during the past year, the Northern Irishman never lost faith in his own considerable ability and he has a chance to become only the sixth player to complete the Grand Slam before he turns 26 years of age. That would be quite some achievement.
I was thrilled for his two exceptional parents who have dedicated their lives to their son. They have supported him through thick and thin and there is no doubt they went without in tough times to give Rory the best possible chance to succeed.
The tale of dad Gerry's bet that he would win the Open before the age of 26 was heartwarming. Rory would enjoy that as much as he enjoyed winning the Claret Jug! His mum, Rosie's, tears at the back of Hoylake's 18th green were ones of sheer joy and pride, a moment her son will cherish forever. It was a wonderful Open Championship.
Our majors are superb events and the success of them is the fact they are so different. The Masters stays at Augusta and is run like clockwork by their committee. The US Open have their way of setting up the course to make Par a test and the PGA of America visit great American courses, old and new, to decide their champion.
In the R&A, we have amateurs doing a thoroughly professional job and we should all be proud of what they achieve year in year out. I'm biased of course, but The Open is unique, four days of great golf from the best players on iconic old natural courses. For every golfer the Open Championship is a big part of our lives.
In Peter Dawson, chief of the R&A, the game has an outstanding leader and when he retires next year, he will be extremely hard to replace. His decision to put the players off two tees on Saturday for the first time in the Open was met with some negative comments. It was a calculated and inspired choice, because had he not done so, it would have robbed us of one of the best Sundays in Open history.
Tiger Woods returned to major golf after back surgery and it's time to cut him a little slack.
Four months on from a serious operation, Woods produced a fabulous "up and down" to make the cut on the mark and progress through to the weekend. I would say that was a more than decent effort given the circumstances and confirms his heart, nerves and mind are as strong as ever.
The time to assess Tiger is when he returns to 100% health and his next two tournaments are at Firestone Country Club and Valhalla for the year's final major, two courses he has triumphed on impressively in the past.
The worry for him is his errant ways off the tee. For someone who plays the game from 150 yards and with such poise, touch, imagination and elegance, his basic fundamentals in his long game are well below average.
My opinion is that during his latest extensive remodelling, he has ignored the very foundations that lead to playing well consistently. When asked why he has made so many changes in his career, he replies, "to get better". I thought he was the complete player and 14 majors by the age of 32 rather confirms that.
I don't recall Jack Nicklaus, Gary Player or Tom Watson trying "to get better". I remember them striving for consistency. They were already major champions so any changes they made during their careers were more maintenance rather than the radical changes made by Woods whose swing is unrecognisable from the one when he was dominant.
Once he enjoys full fitness, it will be interesting to see how Tiger challenges the emerging young wave of talent. Being a bit player has never been part of his world. The second half of the season promises much.
While enjoying the glorious golf from Liverpool, the week was tinged with sadness. My neighbour and close friend Brian Barnes suffered the passing of his charming wife, Hilary.
Daughter of the 1951 Open Champion, Max Faulkener, Hilary lost her battle with cancer and she will be sadly missed.
A while ago, Brian and Hil acquired a piece of land at the rear of their house. A lake was created and flowers and shrubs were planted. Years later, they were awarded, Garden of the Year by a national newspaper. It was Hilary's pride and joy.
When his pain and loss begins to subside, Brian will wake up each morning, look out the window and gaze over his wife's legacy. My thoughts are with my friend and his children, Guy and Didi.
Also during the week, golf lost one of its great characters in Bob Torrance. I have known Bob for 50 years as he and my father, Jim, were club professionals in Scotland. His son Sam and myself played boys golf together encouraged by our dads. They were halcyon days.
As time moved on, Bob became one of the finest coaches in the world and went on to help so many top players including three-time major winner, Padraig Harrington who he treated as one of his own. He was never happier than when spending days on the range, whether it be at home or at various tournaments throughout the season.
He was shy, yet tremendously humorous and Bob Torrance stories will be told long into this century. His passing should not be mourned, his life should be celebrated because Bob gave so much to golf and golfers.
He was one of a rare breed of outstanding coaches. Bob, along with John Jacobs, Butch Harmon and one you perhaps don't know, Las Vegas based, Don Callaghan, are without question the finest in their field. They teach with their ears and eyes, no machines or video cameras. The sound of the strike and their knowledge of the golf swing are the foundations of their success.
Bob was once asked by the new Open Champion to have a look at his swing. After a few hits, Bob said to Rory, "just hold it there". Next came the assessment in his typical Scottish brogue. "Ah canny help Ye son, because what yer dayin canny be bettered"!
Bob was a major champion many times over. He is survived by his, unspoilt by success son Sam and his wife June.
This week the Sky team are back with The Senior British Open played at the delightful Royal Porthcawl in South Wales. Many of the legends will tee it up on a course that for too long has been starved of professional golf. United States Ryder Cup Captain Tom Watson, fresh off his closing 68 at Hoylake headlines the field.
With Rory claiming his third major, Colin Montgomerie will be hoping to do the same after his Senior major wins in Michigan and Oklahoma. I look forward to your company.