Former Open champion Paul Lawrie returns to Carnoustie ahead of 2018 championship
By Charles Paterson, Sky Sports News
Last Updated: 20/09/17 11:27am
Former Open champion Paul Lawrie has launched the ticket sales for next year's championship at Carnoustie, by returning to where he hit the winning shots in 1999.
Lawrie remains the last Scotsman to win a major - and the only one to win The Open on Scottish soil since 1931. In 10 months the championship returns to Angus, and Lawrie feels it will provide a stern test for the world's best.
"Next July the course will be in fantastic condition, because it always is," said Lawrie. "You can play here any time of the year and it's really good. It'll be fair and it'll be tough, but if you hit good shots you're going to get rewarded round here.
"They're going to love it - guys like Jordan Spieth - and many of the top guys have never played Carnoustie, so they're in for a treat when they come here.
"It's the hardest finish on the Open rota, 16, 17 and 18 are just proper golf holes, and you've got to hit a good shot on every one to make a par, never mind a birdie, so it's the best finish you've got."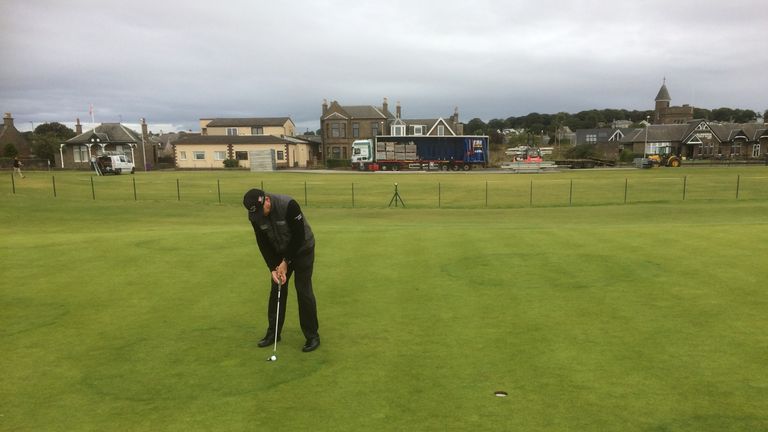 Eighteen years ago, Lawrie overhauled the largest final round deficit in major history. Starting 10 shots adrift of Jean van de Velde, he shot a final round 67. Then after Van de Velde squandered a three-shot cushion on the 72nd hole, he triumphed over the Frenchman and Justin Leonard in a four-hole play-off.
While the sight of Van de Velde paddling in the Barry Burn remains infamous, Lawrie's four-iron approach on the final hole to five feet, from over 200 yards, has become one of the most iconic moments in Open history.
"That final four-iron was 221 to the pin, and I'm a 205, 210 man with the four-iron, so 221 was a big hit. And it was cold and rainy which made it even more of a hit! But you know from experience that adrenaline puts the ball a good 10, 15 yards further; you see it time and again with guys who've got a chance to win a tournament.
"I've not watched it for quite a while. The boys were tiny, Craig was four and Michael was only six months old. We've got a great picture of them sitting on the box with the Claret Jug and Michael had a little toy hammer, and he's battering the Claret Jug with this hammer, as kids do! I remember more of that, more than I remember what happened on the day."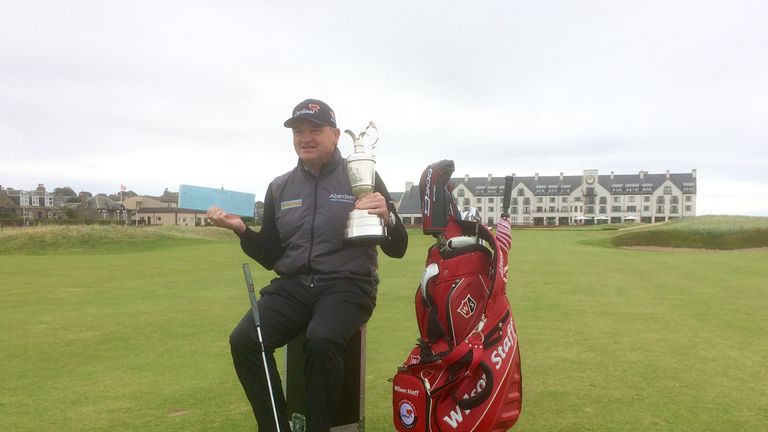 "We come here every year to play the Dunhill Links Championship, so it's been normal to come back for a while. The first couple of times I came back, I had goose-bumps. But it's been strange today holding the four-iron and walking down to the green, and hitting the putt with the putter, that one that I used which I gave to the British Golf Museum."
Lawrie has been recently hampered by injuries, but will play in this week's Portugal Masters. He'll be 49 when he tees it up at Carnoustie next July; it could be his last Open there, just an hour's drive from his house near Aberdeen. Consequently, he'll be a prime candidate to receive the honour of hitting the opening tee-shot.
"I hit the first tee-shot at St Andrews one year, which was nice to do to be fair, but it's up to the R&A - it's an early start! It will be nice to come back and play in it again here. My exemption might run out the next time it comes back, you don't know when it'll be back, so it'll be a good week."