Woods limps out of Players
Tiger Woods pulled out of the Players Championship after shooting 42 for the first nine holes at Sawgrass.
Last Updated: 12/05/11 4:40pm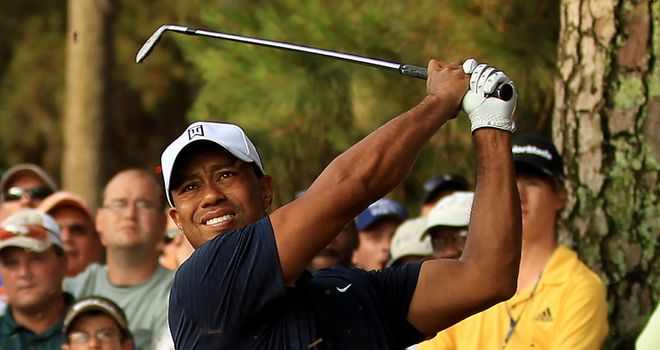 Tiger Woods pulled out of the Players Championship on Thursday after shooting six-over-par 42 for the first nine holes at Sawgrass.
The former world number one was in visible discomfort during his brief appearance at the £5.8million tournament, which was his first since suffering knee and Achilles injuries in The Masters last month.
Woods, who only resumed practicing on Monday, said he hurt himself playing his first tee shot, which ended in the left rough and resulted in a bogey five.
He then had a triple-bogey seven on the 384-yard fourth hole after hitting a pitch into the water short of the green before going in again with his chip.
The 14-time major winner had to hole a putt of almost 18 feet to avoid an eight but he was already four-over and bringing up the rear of the field.
Woods, who was forced to withdraw from the same event last year because of a neck injury, dropped yet another shot after missing the green at the fifth and then chipped into a bunker at the long ninth.
By taking six there, he had turned in six-over and shared last spot with Canada's Stephen Ames - another former winner of golf's richest tournament.
Chain reaction
"The knee acted up and then the Achilles followed after that - and then the calf started cramping up," Woods said. "Everything started getting tight, so it's just a whole chain reaction.
"I'm having a hard time walking. I felt fine during the warm-up and then as I played it progressively got worse.
"I'm surprised. The treatment's been good and it's been getting better - it just wasn't enough."
Woods added that it probably would have been wise to quit sooner than he did, although his doctors had told him he could play.
"It's just a matter of what we're going to do about it. It's hard to put muscle pressure on it right now, so it's a bit of a struggle," he said.
Woods suffered a sprained medial collateral ligament in his left knee and a strained left Achilles tendon while hitting an awkward shot during the third round at Augusta.
He still managed to make a final day charge into the lead there before slipping back to fourth place behind eventual winner Charl Schwartzel.
Speaking on Tuesday, Woods had said: "The knee is better, no doubt. The Achilles is better as well, so I'm here playing.
"It is what it is. The whole idea is that I peak four times a year and I'm trying to get ready for Congressional (the US Open on June 16-19) and I need some playing time.
"I missed playing last week, but I really want to get out there. This is a big event."
Operations
The 35-year-old has had four knee operations, one of them a reconstruction that kept him out of the sport for eight months after he won his 14th - and last - major at the 2008 US Open.
He has been having intensive treatment and taking anti-inflammatories, but when asked his expectations for the week replied: "Same as always, try and win the event. Nothing has changed."
Woods, who has not won a tournament for 18 months, could well fall out of the world's top 10 because of his withdrawal.
He has already dropped to eighth during the longest barren spell of his career.