Clarke predicting tough test
Darren Clarke is predicting the revamped Wentworth will prove a tough test at this week's BMW PGA Championship.
Last Updated: 24/05/11 2:57pm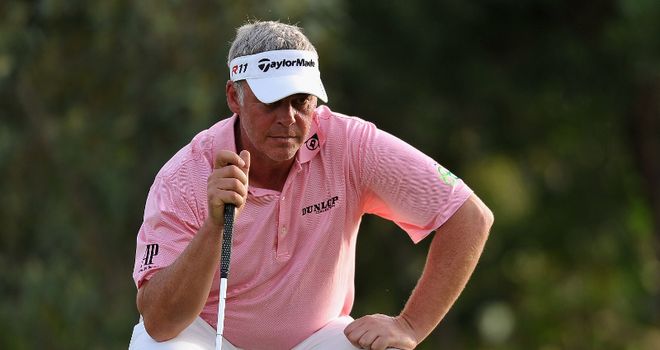 Darren Clarke is looking to build on his recent return to form at this week's BMW PGA Championship but is predicting the revamped Wentworth will prove a tough test.
The Surrey lay-out underwent £6.5million worth of changes ahead of last year's tournament, but not all were well-received.
As a result a few more tweaks were made prior to this year's showpiece, most notably at the par-five 18th.
With a river and elevated green scaring many players away from going for the putting surface in two at the closing hole last year, further changes have been implemented with organisers hopeful they will add more excitement.
Clarke acknowledged the changes but feels it is the weather that could provide the course's biggest defence with strong winds predicted this week.
"They've changed the green at eight where it was very, very severe and 18 I don't think enough guys went for it in two so I believe they've enlarged both of them a little bit," he told Sky Sports News.
"But I believe the forecast we've been given so far it is that it's going to be windy all week so Wentworth playing firm, fast with the new challenge that it is will be very tough."
Stellar field
Long regarded as the flagship event of the European Tour season, Clarke hailed the superb turnout for the tournament with all four current major champions in a stellar field.
Indeed, the Ulsterman - who got back into the winner's circle in Mallorca a couple of weeks ago - feels it is a golden period for the European Tour.
"I think if you look at the field here, the field is probably stronger than at TPC (Sawgrass)," he added.
"It just shows how far the European Tour has come, it's a great time for the European Tour right now."
And Clarke also had some words of advice for American commentators who had questioned the validity of the world rankings system which currently sees five Europeans in the top six places, including places one, two and three.
"There's always an easy answer and one that was given to me a few years ago was, play better!" he declared.
"Just play better and get more points, that's what the Europeans have been doing, but I'm sure it's going to swing around at some stage and the Americans have a fantastic tour over there as well. But right now we have the majority of the best players in the world which is brilliant."