Noren in front in Stockholm
Alexander Noren shot a six-under-par 66 on Friday to take the outright lead of the Nordea Masters in Stockholm.
Last Updated: 24/07/11 4:58pm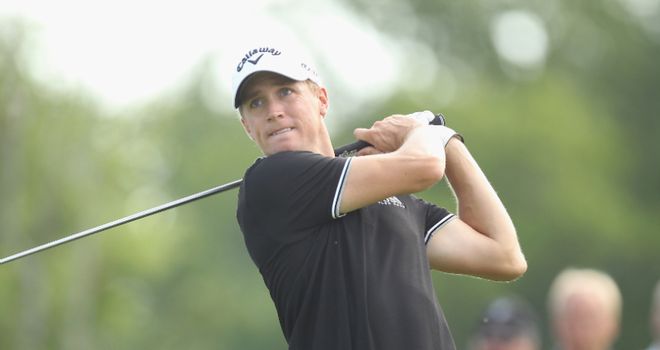 Alexander Noren shot a six-under-par 66 on Friday to take the outright lead of the Nordea Masters in Stockholm.
The 29-year-old, who hails from the Swedish capital, began the day at Bro Hof Slott Golf Club in a share of first place with the amateur Robert Karlsson and South African Jaco van Zyl.
But while his fellow co-leaders could not improve on their opening 67s, Noren produced the joint-best round of the tournament so far.
He began in ominous form with birdies at the first two holes and with three more coming between the sixth and ninth, he reached the turn in 31.
After such an impressive front nine, Noren was more muted coming home and after picking up another stroke at the 175-yard 11th, he parred his way home to finish with a blemish-free round of 66.
That put him 11 under and his main challenger three shots back was India's Shiv Kapur who, starting on the back nine, carded eight birdies and two bogeys, to match Noren's earlier 66.
Best ever
Noren told www.europeantour.com: "I played probably the best I've ever played. It's just been great, everything has been going better.
"I don't think I've ever done that on this course and I've played here a lot.
"It really helps playing this course a lot, I know what lines there are and I know when to step back."
Meanwhile, American Bubba Watson moved on to six under overall after signing for a 67.
The big-hitting left-hander followed up his opening 71 with a round that included an eagle, six birdies and three bogeys.
Watson's compatriot Dustin Johnson, who is the highest-ranked player in the field, ensured he made the cut with a round of 71 which put him one under.
Robert Karlsson, who was upstaged by his amateur namesake on Thursday, fought back with a 70 which took him to five under and into a share of fifth.
On the other Robert Karlsson he said: "It's great for Swedish golf.
"Not only to have him but other Swedish players as well, young amateurs.
"It was quite interesting yesterday not having started and to be leading a tournament.
"It was quite funny. Robert Karlsson four under and he's on the range!"
The amateur did not fare so well in his second round with a 75 dropping him back to two under.