Appleby looking for boost
Stuart Appleby hopes a return to the scene of a career-highlight 59 to win the Greenbrier Classic will spark his game into life.
Last Updated: 27/07/11 3:48pm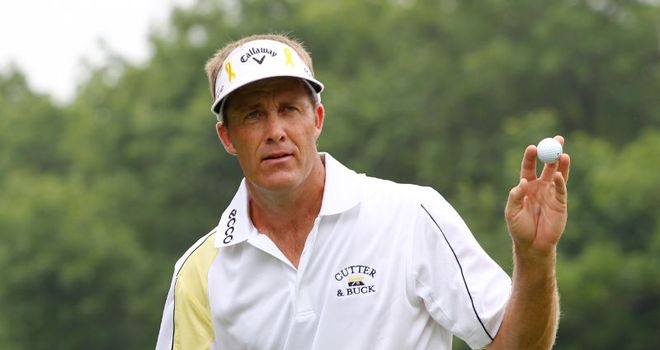 Defending champion Stuart Appleby is hoping that a return to the scene of a career-highlight 59 to win the Greenbrier Classic will spark his faltering game into life.
The 40-year-old, however, is not expecting any repeat of the fireworks of 12 months ago when his sub-60 final round saw him edge out Jeff Overton by a stroke on 22-under.
Since then Australian has had just one top-10 finish in 28 events and made the cut only eight times this year.
But having arrived back at White Sulphur Springs in West Virginia, Appleby hopes to rediscover his form.
Vibes
"There's no doubt places do have vibes. I'd love for this place to be the same way for me," said Appleby, who became the fifth man to shoot 59 on the PGA Tour with his stunning round a year ago.
"I haven't really been happy. I just haven't really had a lot of confidence in where the ball has been going.
"Last week (at the RBC Canadian Open) I played well Friday but the problem is I've been leaving too much work one of the two days to try and make the cut.
"I feel I'm a better player than that and just struggling to do that this year. It's been frustrating.
"But at this time last year I was also very frustrated. You just have to understand the game works in weird ways and if you can be really patient, it will pat you on the back.
"It just doesn't come up and put its hand around you. I think this week is that."
Toughened up
Appleby and the rest of the field have returned to find the Old White Course has been toughened up considerably after last year saw only one player who made the cut fail to finish under par.
The course has been lengthened, fairways narrowed, rough grown thicker and greens made much firmer.
"The course is nothing like last year. It's got to be three or four shots harder," added Appleby.
"There's a lot of golf course out there now. I don't see 59 there. Anyone shooting lower than a 65 has had a very good round of golf."
Appleby will tee off on Thursday with four-time major winner Phil Mickelson, second at the Open a fortnight ago, and Tom Watson, one of the sport's all-time greats.
"One's a legend of the game and one is still becoming a legend of the game - and me sort of stuck in the middle," joked Appleby.